Shields Library Receives LEED Gold Certification
Shields Library Receives LEED Gold Certification
Jessica Nusbaum
May 20, 2021
Peter J. Shields Library was awarded LEED Gold certification under the U.S. Green Building Council's Leadership for Energy and Environmental Design for Existing Buildings: Operations & Maintenance (LEED EB: OM) in May 2021. Recent improvements to the building's heating, cooling and ventilation system operations, upgrades to indoor lighting systems, and sustainable purchasing practices helped Shields Library earn LEED certification.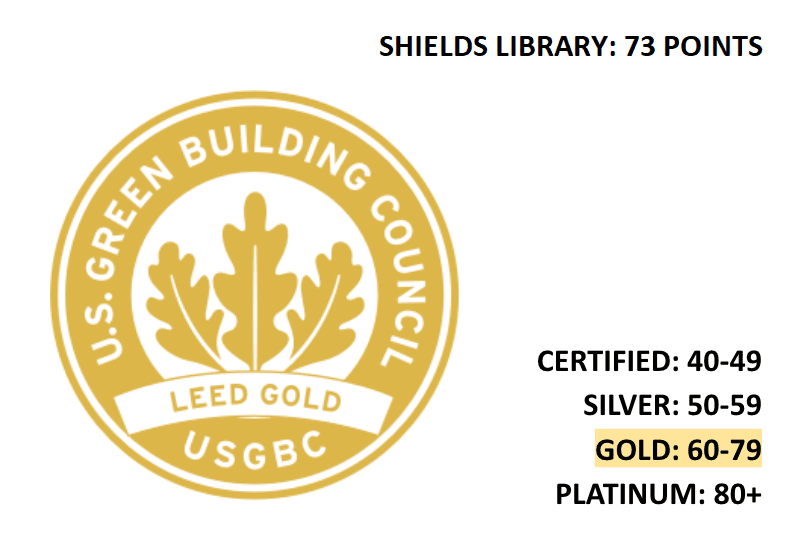 At 410,015 gross square feet, Shields Library is the largest building on the UC Davis main campus. A hub of student life, prominently located near the central campus quad, and a popular study place for students, the library has been part of the university since its earliest days. The original library building (now its north wing) was completed in 1940. Three more wings were added over the subsequent half-century; the west wing, through which one enters today, was completed in 1990.
Going for the Gold
The Facilities Energy & Engineering team at UC Davis certifies existing campus buildings under LEED EB: OM and BREEAM In-Use. When the team took on the Shields Library project, LEED Gold certification was an ambitious goal due to the building's size and the complexity of its features.
"The Shields Library project is critical to our campus and the students because it is the largest building and one of the most frequented buildings on our campus," said Green Buildings intern Teak Hahn, an Environmental Science major who will graduate in June. "Typically, the larger and older a building is, the more difficult it is to achieve a high certification rating because it was not built with the most sustainable features. And yet, we still earned a LEED Gold rating because of all the improvements we were able to make."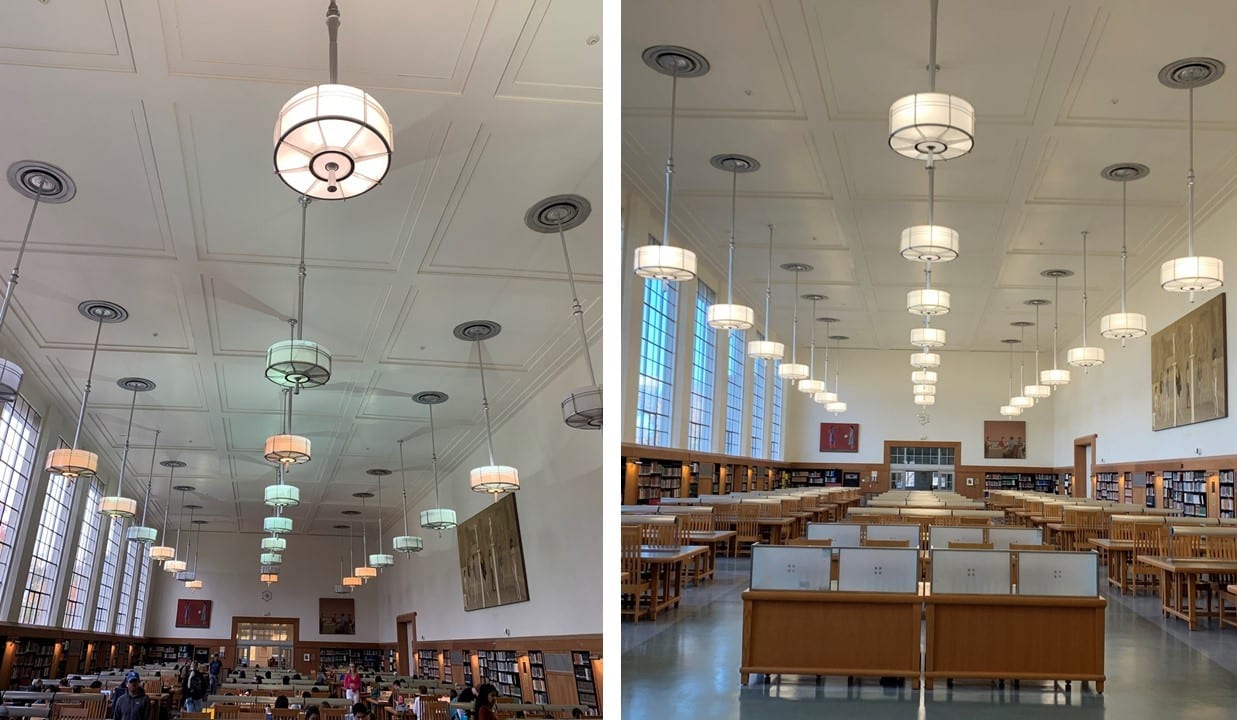 Shields Library's LEED Gold features include:
Sustainable Sites:

The hardscape surrounding Shields Library is light in color and highly reflective, which reduces absorption of the sun's warmth and radiation into surroundings. Reducing these "heat islands" can significantly lower indoor cooling costs during hot months. Additionally, the light-colored roof of the building has high solar reflectance that helps reduce the heat-island effect.
Trees planted near the building also allow for shaded areas that reduce solar radiation. Drought-tolerant landscaping reduces the total hardscape area, while reducing outdoor water usage.

Energy & Atmosphere:

A long-term project under the Active Commissioning Enterprise (ACE) program in Facilities Management improved the operations of heating, ventilation and air conditioning (HVAC) systems throughout the library. This included replacing sensors to regulate fan operations, scheduling the operating times of HVAC units to match occupancy, and reducing overcooling in spaces to improve comfort.
Facilities Management's Building Maintenance Services also upgraded several lighting fixtures to more efficient LED's and improved lighting controls to include features such as motion sensors and daylight sensors. The Main Reading Room received a huge lighting upgrade, which saves energy, reduces burnout and improves visual comfort for occupants.

Materials & Resources: Sustainable purchasing practices were discussed with library staff during the project to ensure that Environmentally Preferable Purchasing criteria were considered when making purchases related to building operations. Over the evaluation period, the library made sustainable purchases in the following areas:

72 percent of electric-powered equipment, such as computers and printers
89 percent of office furniture
100 percent reduced mercury in lamps, by purchasing LED lighting
"We're thrilled that Shields Library has been awarded LEED Gold certification," said William Garrity, deputy university librarian and chief operating officer of the UC Davis Library. "For a building of its size and complexity, it's an impressive achievement, and we are tremendously grateful to the campus Green Buildings team for making it happen."
The Green Buildings team is comprised of one staff project manager and five undergraduate student interns. They work with building occupants, Custodial Services, Building Maintenance Services, Grounds and Landscape Services, the Office of Sustainability, Design and Construction Management, Student Housing, and more to compile the data and establish the policies required for LEED certification.
"When we can complete a project of this size, it showcases the teamwork between organizations on campus at its fullest," said Amy Burns, Facilities Management Sustainability Officer. "This project spanned years but we didn't give up. It's good to see this building added to our green building portfolio!"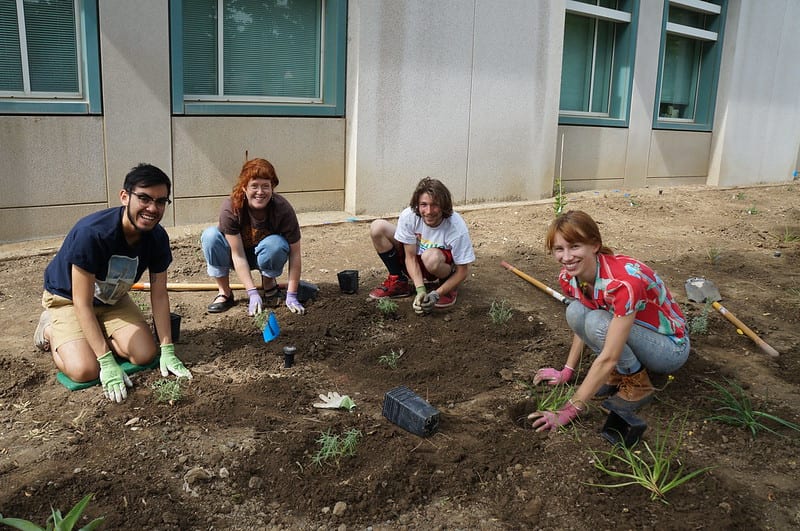 A real-world learning experience for students
"Our student intern team is the most valuable resource for LEED EB: OM certifications," said Alex Malm, Facilities Management's Green Buildings project manager. "They collect and analyze data and walk the building to record and understand its operations. They also research LEED requirements and determine how to document compliance with each credit. Our student team does all of the groundwork to make LEED certification possible for our existing buildings."
For the Shields Library project, student interns: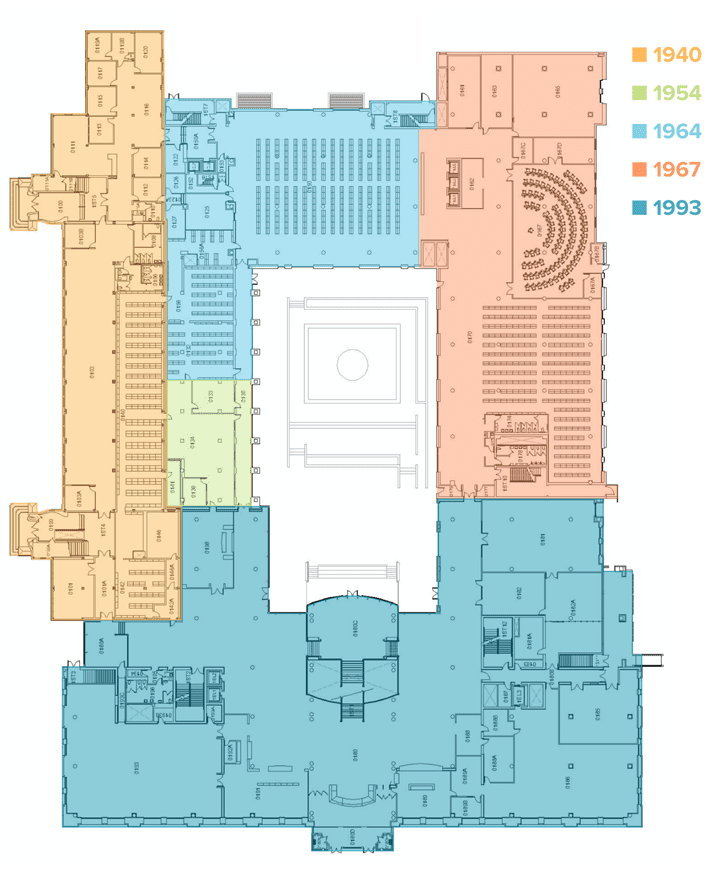 Analyzed floorplans, modeled lines of sight, and performed calculations using AutoCAD to determine that 66 percent of the regularly occupied area has access to outdoor views. LEED suggests that occupant exposure to natural light and visual exposure to the outdoor environment improves indoor quality, while also increasing occupant productivity and reducing absenteeism and illness.
Collected purchasing data for office supplies, furniture and electronics to determine the percentage of purchases that met Environmentally Preferable Purchasing criteria.
Assessed performance within Green Cleaning criteria for custodial practices. This included analyzing purchases of cleaning products and use of motorized equipment for cleaning the interior and exterior areas of Shields Library for adherence to sustainable purchasing standards.
Compared the energy performance of Shields Library relative to similar buildings through the use of Energy Star Portfolio Manager. Shields Library demonstrated energy efficiency in the 38th percentile above the national median.
Green Buildings intern and fourth-year Civil and Environmental Engineering student Alexandra Rivas noted, "Through the Shields Library project, I learned about the importance of the building's indoor environmental quality to the building occupants. Green products promote a healthier and safer indoor environment, which is significant to students and staff who visit Shields regularly since it influences their health and productivity."
Performing these analyses also provides students, many of whom are studying Environmental Science or Civil and Environmental Engineering, with valuable real-world experience that helps prepare them for future careers. Malm can attest to that herself.
"This project has been on the horizon for many years, but there were obstacles to meeting LEED certification requirements in the past," said Malm. "I even assisted on a LEED project for Shields when I worked as a student assistant for Facilities Management during my undergraduate degree! It's so rewarding that it's come full circle and we've achieved the LEED certification."
Shields Library joins the growing list of LEED certified buildings on the UC Davis campus. A celebration and LEED plaque presentation are planned for Fall 2021 to commemorate the honor.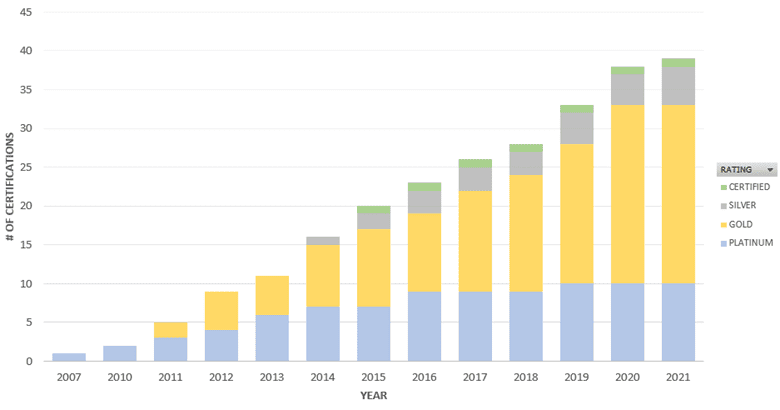 By Alex Malm, Green Buildings Manager for UC Davis Facilities Management, and Jessica Nusbaum, UC Davis Library
Category
Announcements
Tags
sustainability