On This Day: July 2, 1973
On This Day: July 2, 1973
Sara Gunasekara
July 2, 2014
Today, we're launching a new series on our blog, On This Day. The series will highlight campus events that happened "on this day" in history.
Our inaugural post features the Transfer Ceremony for the Sacramento Medical Center of the University of California, Davis on July 2, 1973. The Sacramento Medical Center, founded in 1852 as the Sacramento County Hospital, became a community hospital in 1966. That same year the UC Davis School of Medicine was founded. To meet immediate needs for a clinical teaching facility, the university signed an agreement with Sacramento County for the temporary use of its hospital, which was officially renamed the Sacramento Medical Center (SMC) in 1968.
In 1973 UC Davis officially acquired the SMC and the July 2 ceremony celebrated the transfer. On July 1, 1978 the hospital officially became known as the University of California, Davis Medical Center (UCDMC).
Stay tuned for our next installment of On This Day.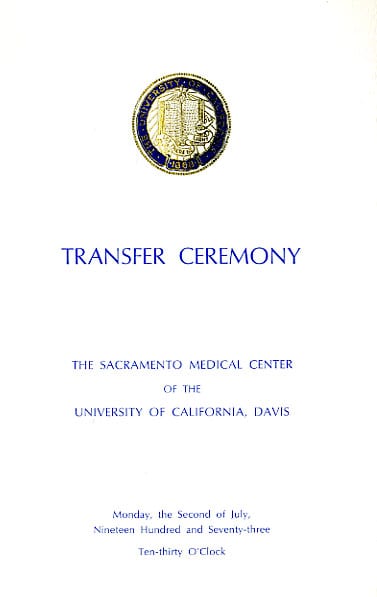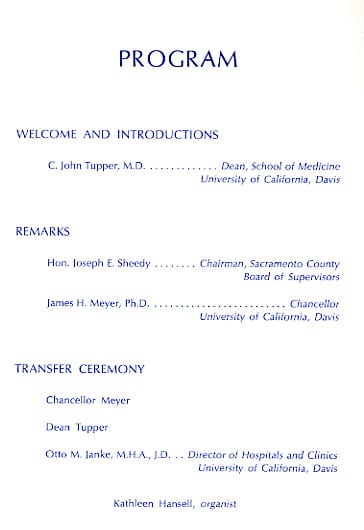 Category
Archives and Special Collections
Campus and Local History
Tags
Campus history
Office of Ceremonies and Special Events Collection
On This Day
UCDMC