UC Davis Traditions: Wild West Days
UC Davis Traditions: Wild West Days
Sara Gunasekara
October 19, 2011
This week's post in our UC Davis Traditions series features Wild West Days.
Wild West Days were originally held on the Davis campus in the fall of 1960. The event, which occurred over a weekend, wasn't held during 1961-1962 but resumed again in the spring of 1963. According to the Centennial Record: "for the two days before the activities, western clothes are worn to classes and it is permissible for students to ride horses on campus." The weekend activities included bronc riding, wild cow milking, calf roping, steer riding, hog calling, a greased pig scramble, and barrel racing contests. Wild West Days were held at least until 1969.
Below is an image from the University Archives Photographs of Wild West Days in 1964.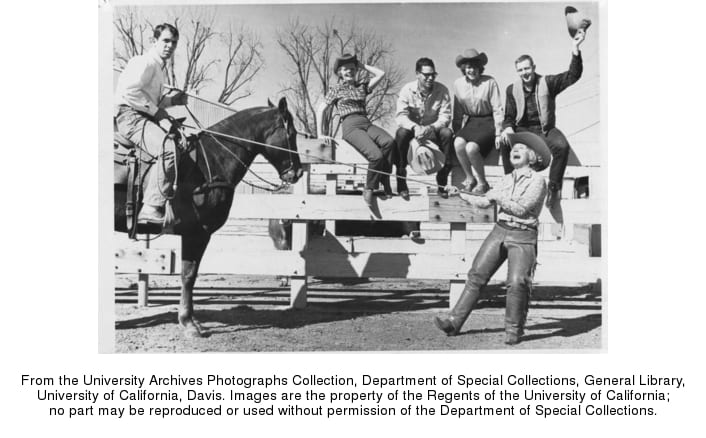 Wild West Days, 1964
Category
Archives and Special Collections
Campus and Local History
Tags
Campus history
UC Davis traditions
University Archives Photographs