UC Davis Traditions: Labor Day
UC Davis Traditions: Labor Day
Sara Gunasekara
August 25, 2011
Starting today we are launching a series of posts on UC Davis traditions. Be sure to visit our blog often to learn about the many campus traditions, some of which continue to this day. Here is the first installment.
Labor Day
In 1915, University Farm students initiated an annual "Labor Day" event where they conducted volunteer work on campus improvements. They drew inspiration from UC Berkeley, which had started the event in 1897. The first Labor Day projects at Davis included the construction of athletic fields, fences, and walks. Later the event became a leap year activity, taking place on February 29.
Subsequent projects included: installation of an irrigation system for the new grass lawn on the Quad (1932); assistance with digging the hole for the swimming pool by the new gymnasium (1936), and cleaning up Putah Creek in preparation for plantings in the arboretum (1940).
The last traditional leap year Labor Day was held in 1964. Activities included the demolition of the thirty year old cashier's building, construction of bleachers for the relocated horse arena, painting of the football bleachers and baseball dugouts, improvements of recreational areas along Putah Creek, and planting of trees in Orchard Park.
Below is an image from the University Archives Photographs from Labor Day on February 29, 1956. For this Labor Day, Aggies painted the Rec Hall, tore down the garage east of the Home Economics building to make way for a new parking lot, and repaired and constructed Picnic Day booths.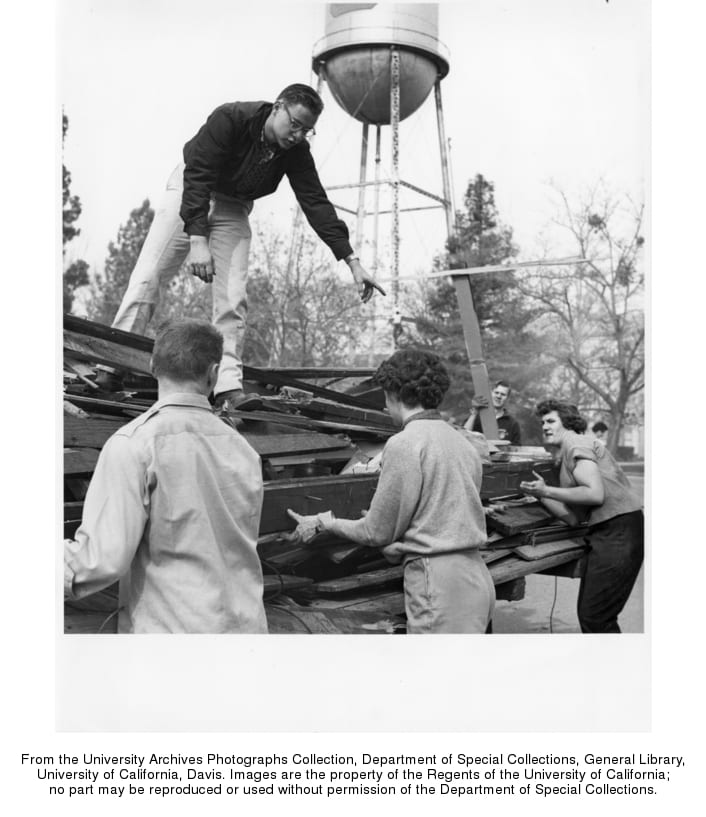 Labor Day, 1956 February 29
Category
Archives and Special Collections
Campus and Local History
Tags
Campus history
UC Davis traditions
University Archives Photographs