Sowing Seeds of Independence, Friendship
Sowing Seeds of Independence, Friendship
Redwood SEED Scholar finds opportunity, support at UC Davis Library
Christina Dimacali
March 27, 2023
In recognition of Developmental Disabilities Awareness Month, we're highlighting Redwood SEED Scholar Karis Chun and her experiences working as a student employee at Shields Library.
The Redwood SEED Scholars Program (Supported Education to Elevate Diversity) at UC Davis is a four-year, non-degree, residential college program specifically designed for students with intellectual disabilities. Participants take courses with other Redwood SEED Scholars as well as traditional college classes, live in residence halls, and have jobs and internships. The goal of the program is to promote independent living and provide SEED Scholars with the skills needed for meaningful future employment.
Meet Karis
Redwood SEED Scholar Karis Chun is a 23-year-old sophomore from Redlands, California. When she's not attending classes, writing creative stories or drawing on her iPad, Karis works at Shields Library on our interlibrary loan team, alongside her mentor, senior Emily Gavidia.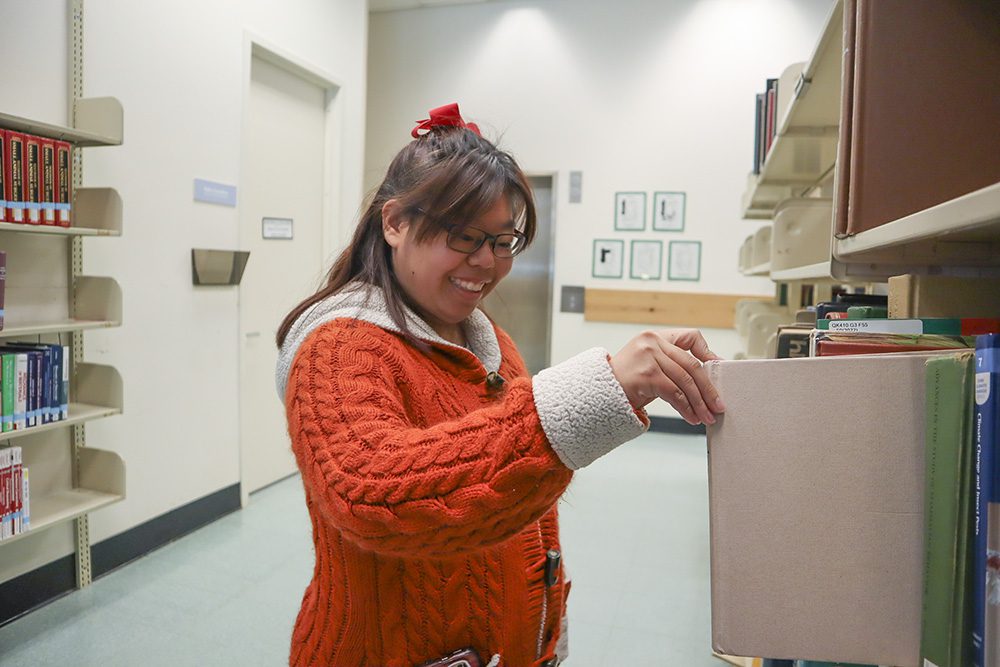 Most of Karis' responsibilities involve organizing the books that are received on loan from other UC libraries and libraries around the world, or need to be sent out to them. This includes tasks such as sorting books that belong to the UC Davis Library from books borrowed from other libraries, scanning books that are going onto the hold shelf and shelving them in the back room. If you've ever requested a book, chances are that Karis (and Emily) were part of the process that got it to you.
"Every little thing we do actually matters," says Karis.
Emily describes her mentor role as one where she observes and supports Karis. She explains that support can also look like independence.
Karis is really good about doing things on her own and I'm just there to motivate her."

— Student Mentor Emily Gavidia
Coming across creative book covers and crazy long checkouts
Karis' routine at Shields Library usually starts at 8 a.m. and ends at 5 p.m. She says she enjoys the quiet and repetitiveness of her job that keeps her moving.
Through her work, Karis has had the opportunity to discover a variety of "cool, interesting, old" books, including titles from Germany and India, and book covers with different textures.
"I feel like every time we go into Interlibrary Loan, we're always learning something new," says Emily.
Karis and Emily also share that working in Interlibrary Loan can lend itself to memorable encounters with books. Last week, Karis and Emily came across a returned book that had been checked out for 50 years! Another time, they opened up a returned loan package and found a moldy book inside.
"It was like a science experiment," says Karis, laughing.
Friendship and support
Emily and Karis appreciate what they've learned from each other, and together through their mentor/mentee experience. Discussions of art and anime come up often, and Karis likes to show Emily drawings she's made on her iPad.
"I think she's so talented," Emily says.
She adds, "What I enjoy most about it is that it feels like we're just hanging out sometimes. I don't think we ever just sit in silence."
Emily advises other students to join in these types of mentoring programs, and help create space for everybody. She reflects that you can find friendship anywhere.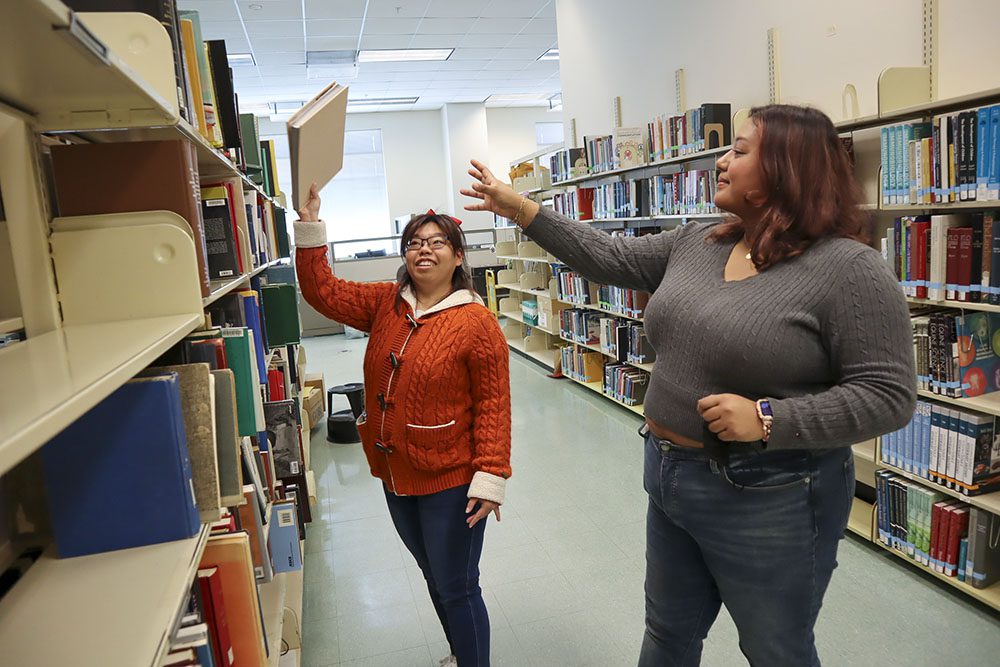 Karis, who plans to pursue a part-time job at a local library and assist her head teacher in the Redwood SEED Scholars Program, says that it means a lot to have the program.
People like myself can do what we want. There's support, there's help, and all the doors are open."

— Redwood SEED Scholar Karis Chun
She adds that the Redwood SEED Scholars and the library not only provided her with opportunities to learn, but also introduced her to a great friend.
Discover more about Developmental Disabilities Month with book recommendations on display at Shields Library.
Author Christina Dimacali is a student assistant on the UC Davis Library's communications and marketing team.
Category
Announcements
Tags
diversity
Redwood SEED Scholars
Students