Pop-up Exhibit: Spring Blooms – Botanical Watercolors by Margaret Stones
Pop-up Exhibit: Spring Blooms – Botanical Watercolors by Margaret Stones
Sara Gunasekara
March 10, 2017
Special Collections is pleased to present this pop-up exhibit which can be viewed in our Reading Room during the hours of Monday-Friday from 10am-5pm.
Spring Blooms: Botanical Watercolors by Margaret Stones
Special Collections Reading Room, Shields Library
March 10 – June 16, 2017
Margaret Stones (1920- ), botanical artist, served for twenty-five years as the principal illustrator for Curtis's Botanical Magazine and worked under commission for the Royal Botanical Gardens, Kew, England.
Special Collections holds six original watercolors of Northern California plants, painted by Stones in March-April 1987, while she was visiting California. We are presenting this small exhibit on the thirtieth anniversary of that visit.
For further information, contact: speccoll@ucdavis.edu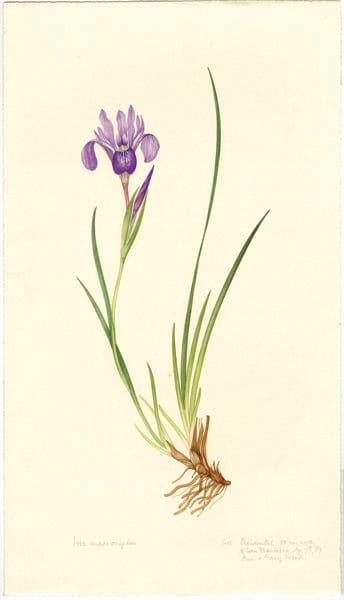 Iris macrosiphon by Margaret Stones, Occidental, California, April 7, 1987.
Category
Announcements
Archives and Special Collections
Exhibits and Events
Tags
Margaret Stones watercolors