Pass It On: Preservation Week, April 27-May 3, 2014
Pass It On: Preservation Week, April 27-May 3, 2014
Sara Gunasekara
April 28, 2014
Preservation Week, a presentation of the Association for Library Collections and Technical Services (ALCTS), is a national campaign to help raise awareness about collecting and preservation, to connect the general public to preservation information and expertise, and to emphasize the close relationships among personal, family, community, and public collections and their preservation.
Events during the week include two free webinars. The webinars, which require registration, will each begin at 1 p.m. CDT and will last about one hour. To register and learn more go to ALCTS events.
The webinars are:
Low-Cost Ways to Preserve Family Archives, on Tuesday, April 29, 2014, presented by Karen E. K. Brown, preservation librarian for the University at Albany, SUNY University Libraries. What can we do to protect our collectables from damage even if we don't think we have a perfect place to keep them? Learn about possible risks from handling and the environment, and practical, inexpensive ideas to keep collections safe to help ensure what you have can be shared for many years to come.
Preserving Scrapbooks, on Thursday, May 1, 2014, presented by Melissa Tedone, conservator at Iowa State University Library. Scrapbooks can be challenging to preserve since they often contain a diversity of materials. Learn about common problems with long-term preservation of scrapbooks and identify the most stable materials and bindings for new scrapbooks.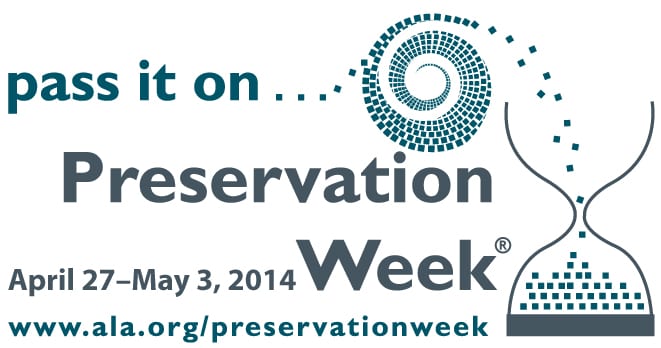 Category
Announcements
Archives and Special Collections
Tags
Preservation Week
webinars