Must Love Dogs
Must Love Dogs
Enjoy dog-themed art and books in our Fleetfield Gallery
Kristin Burns
August 26, 2023
Happy International Dog Day! Did you know that you can experience the joy of canine companions every time you visit Shields Library? We invite you to visit our Fleetfield Gallery Dog Art Display, which features a rotating selection of dog-themed art and books. This hidden gem is located in the lower level of Shields Library, next to the main staircase.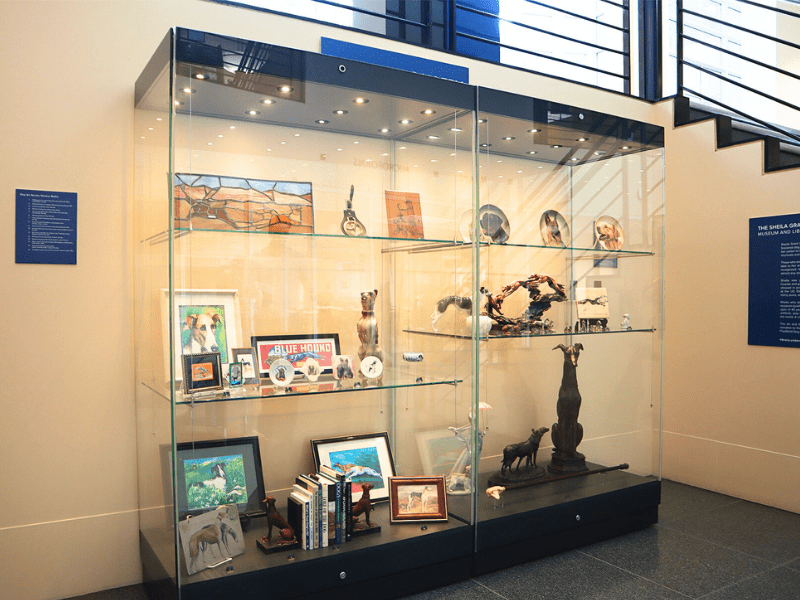 Donated to the UC Davis Library by the Sheila Grant Fleetfield Dog Museum and Library, the entire collection includes more than 500 pieces of art and hundreds of books. Our Archives and Special Collections team recently refreshed the exhibit with all-new material, which explores how the representation of the dog in art ranges from "fine art," which is purely aesthetic, to functional art (such as the water pitcher and the plateware currently on display).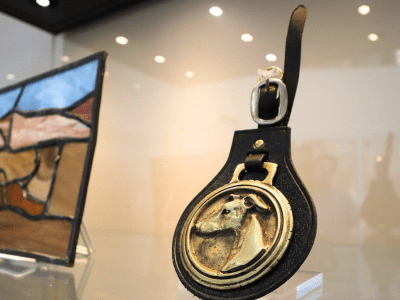 Among the highlights:
Rare prints and original works, as well as a small selection of books that Sheila Grant (1950-2017) donated from her massive library on dogs, dog training, and canine health. Grant was an animal behaviorist, professional dog handler and lifelong dog lover.
Dog breeds not previously featured include German Shepherd, Labrador Retriever and Rottweiler. (The collection comprises mostly greyhounds and Afghan hounds, Grant's favorite breeds.)
A stained-glass image of an Afghan hound chasing an antelope, made by Grant.
This iteration of the Fleetfield Gallery will be on display through fall 2024. Can't make it Shields Library? Visit our online exhibit, which features some of the highlights in the larger collection.
Related:
Category
Announcements
Archives and Special Collections
Exhibits and Events
Tags
dogs
Fleetfield Gallery
Sheila Grant