Library Plans for Summer and Fall 2021
Library Plans for Summer and Fall 2021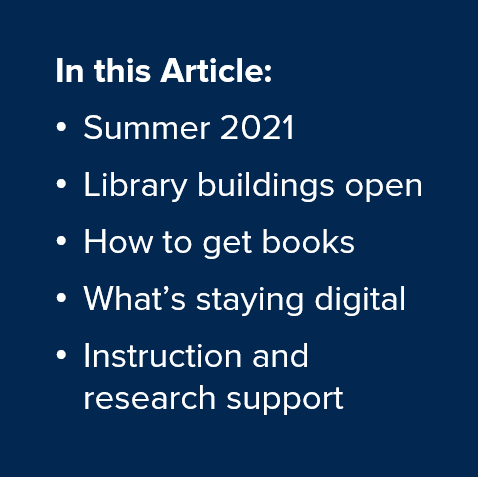 Updates as of September 7, 2021:
24-Hour Study Room is open.
---
Updates as of August 13, 2021:
Carlson Health Sciences Library is now open.
Food is not permitted indoors. Face covering may be removed momentarily to drink.
---
Update as of July 20, 2021: Carlson Health Sciences Library will reopen on Monday, August 2. The 24-Hour Study Room at Shields Library will reopen on Tuesday, September 7, 2021.
---
As the UC Davis Library plans for summer and fall 2021, we anticipate that most students, faculty and employees will be back on campus by fall, and we look forward to welcoming back those of you who have been working or studying remotely for the last year. But like many parts of campus, we aren't just returning to the way things were in 2019. Wherever possible, we are taking the lessons learned and new online services we created and integrating them with our in-person services and physical collections to offer you more options, flexibility and convenience than before, in a healthy and safe environment.
While there are factors that remain unknown — for example, whether face covering and daily symptom survey requirements or building capacity limits will remain in place — here is an overview of what you can expect from the library based on what we know now.
Summer 2021
We anticipate that most Summer Session courses will be taught remotely. Assuming that remains the case, library buildings will operate through the summer in much the same way they have this academic year, with limited hours and access for current UC Davis students and employees at Shields and Blaisdell Medical libraries only. 
Librarians on the Davis campus and at Blaisdell Medical Library will be available to work with faculty and instructors in preparing for fall courses, and for research consultations over the summer. (See more on instructional and research support below.) And behind the scenes, more library staff will be returning to campus, study tables and seats moved back into place, and other preparations made for a full reopening in the fall.
Library buildings open by fall
We expect all of our library buildings — Shields, Carlson Health Sciences and Blaisdell Medical libraries — to be open by the start of the fall term for the schools and colleges they serve. (The Physical Sciences and Engineering Library building has been reassigned for use by various campus research initiatives.) 
Study space:

Seating capacity, which was dramatically reduced during the past year to allow for physical distancing, will be restored to the greatest extent possible within the bounds of any public health restrictions that remain in place. The 24-Hour Study Room at Shields Library, which is unstaffed, is likely to remain closed so long as requirements such as face coverings are in force. However, the rest of Shields will again be open until midnight Sunday through Thursday, as it was pre-pandemic. 

In-person classes and tutoring

will resume, including the general assignment classroom Shields 167, University Writing Program classrooms Shields 90A and 90B,

AATC

Chemistry and Math tutoring drop-in hours on the lower level of Shields, and the seminar room at Carlson Health Sciences Library. 

Public access:

Once documentation, such as the daily symptom survey, is no longer required to enter campus buildings, we hope to welcome members of the public in addition to current UC Davis students and employees. We are evaluating whether and how to selectively serve members of the public in the meantime — for example, by appointment to consult materials in Archives and Special Collections. 

Blaisdell Medical Library

continues to be available 24/7 to UC Davis Health badge holders only; its information desk hours are weekdays, 10am to 4pm. The potential to expand access is contingent on improvements in the public health context in Sacramento County, which currently remains in the red tier, and considerations of how to continue to best serve the evolving needs of the UC Davis Health community.
How to get books 
Our emergency access to ebooks through the HathiTrust Digital Library will likely end in the late summer as the campus will no longer be operating in an emergency status. Instead, all books in our general collection will again be available for circulation. The arrangement with HathiTrust was intended as a replacement for access to physical books while most members of our campus community were working and studying remotely; once campus reopens, we cannot legally provide access to digital versions of our books due to emergency status. With that said, we recognize that many library users have valued the convenience of this service, and we are investigating options for introducing a similar long-term service in the future. 
Meanwhile, another convenience initiated during the pandemic — our book shipping service and Shields Library self-service hold shelf — will continue. Through this service, UC Davis affiliates can request books be shipped to your home or office address, or set aside for pickup on the hold shelf in the lobby of Shields Library. (This service is not available for Archives and Special Collections, which must still be used onsite.)
Staying digital: Course reserves, streaming media, lab videos and more
During the pandemic, we added a wide range of new digital services and materials, most of which will remain available. These online services include:
Best of both worlds: Instruction and research support
During the pandemic, the library converted its teaching and research support services to virtual formats, offering research assistance via chat, email and Zoom, and providing both synchronous and asynchronous online instruction. In the fall, we plan to continue offering these virtual options in addition to resuming on-campus instruction and in-person research assistance as appropriate. 
To request instructional sessions for courses on the Davis campus, contact Student Services or Archives and Special Collections; for research support, contact Researcher Services. For research support at UC Davis Health and instructional sessions related to Medicine, Nursing or Allied Health, contact Blaisdell Medical Library. 
We will continue to refine our plans over the coming months as the likely public health context for the fall becomes clearer. If you have questions, please don't hesitate to contact us at library@ucdavis.edu.
Category
Announcements
Tags
faculty news