Library acquires the papers of winemaker and innovator Richard (Dick) Peterson
Library acquires the papers of winemaker and innovator Richard (Dick) Peterson
Jullianne Ballou
October 15, 2021
Winemaker Richard (Dick) Peterson, has donated his archive from over six decades in the California wine industry to the UC Davis Library's Archives and Special Collections. Many of his technical contributions to the industry—such as his design of the steel barrel pallet, which allows wine barrels to be handled mechanically instead of by hand—are used by wineries around the world.
An Enterprising Winemaker: Post-Prohibition Ph.D. to Peterson Pinot Noir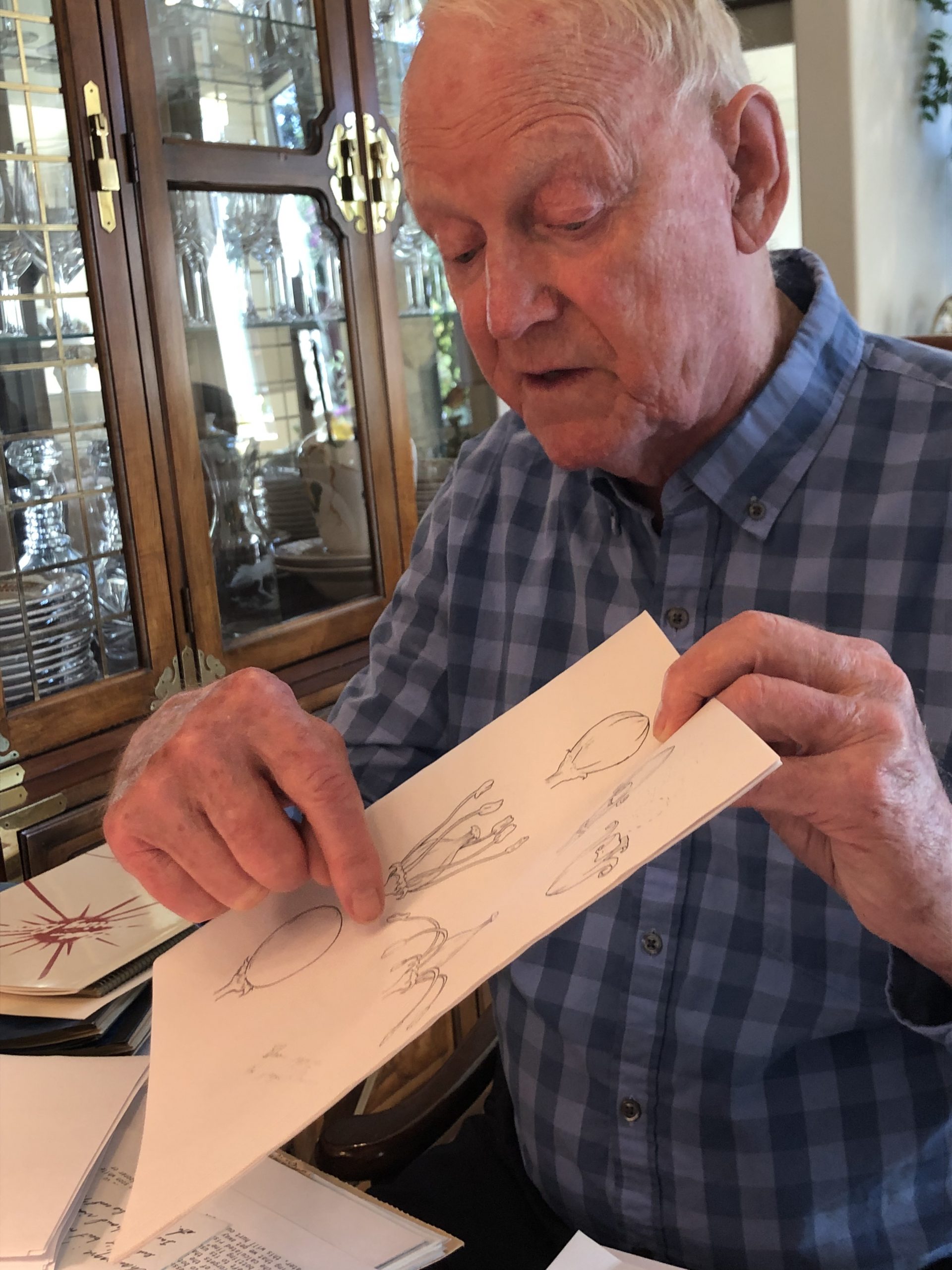 Born in Iowa during the Great Depression, Peterson began his tenure in the wine industry in the late 1950s, when the industry was beginning to rebound post-Prohibition. After receiving his Ph.D. in agricultural chemistry from UC Berkeley in 1958, he worked for the E. & J. Gallo Winery for 10 years, eventually becoming research director and assistant production manager in charge of all winemaking.
In 1968, winemaker André Tchelistcheff hired him to become winemaster at Beaulieu Vineyards, and Peterson stayed for six vintages. He left in 1974 to become winemaster and president of The Monterey Vineyard, where wine writer Gerald Asher, whose collection we also hold, was head of marketing. From 1986 to 1990, Peterson was winemaker and president of Atlas Peak Vineyards in Napa Valley. Today he makes Brut Rosé Napa Valley sparkling wine and Pinot Noir still wine for his own brand, Richard G. Peterson.
Chemist, Engineer, Winemaker, Writer, Innovator
Peterson approached winemaking and cellar operations as a chemist and an engineer, and he wrote—and still writes—about wine. He invented techniques in the 1970s that are used in wineries today. For example, he showed that topping off wine barrels wasn't necessary to prevent oxidation because the head space inside a barrel of wine is not air, but a vacuum.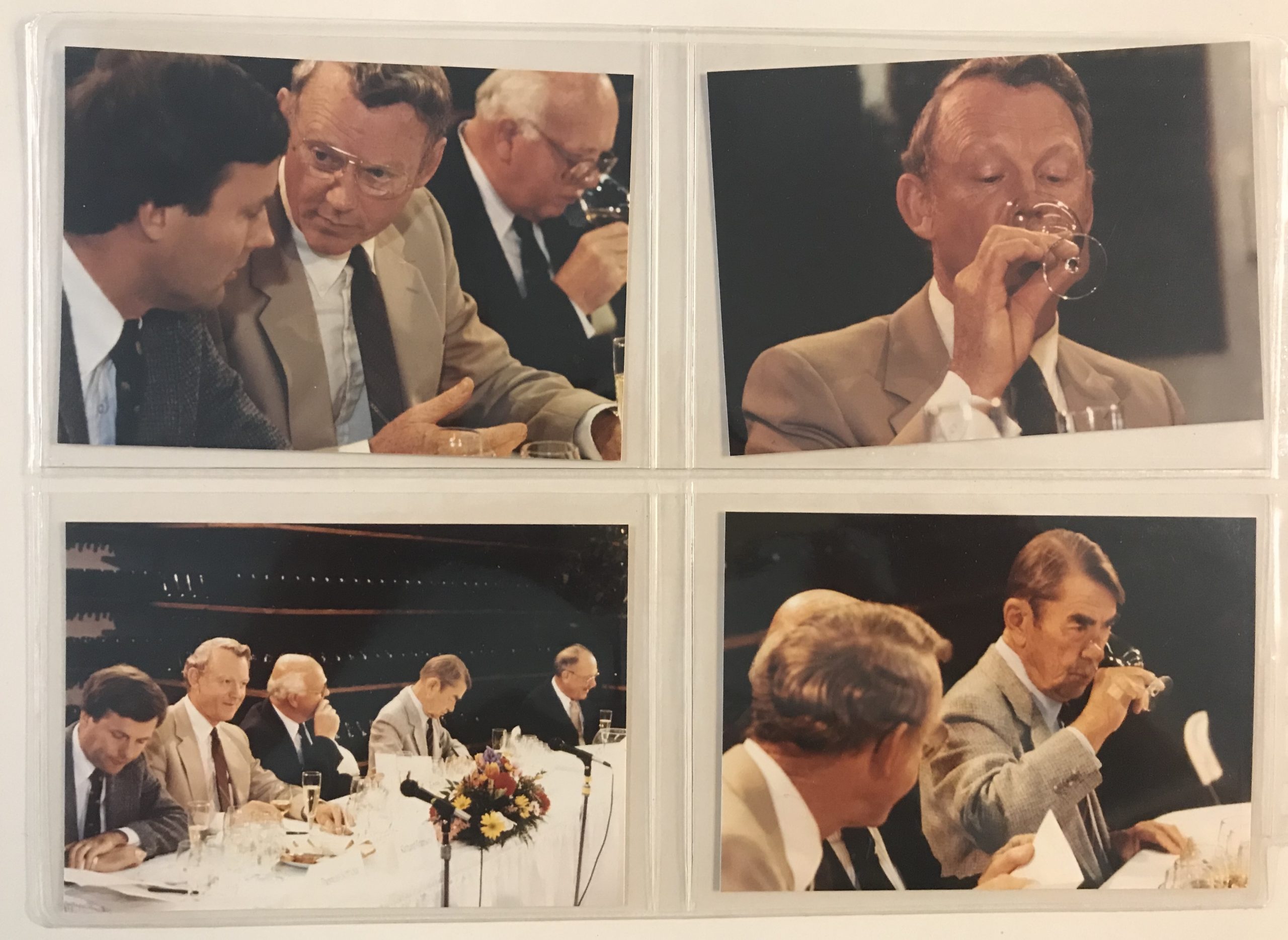 Peterson is also the original designer of the steel barrel pallet, which allows wine barrels to be handled mechanically instead of by hand. The pallets are now used in most American wineries and in many around the world. He is the author of newsletters, popular articles, and research articles about wine, including the column "Common Sense Winemaking," which he wrote for Wines & Vines magazine through much of the 1970s. In 2015, Meadowlark published his autobiography, The Winemaker, a book about his life and about the California wine industry in the decades after Prohibition.
Inside the Archive: Insight into Infancy of California Wine Industry
Peterson's archive includes documents he saved over the course of his career, which he used to write The Winemaker. Photographs, drawings (including of the steel barrel pallet), harvest data, typewritten notes, and documents describing winemaking procedures in detail compose the bulk of the papers and will be valuable for anyone interested in studying or learning more about the wine industry during its formative years.
"Finest Wine Ever Produced"
The following passage is from The Winemaker.
As a freshman at Iowa State College, I had gotten the idea to make a batch of wine from the Concord grapevines that were still growing on the small acreage where I grew up. I had the recipe from the label of a grape brick that Pop had saved with his champagne bottles in the cave. I went home from college for a weekend, and checked around the neighborhood to see who among our neighbors had grapes still hanging on their vines. Many of our neighbors had been growing Concord grapes, and I'd noticed that they hadn't been picking their grapes for the past few years. They probably wouldn't mind if I added their grapes to mine for my first experiment in winemaking. I got permission before realizing that I didn't have the foggiest notion about how to make wine. My Pop had made wine as a home winemaker during Prohibition, and he was the only winemaking expert I could ask. Pop had a sense of humor, and his answer to me was, "Smash the grapes all to hell, let 'em spoil with the skins in the mess for a while, then bottle it without the skins." I said, "Thanks, Pop, I'll check the library." "That's what I said," he answered.
Winemaking instructions in the library books were sparse, and I realized that Pop's simplified directions had been more or less correct. It wasn't clear just how long to let the "mess" ferment, because I didn't have a lab hydrometer with which to measure either sugar or alcohol. Pop told me, "Watch the fermentation because foam rises in the stone crock while it ferments. When the foam starts to settle back, leave it alone for another three days, then drain the new wine off and use cheesecloth to wring out the rest of the new wine away from the solids. Age it in a wood barrel, then bottle it in my champagne bottles. You don't need a corker; just cap the bottles with regular beer caps, like we did when we made root beer." I already said he was an expert.
My high school pal and fraternity brother at Iowa State, Bob Peterson helped me pick the grapes and then crush them by hand into stone crockery jars with loose fitting lids. Bob was called B.K. by our friends. I was R.G. to distinguish us from two other Petersons in the Iowa State NROTC classes, I.H. and G.B., Jr. The crockery jars were the same jars Mom had used to ferment cucumbers into pickles in previous years. B.K. found a wooden barrel that had been used as a shipper for tomato juice concentrate to a local pasta producer. It took us the better part of a day to wash, wash, and wash again the barrel well enough to remove all traces of tomato flavor from the wood. Then, into the barrel our new Concord wine went. Nothing in the books told us how long to age the wine in the barrel, so we settled on one month. I later realized the wine would have been ruined if we had left it in the barrel much longer, or if I had not found some "meta-bi" crystals in the Chemistry lab at Iowa State. Meta-bi becomes "SO2″ in solution, which protects the wine from oxidation. The book told me to add 25 ppm, which calculated out to nearly a tablespoonful for the whole barrel. We then bottled the wine and capped the bottles with unused root beer caps, which sealed the bottles very well. Now that we'd finished it and checked our inventory, we realized we probably had a two year supply of bottled wine. B.K. and I were certain this wine would rank among the very finest wines ever produced by civilized man. We were soon to begin discovering some of the mistakes we had made.
I had bought my first car, a 1937 Ford "60" with my last $150 in order to get to and from Iowa State on weekends.* I had no money left for gas, and I drove home with two gallons the salesman had thrown in with the purchase. A gallon of gas cost the same amount as a hamburger at the local drive-in, eighteen cents! I remember that because I skipped the hamburger several times in order to buy gas instead of lunch.
Unfortunately, only a month after the purchase, I left a bottle of my first wine lying on the back seat of my car. When I came back to my car in the hot afternoon, I didn't see the bottle. I opened the car door and immediately was hit by the intense smell of Concord wine. The whole inside of the car had a beautiful odor of Concord grapes, and I saw a large wet stain all over the back seat. Then I noticed all the glass in the world spread around inside the car as tiny shards. Oh, my car, my very first car! What happened here? Bits and pieces of glass were on the seats, the floors, hanging from ceiling upholstery, the inside doors, even the front seats had their share of glass shards. My bottle of wine, containing lots of dissolved CO2 gas, had exploded on a hot afternoon inside my locked car while I was gone. In trying the wine a month after bottling, I had noticed the CO2 (the wine we bottled was now very much like a sweet, yeasty red Concord Champagne). Ten years later, after I became a professional winemaker, I understood that we had bottled the wine too soon—while it still contained residual sugar. The yeast had continued to ferment in the bottles. Because they were sealed, the gas remained dissolved in the wine, and we had unknowingly made a champagne type sparkling wine. The alcohol content couldn't have been high.
---
* The "60" designation meant the Ford had an engine of only 60 horsepower. Iowa has no mountains, and Ames to Des Moines was just 30 miles; mileage was good and the car suited me perfectly.
Category
Announcements
Archives and Special Collections
Food and Wine
Tags
Donor News
Donor Spotlights
faculty news