Darrell Corti on California Chardonnay
Darrell Corti on California Chardonnay
Jullianne Ballou
November 2, 2020
Darrell Corti joined his family's Sacramento grocery business, Corti Brothers, in 1964 and used it as a venue for promoting fine California wines, which he sought out through relationships with growers and winemakers. As a merchant with international accounts, he took advantage of travel to share California wines abroad in the early 1970s.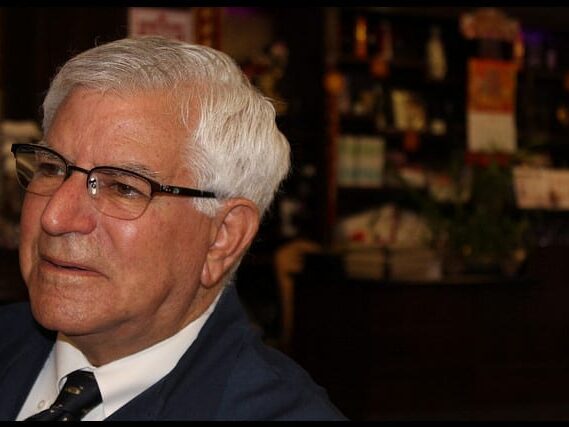 Before the famed Judgment of Paris tasting in 1976, wines that Corti introduced into blind European tastings received responses like, "We would love to make wines as clean as your California wines." He was a catalyst in the renaissance of Zinfandel in this state, and he has long been a sought-after member of wine panels. Corti is known for his refined senses of smell and taste, and for his ability to consider, simultaneously, the technical, climatic, cultural, and economic realities of the wine industry.
In 2019 Plant Sciences Librarian Leyla Cabugos, Warren Winiarski Fellow Jullianne Ballou, and Viticulture & Enology master's student Bryan Lairmore interviewed Corti about the history of California Chardonnay. That interview is excerpted here, thanks to Jean-Jacques Surbeck, who helped transcribe the audio.
Leyla Cabugos
Darrell, you've said before that in 1960s California there is no love for Chardonnay. What did you mean by that?
Darrell Corti
If you go back and look at what was written in the reports of UC Davis to the Board of Regents, or to the legislature, there are really no great comments about Pinot Chardonnay. The thing that's interesting is there are no real great comments because of the fact that it was considered a very difficult grape variety. It was difficult to grow. It didn't produce very much. And why would you actually want to grow a grape variety that didn't produce?
Jullianne Ballou
Wasn't Chardonnay more successful in Livermore than in Napa?
Darrell Corti
You also have the distinction in the various growing areas. Very early on, there was already a distinction made. Even the Italian, Guido Rosati, who from 1896 to '97 made his trip through the United States, which he then wrote about in Relazione di un viaggio d'istruzione negli Stati Uniti d'America — he wrote more about wineries south of San Francisco — Livermore, Palo Alto, that area — and wineries in Sonoma than he did about wineries in Napa Valley.
At the time, there wasn't a great deal of interest in white Burgundies. There was much more interest in things like Chablis, actually. Why? Chablis was considered a very special wine because of its flavor. There was one point where, because of wine writers (Parker at the top of the list), Chablis stopped being Chablis. And it became sort of quasi–white Burgundy. Chablis for Chardonnay is very cold. The soil is very different from the rest of Burgundy. And wines from the area have the sort of flavor context that no one likes to talk about because they say, "Well, you can't talk about minerality." Chablis was the only white Burgundy that you talked about its minerality. You know, the stony smell. The gunflint smell. "Gunflint" was a term that was used for only two wines. One was Pouilly-Fumé, which is made out of Sauvignon blanc and Chablis. Chablis is made out of Chardonnay. But in Chablis the soil is actually white, and in Burgundy, it's not white; it's sort of grayish in color.
The thing that's really interesting is if you look at the very old descriptions (from Hilgard and Bioletti) about why these grape varieties were planted and wine was made out of them — they never say anything about Chardonnay. They don't talk much about it because it wasn't distinctive enough. They do talk a lot about German wines.
Leyla Cabugos
Is there a relationship between Eleanor McCrea's assertion that the best Chardonnays are 100% with the rising prominence of single varietals in California?
Darrell Corti
This is a many-pronged answer. Sauvignon blanc is easy to produce. Because it's highly distinctive. The university was charged with recommending grapes that would produce highly distinctive wines. That's why they came out with Grape Varieties and Wine Production. If you read its preface — the grape varieties recommended for planting (or not planting) in California — the recommendation is for varieties that are highly distinctive. Varieties that made red wine that were sort of anonymous— very much like Napa Valley Cabernet is becoming now — were just "red." That's why Amerine and Winkler suggested that vintners not plant Merlot; the early Merlot selections that we had were not distinctive. So vintners planted Cabernet instead. But what Cabernet? Cabernets that were high in methoxypyrizines.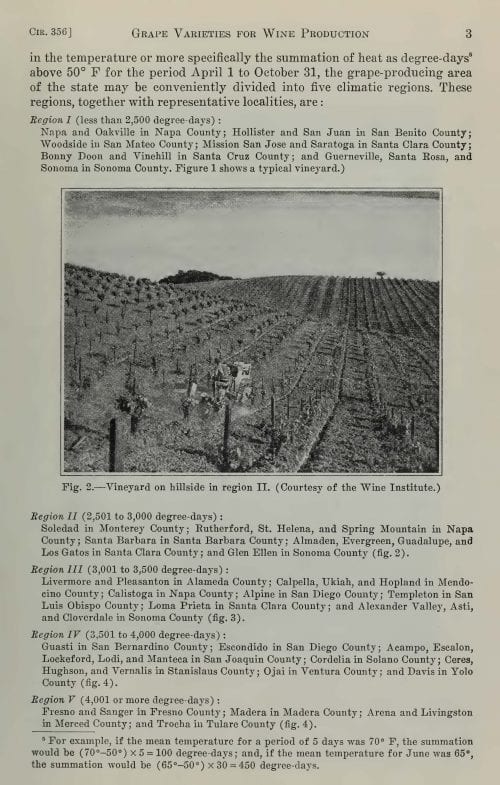 Lee Stewart made a very famous wine. It was extraordinarily famous — sold like hell. It was called Green Hungarian. And he said the best Green Hungarian is made with as little Green Hungarian as possible. Those were the days when wines, to be labeled a varietal wine, had to be 51% of the variety. Then came the days in the Napa Valley when they wanted to make varietal wines with one hundred percent of the variety. Louis Martini came out with the statement, "Well what happens when they have to blend?" You know, you have to make good wine. Sometimes a single-variety wine is not such a good wine.
Which is why, in Bordeaux, there are no straight Cabernet wines. Cabernet alone doesn't make a good wine in Bordeaux. Getting back to Chardonnay: a Pinot Chardonnay from Wente was the most expensive wine in California in those days. It sold for $2.10 a bottle. André Tchelistcheff told me, "When I came to California, the finest white wine I ever tasted was Wente Chardonnay, 1936 vintage." It was a very famous wine because it then went on to win medals at the various tastings. There was a tasting in 1939, at the World's Fair on Treasure Island, where the Wente '36 Chardonnay won all of the top prizes. That caused Chardonnay to become a very important wine, because there wasn't much Chardonnay around. Remember, as late as 1966, if you look at the reports of the Agricultural Commissioner for the county of Napa, there were less than 150 acres of Chardonnay in Napa Valley.
Jullianne Ballou
Was the Wente 1936 Chardonnay the first varietal Chardonnay to be labeled as such?
Darrell Corti
It could have been. There was little interest in labeling a wine "Chardonnay." There was more interest in selling a wine that was called Chablis. The most famous Chablis in Napa Valley was Beaulieu Vineyard Chablis. It was interesting because Beaulieu Vineyard Chablis, which was made until Beaulieu was sold, was actually a blend of Melon de Bourgogne, Aligoté (which was called Chardonnay for a long time in California), some Riesling, and some Chenin blanc. But the single most important white wine made in Napa Valley was Beaulieu Chablis. In fact, it was so important that it was served to Winston Churchill when he and his son came down from Washington State through California. And this was written about in a work, cellar notes, from the man who owned the City of Paris department store in in San Francisco. His name was Paul Verdier, and he wrote a little sort of a newsletter type thing and it was put into a booklet form. He writes about meeting the Churchills on the way down from coming through Napa Valley and they stop for lunch at the Beaulieu residence because before that they had gone skinny dipping in a creek in Northern California. But they went to lunch at Beaulieu, and the wine they were served was Beaulieu Chablis.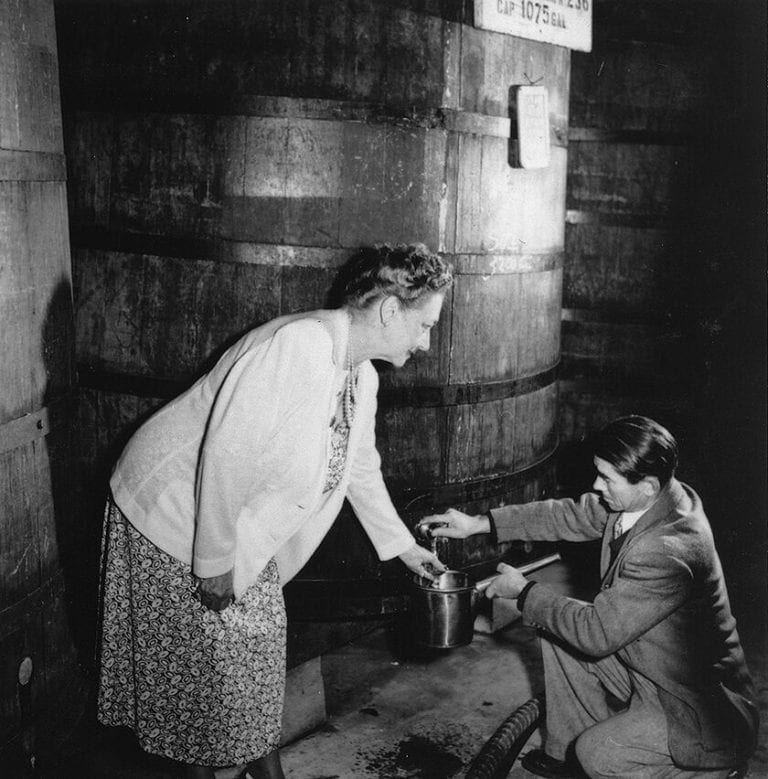 Leyla Cabugos
Was the 1936 Wente made in the style of a white Burgundy?
Darrell Corti
No. It was made in the style of a white wine. And it was made in the style of a white wine like German-style wines. There were no ideas of making white Burgundies. Why?
Jullianne Ballou
Wasn't California at the time still looking toward France and toward Burgundy in particular?
Darrell Corti
But not for white wines. Do you know why? Because they hadn't thought through production. Who was the first to think about the whole production system?
Jullianne Ballou
Was it Wetmore?
Darrell Corti
No. Ambassador James D. Zellerbach, of Hanzell. He was the first one to import French wood. Otherwise what was the wood that was used? You know, in spite of the fact that people like Robert Mondavi Winery said, "Oh, yes, we used to use this and we used that…" — it's all nonsense. They didn't. No one would spend money for cooperage. If they spent money for cooperage, it was for re-coopered cooperage. This you can still see at Inglenook, where you can see barrels that are shipping casks, that are very thick staves — probably chestnut, not oak. They're shipping casks, and they're still branded Duff Gordon Sherry. There were very few coopers in California. In fact, it would be very interesting to study who the coopers were. You know, if you make wine, you need a container. There were few container makers. Usually, if we bought barrels, the barrels came from Kentucky. They were all cheap wood. What were they? Reused whiskey barrels. To me it seems very foolish and very stupid to make wine in Bourbon barrels. That's what we did in California forever! In fact, I can even tell you how the barrels were treated. When you bought a barrel, typically the cost was $5.
Jullianne Ballou
Zellerbach had the money.
Darrell Corti
Zellerbach had the money, but he also thought things through. When he made the winery, he made a winery that was a small building that was built like Clos de Vougeot. Then what did he do? At that time, the only technology, it's sort of safe to say about the wine business, was in Bordeaux. That's when you had Ribéreau-Gayon doing all of these things, and there were wineries like Château La Mission Haut-Brion that were actually doing experiments using small metal fermenters that were glass lined. They were the only ones in Bordeaux that actually did something different. This lasted until the '60s, when Château Latour became the first Château to actually use steel. At that time stainless steel still was very expensive.
Leyla Cabugos
Observing that we don't have terrible vintages anymore: Is that moderated in the vinification process because of this technology?
Darrell Corti
It is moderated both by climate change and by technology. It's much easier to make a nice, clean wine in a stainless steel tank than it is to make a nice, clean wine in a wooden one. Before 1964 there was no stainless steel in Bordeaux. And Latour caught a lot of flack from 1964 until, say, 1973, '74, because they had stainless steel. But their wines always came out very nicely. Nobody else did that. When Mouton put in stainless steel, they put the stainless steel inside the oak fermentors. There's always the stigma of doing something different, something new, something that people could criticize.
Jullianne Ballou
And the risk of that stigma was not as strong in California.
In California, we just did what we pleased. Just what we pleased. Which is why the Europeans became very envious of California. We weren't constrained by what we could plant, how much we could make, how we could make it.

Darrell Corti
You know, all of these traditions of making a loyal and constant traditional wine, which means that you have to follow years, no, centuries of tradition — we didn't have that. We didn't have any of these problems. In Italy, stainless steel cost the equivalent of $10 a gallon to build. So if you needed 100,000 gallons of cooperage for your fermenting farm, that was a big investment. Europeans don't invest money like that willy-nilly in building things. Now they do. Then they didn't, and the "then" was 40 years ago.
Because of Zellerbach making these wines that actually tasted like French wines, Chardonnay became popular.
Jullianne Ballou
I've known you to admire well-aged Chardonnay, but most people I know prefer to drink Chardonnay relatively young.
Darrell Corti
The flavor of old Chardonnay is not well-liked. The flavor of old white wine is not well-liked. The flavor of old German wines is not well-liked. People expect white wines to be fresh and fruity. They don't want them to be winey. You saw this in the tasting of the Harbor wines, right? We just had another bottle of the '75 Chardonnay last Saturday with a friend who was at dinner. He said, "This wine is just delicious!" People looked at the decanter and said, "But it's brown." Yeah, but it's not oxidized tasting. The whole idea of making wines to last is not the reason people make wine, in spite of what they might say. The McCreas, of Stony Hill, had no idea of making their wines to last. They never even had a cellar for their wines, because there was no idea of making age-worthy white wines. People just didn't do that.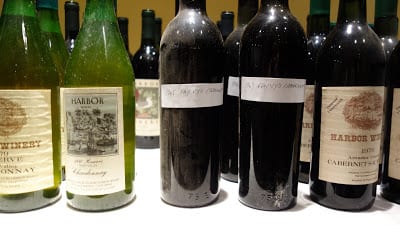 Jullianne Ballou
Did Zellerbach want to make age-worthy Chardonnays?
Darrell Corti
No, Zellerbach wanted to make a wine that tasted like a French wine right out of the gate.
In 1971, I went to Burgundy, and I brought six bottles of Chardonnay, and when I went to Bordeaux, I brought six bottles of Cabernet. So in 1971… in the spring of 1971, we did a tasting of six California Chardonnays. I brought Freemark Abbey and Hanzell.
The tasting of these wines was done at the enological station in Beaune. And it was done after the weekly tasting of the tasting panel that tasted all the wines, leaving Burgundy for their typicity. All the wines were tasted. Something I didn't know. This was set up by a man who was a producer in Meursault, who's also the manager of the firm of Louis Max. His name was René Manuel. His father had created that enological station in Beaune. He was then probably my age now: 77.
When we tasted the wines, they didn't taste like Burgundy. When we walked out of the tasting, René Manuel said to me, "We would love to make wines as clean as your California wines." They didn't want to make typical Burgundian wines, they wanted to make clean wines. That's a very telling statement from a winemaker. Manuel made absolutely terrific wine — terrific Meursault. The cleanliness of our wines was what was so striking to Europeans.

Darrell Corti
In '67 I brought California Chardonnays to London, together with California Cabernet. We did this tasting at a home restaurant in London. That was where the editor of Wine Magazine did her tastings with Broadbent and Harry Waugh. This was the first tasting that Broadbent ever had of California wine. The other member of the trade who was there was the chairman of what was then the oldest wine merchant in London, which was a company called Christopher's, and when they tasted the Wente Chardonnay, his comment – I'll never forget it – was, "This is really quite good wine, tastes very much like La Doucette Pouilly-Fumé".
Leyla Cabugos
So aside from its neutral character, is there something about Chardonnay that makes it very amenable to the winemaking that we enjoy now?
Darrell Corti
Yeah, it's very plastic. If you make malolactic fermentation, which they have to do in Burgundy, because of the very high acidity of the grapes, and you put the wine in French wood — and remember, in those days, what Zellerbach bought, his French wood, was not Burgundian wood, but was Cognac wood — because the oak from Limousin always went to the production of Cognac. Burgundy wood was from the forest of Citeaux (C-I-T-E-A-U-X) which, quite curiously, is also where the Abbey of Citeaux is, which created the Cistercian religious order. Many of the most famous vineyards in that part of France were all owned by either male or female houses that belong to the Cistercians.
Martin Ray always bought his wood from his idol, Louis Latour, because they had their own cooperage. They never bought barrels from Burgundian coopers. They bought wood and made their own barrels. Martin Ray bought those barrels because the grandfather of the current head of Maison Louis Latour was friends with him.
But Zellerbach was the first to actually use French technology — no matter how good or how bad — to flavor a wine. The wine smelled like white Burgundy. Chardonnay left to its own devices has the smell of green apples. It's very neutral. That's why Sémillon was much more important. And more wineries made Sémillon than wineries made Chardonnays because Sémillon had character.
Jullianne Ballou
Chardonnay from Chablis has more character, correct?
Darrell Corti
Chardonnay from Chablis has a very distinct character. But if you let the grapes get overripe, or if you use the technology of making white Burgundy, the wine is going to smell and taste like white Burgundy. It's not going to taste like Chablis. Doesn't have that stony character. That's a problem. But that's what made Chablis more typical. Because it had this distinct character from any of the wines from Burgundy.
You know, if you read novels that had something to do about wine, Chablis was always referred to as distinctive. White Burgundy? The writers never said anything about white Burgundy, because most wines from Burgundy all smell the same. So if you read Lord Peter Wimsey novels, where there's a lot of talk about wine, there's talk about, say, the rarity of Montrachet, but not the flavor. But there is the talk of the smell and the flavor of Chablis.
Leyla Cabugos
Hugh Johnson quoted Piero Antinori as saying "there's an obligatory phase in a market where the consumer is quite new and needs to easily recognize a product and so varietal character is therefore maximized as the distinguishing feature for the public to remember."
Darrell Corti
If the grape variety has distinctive varietal character. Chardonnay does not. Muscat does, Riesling does, Gewürztraminer does, Sauvignon Blanc does, Sémillon does, but not Chardonnay.
Leyla Cabugos
And so, in its growing popularity, are we moving away from attachment to the varietal character?
In Chardonnay, we're actually moving away from varietal character so that what we think the varietal character of Chardonnay is, is the smell of French wood.

Darrell Corti
Jullianne Ballou
Leyla and I were talking about Dan Petroski's wines and the fact that more winemakers today are working with varieties that aren't particularly distinctive. They're good blending varieties. But there's a newer movement in marketing that's focused on promoting these rare — rare or heritage — California varieties, and part of the fuel for that marketing movement is climate change. Do you see these varieties as having the same growth potential that Chardonnay once had because they're kind of like a blank palette in some ways?
Darrell Corti
Hum…I don't think that's quite the case. I think the case is more for the fact that there are people who want to have something new. They want to have new varieties — new, small production lines. As soon as there are 10,000 acres of Albariño in California, Albariño will not be a new grape variety. It already isn't. If there were 500 acres of Ribolla Gialla, that wouldn't be a new grape variety, either. The interested customer in wine is interested in what is new. As soon as something becomes old, they're not interested anymore. Most of this is driven by people who sell wine. Sommeliers, wine merchants. The customer comes in and says, "What's new?" The merchant hands them a $50 bottle of wine. The customer buys it once. If you can get enough people to buy a $50 bottle of wine once, there might be someone who's going to come back and try and buy it again. But for the most part, people are attracted to the novelty.
It's like the effect of Georgian wines. Probably eight years ago when we first saw Georgian wines, they were inexpensive, they were odd, they had odd colors. Now it's only the committed natural wine groupie that wants to buy Georgian wines. Otherwise, no one wants to buy Georgian wines. They might buy the odd Saperavi, but they're not going to buy the orange Rkatsiteli. Believe me. You can push novelty only so far. And I can tell you that because we tried to sell a novel wine and we sold it from 1969 to 1982. There were 600 half bottles. This was the Sémillon du Soleil, which was made at Stony Hill. It was made by sunning the grapes. The production was always about 600 half bottles. When we stopped buying the wine in 1983, there were in fact three vintages of it in our cellar, and the half bottle sold for $8. You can push novelty only so far.
Leyla Cabugos
Where do you think Maynard Amerine got the idea that it was important to push varietal recognition?
Darrell Corti
In California that's the only thing we can do. If we don't sell a varietal wine, we're not going to sell any wine. Frank Schoonmaker realized that in the '40s.
Leyla Cabugos
Is that because we don't have regional traditions to…
Darrell Corti
No one wants to buy a red wine that has no name that comes from Amador County unless it's called Zinfandel. For us, in California, varietal wine is what we made our bed in. We didn't say that Oakville would be the name — or Rutherford would be the name — of Cabernet. In Napa Valley there were a lot of great varieties. Now there are far fewer. I mean, it seems very logical that if you're going to make a wine and it's called this grape variety, it's going to be wine that'll sell. Look at a wine that became the iconic un-Italian wine in Italy. That was the one called Tignanello. When Tignanello was made, it was created to be a wine from Chianti Classico that had very few white grapes in it. When the Antinori winemaker made Tignanello, he didn't remove all the white grapes. Every appellation in the world that makes a red wine allows for the blending of white grapes: Bordeaux, Burgundy.
A winemaker may or may not choose to blend the white grapes into the red wine, but doing so is legal. That's the most important part. The Chianti blend that was Sangiovese, Canaiolo, and white grapes had been distorted so much that the effect of the white grapes was almost 30% of the blend. Eventually the culture's notion of red wine changed. Chianti had become a very pale colored red wine. Canaiolo, which is a very dark-red colored grape was put in with Sangiovese to deepen the color of Sangiovese, which is not traditionally a very dark colored grape variety. White wine was added to soften the tannins of both of the red grapes. But when, after years of producing this blend, the traditional wine came out composed of 30% white grapes… it was hard for people to see it as a red wine and not as sort of a dark colored Rosé.
So then winemakers were allowed to blend red wine from other parts of Italy into the Sangiovese of Chianti, and this was actually suggested by one of the most important winemakers in Chianti, the Piemontese winemaker who created Banfi. He said the winemakers in Chianti should go to the southern part of Italy, to Puglia, and make (not buy) the wine from Puglia that makes a great dark wine, then bring that wine up to add the Chianti.
The winemakers knew they had a problem, and the problem was the color of the wine — not the flavor, just the color. So in order to make a dark-colored wine, one had blending material. But one had to make the blending material himself, not buy it on the open market. When Tignanello was made in 1971, it was made as a blend of Sangiovese and Canaiolo with a little bit of Malvasia. The Malvasia was not very aromatic, but it had some aroma to it.
Then along came the 1975 vintage, and in the 1975 vintage, the Antinori winemaker actually added Cabernet from the German-speaking part of Italy — from the very North, where the Cabernet had a very distinct Cabernet character. He added that to the wine. The '75 vintage became the vintage about which people said, "Hey, it smells like Cabernet!" A very dominant Cabernet smell is very difficult to get rid of in a red wine. So the winemakers took a red wine that had a very delicate smell, added Cabernet, and that's all she wrote. Super Tuscans became blends of Cabernet, Merlot, Syrah, and Sangiovese. End of subject. It was the wine writers who could actually flag the smell — the scent of Cabernet — in the '75 Tignanello, which came out in '78. They said, "It smells like Cabernet. It smells like real red wine." The market was done. It's really easy to market wine, you just have to know what the consumer wants.
Leyla Cabugos
We've spoken before about Joe Heitz, who purchased and sold the last of Zellerbach's vintages. He was known as a master blender and one of the first to sell Cabernet Sauvignon at premium (for the time) prices.
Darrell Corti
Heitz as a Cabernet producer is very famous because of a vineyard called Martha's Vineyard. One of the best wines from Martha's Vineyard was a wine that was not labeled Martha's Vineyard. It was the first vintage of Martha's Vineyard and was just all sold as Heitz Cabernet. That was the '65. The first Martha's Vineyard Cabernet was the '66 vintage.
Belle and Barney Rhodes planted the vineyard, and they sold it to Tom and Martha May. The story is very amusing. The Rhodes had planted the vineyard themselves. They physically planted the vineyard. When they decided they were going to sell the vineyard, this couple came along, saw the vineyard, and said, "We'll buy it." It was in a very nice position — it was terrific. So Barney called the banker in St. Helena, and the bank manager said, "Well, yeah, the check will clear, but… if it's for six figures, it will clear immediately. If it's for seven figures, it will take one day longer. Barney sold the vineyard that day.
Then the Mays expanded the vineyard. The vineyard was planted to two varieties: Cabernet and Riesling.
Riesling was the most sought-after white wine of a winery. Chardonnay was not an important grape variety. Riesling was, and since the vineyard is on the west side of Napa Valley, why would they have planted Riesling?
Bryan Lairmore
Less afternoon sun.
Darrell Corti
Less afternoon sun. That's the other problem in California. We're too young in growing grapes. We don't know the best grapes for the best sites yet. We know that we can get a lot of money from Cabernet in Napa Valley. So that will drive out everything else. But, you know, one time in Napa Valley, they planted Pinot Noir on the valley floor. One of the best Pinot Noirs that was ever made in Napa Valley was the Beaulieu 1946, which came from a very old vineyard in St. Helena. That was the last vintage of that vineyard because it was pulled up soon after. You could probably still grow a lot more varieties in Napa Valley. But it's getting to be a monoculture. What's the most famous variety? It's Cabernet.
Leyla Cabugos
I've read that even when it is known what a more optimal grape would be for a place, the temptation from the economic standpoint…
Darrell Corti
Precisely. Precisely. Precisely.
Leyla Cabugos
I've seen Chardonnay characterized as a grape that requires optimization in terms of the viticulture.
Darrell Corti
All grape varieties require that. And one would do better to be a good viticulturist than to be lucky. Then there is the problem in Chardonnay, which is one of the reasons why Olmo worked on Chardonnay, which is that the old Wente clone of Chardonnay is subject to millerandage, which is hens and chicks. If he wanted to work on Chardonnay that makes nice, uniform bunches where all the berries ripen at the same time, he should have worked on Zinfandel. Zinfandel is a variety that is just terrible. Because it's not… it doesn't ripen homogeneously. The top of the cluster ripens one way, the bottom of the cluster ripens another, and then the middle, God knows. So you have a cluster of Zinfandel that comes out where you've got raisin berries, red berries, slightly greenish red berries, and blackberries.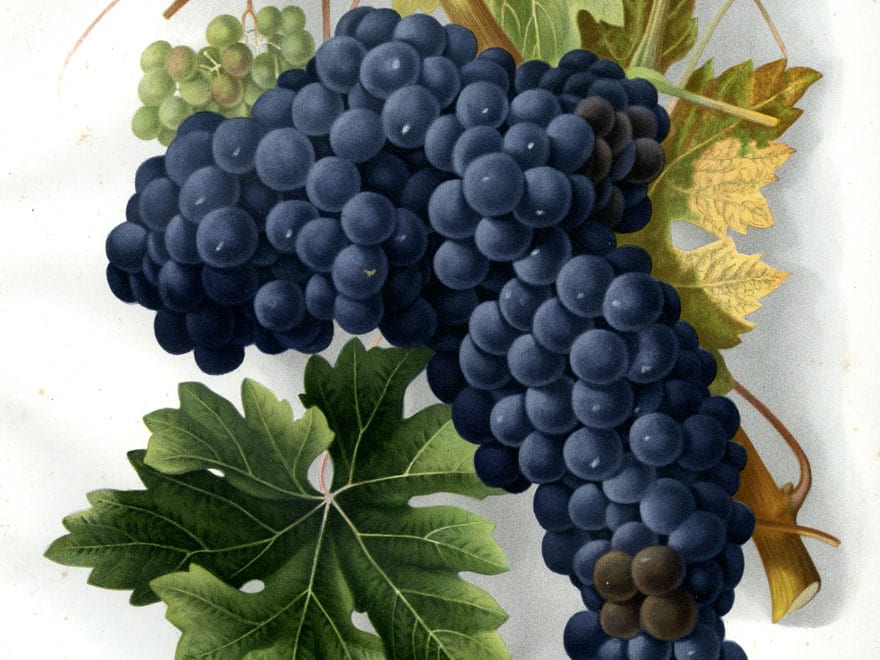 Leyla Cabugos
Why did he put his focus on Chardonnay?
Darrell Corti
Because Chardonnay was going to become an important variety. And then they said, "But Davis isn't working on things that the industry needs, you know. The industry needs Chardonnay that produces." So Olmo made the super clone Chardonnay, which actually no one wants to plant anymore.
Leyla Cabugos
Why is that?
Because it makes an amorphous wine. You know, nature really does tell you that you can't have too much of everything. I mean, it can't be too productive and also be really good. If it's too productive, and really good, something is wrong.

Darrell Corti
Jullianne Ballou
Do the hens and chicks clusters make very good Chardonnay?
Darrell Corti
They make good wine. But they don't make a lot of it. When you have people who want to have eight tons to the acre, and no matter how you force the vines, you're only going to get six, they say, "To hell with this, we'll plant another clone." That's when all of this idea of clonal selection came about. At one time here no one used the word "clone." In fact, some of the people in viticulture would say, "Clone? What's that?" I mean, they would… they refused to say the word. Because it was a new word, and it was something which was out of their… out of their idea of… of agronomy. It wasn't… it wasn't a good word.
Leyla Cabugos
Coming from botany, I was surprised at the way it's used in viticulture, because it can refer to what I would think of as a land race population…
Darrell Corti
Right!
Leyla Cabugos<
So it is a novel thing for plant people, I suppose.
Darrell Corti
I know. And remember, here, the old guard, the giants of the previous epoch, they came from a completely different mindset. All of these ideas like, "Well, how can we improve all of this?" They would never have thought of any of these things. And they didn't even want to hear about them. I mean, if you talked to Armand Kasimatis, you would never use the word "clone," ever. He'd go off on a tirade.
Leyla Cabugos
So was the assumption that plant material was more homogenous than we see it as being now?
Darrell Corti
Yeah.
Leyla Cabugos
Okay. And so we want in raw material for wine making a neutrality to a point, but we still want some distinctive character.
Darrell Corti
Exactly. Which is why there is now so much Viognier around. Viognier, until probably the '80s, was always considered an extraordinarily rare grape variety, even in France. There are two areas in the northern Rhône that grew Viognier. Now Viognier is like Chenin Blanc — it grows all over, because the French improved it. But the appellations of Château Grillet and Condrieu were the only appellations in France that used Viognier. Now Viognier is said to be part of the blend for white Hermitage — for white Rhône wine. White Rhône wine was Marsanne and Roussanne only. Viognier was only the appellation of Château Grillet and Condrieu, and Château Grillet is the appellation inside of Condrieu. Because it never produced.
There was very limited production. And old Viognier always had a very floral scent. It smelled like violets — highly distinctive of violets. It's sort of like Grignolino. Grignolino is the only red grape variety — if you put a whole series of wines up and you put a Grignolino wine in the lineup — that you'll be able to pick out because it's always orange in color. Now they've improved Grignolino by crossing it and then back-crossing it so that it has a red color instead of this orange-ish color. But that was the only way you actually described Grignolino was that it was an orange colored wine.
Leyla Cabugos
So in the history of Chardonnay in California, we know the Wente clone, the Musqué…
Darrell Corti
Musqué. But even there, there obviously is some gene that triggers the Muscat character because you have Sauvignon Musqué, you have Chardonnay Musqué, you have other varieties in Eastern Europe that we don't know anything about in the West that are Muscat smelling.
Leyla Cabugos
And it's the same compound. It's not just…
Darrell Corti
It's the same compound. But why? You know, so, obviously, in nature, that may have in fact been a compound that was found in all grapes… that slowly diminished and only some grapes still have it.
Monday, I was at a tasting at Rancho Murietta, home of the owner of Sobon Winery, and we tasted old Zinfandels. A fellow who was at the tasting, who was at my house on Saturday, a customer of ours, brought a bottle of Sobon's 1984 Black Muscat, which had absolutely no more Black Muscat character — it had no Muscat character. And one of the things that's interesting is that Black Muscat is a table variety. We make wine out of it. It's one of those varieties that was always used as a hothouse variety. In fact the variety that Olmo worked on, called Early Muscat, was originally to be used as a raisin and table variety. But it's very early. He did the crossing of it. One of the parents in one of the crosses is Black Muscat, which came from England.
Black Muscat was also made into wine here, but was never made as a vintage wine. It was always made as a blend, because the Muscat character diminishes very quickly. Novitiate was the winery that made a Black Muscat dessert wine. But this Black Muscat quickly lost its character. Finding Black Muscats that have both anthocyanin and Muscat character is very difficult. There are very few of them. Most of them have been thrown away because no one wants to have a red wine that has Muscat character, yet they make perfectly delicious wines. But Black Muscat — Muscat Hamburg — is not a grape variety that's going to keep its Muscat character. So even there, the Muscat character diminishes with time. Why did the Muscat character in grape varieties diminish? Because it probably was prevalent in a lot of them, and only some kept it.
Leyla Cabugos
Through breeding?
Darrell Corti
Through breeding or its falling off, for some reason, in the grape variety. I mean, why would you have Sauvignon that wasn't crossed to be Muscat-smelling Sauvignon, and Chardonnay that wasn't crossed to be Muscat-smelling Chardonnay? There's a paper that's just come out about the creation of Chardonnay, and it says that it has always been a crossing of Chardonnay. This may have some validity, because in Champagne, where Chardonnay is one of the grape varieties, Chardonnay was never called Chardonnay. It was always called Vert-Doré. So the variety that was a green variety, that was always yellow like that, right? That's what the Vert-Doré means.
But they did have Pinot Blanc. And Chardonnay is a sibling to Aligoté and Melon, but none of the Pinots. When Chardonnay came to the States, it was always known as Pinot Chardonnay. We didn't know that it was Pinot Noir and Gouais Blanc. But the village of Chardonnay is in the southern part of Burgundy. It's in the Mâconnais. Did Chardonnay go from there north? When Carol Meredith and John Bowers found the family genealogy of Chardonnay, it was very interesting. As I said, Aligoté for a long time was called Chardonnay in California because it looked like Chardonnay. Chardonnay is the only variety that has a clean petiolar sinus.
Leyla Cabugos
In the lobe.
Darrell Corti
Right. On the other hand, ampelographers can make mistakes.
Leyla Cabugos
Are you aware of what those mistakes are?
Darrell Corti
No, no, I'm just saying. Ampelographers can make mistakes. Otherwise, why would it have taken until the '70s for people who had Aligoté to figure out that what they had was not Chardonnay but Aligoté that they hadn't pulled up. You could probably get a lot of money if you had a vineyard of Aligoté now. Melon de Bourgogne, the same.
Jullianne Ballou
Chardonnay was also confused with Pinot Blanc?
Darrell Corti
No, because Pinot Blanc looks like Pinot Noir. In fact, Tchelistcheff used to say that you can go through Burgundy, and all of a sudden you're walking down a vineyard planted to Pinot Noir, and you've got a white vine. Tchelistcheff said there was the possibility that Pinot blanc or Pinot gris was planted among Pinot noir purposefully — because in Burgundy, up to 10% white vines were tolerated in red vine vineyards. But I have seen Pinot Gris vineyards — in fact, Gallo has one, the McCray vineyard — that have bi-colored clusters. Where the sun hits them, the cluster is dark red, and then on the other side, it's golden. Very unusual. Genetically there are varieties that are bi-colored, but we don't have many of them.
Who and what drove the rise of Chardonnay in California? Publicity. Is it fair to characterize Chardonnay as having been looked down upon in the old world? No, Chardonnay was always… not looked down, but was considered very difficult to grow. The viticulturists are like every other farmer. If it doesn't grow well, get rid of it.
One of the parents of Pinot Noir, Gouais Blanc, is not planted any more. There's probably one production of Gouais in Switzerland left. But Why is that? We don't know what it tastes like. Because it has been forgotten. It may have been that it was something that was too neutral in flavor. You know, because in the history of winemaking, the scent, color and flavor of grapes all have their influence.
Category
Archives and Special Collections
Food and Wine