"Glee" Club – UC Davis Style
"Glee" Club – UC Davis Style
Sara Gunasekara
November 28, 2012
Did you know that UC Davis had a Glee Club?
In October 1916 the first Glee Club of the University Farm (now the University of California, Davis) was organized with an enrollment of forty men. According to the 1917 Farm Rodeo yearbook, the Glee Club was "organized to give the fellows something to do, and something to think about besides just agriculture 365 days in the year."
Over the years, the club performed local concerts and operettas, before student assemblies and rallies, at Picnic Day, and over the radio. Specific performances included: In the Garden of the Shah at the Varsity Theatre (1924), over Radio KPO (1925), two joint concerts with the the University of Nevada, Reno (1929), The Golden Trail (1934), Gypsy Rover (1935), And It Rained (1936), An Old Kentucky Garden (1937), and Pirates of Penzance (1939).
Circa 1933, the Girls' Glee Club was formed and the two groups sometimes performed together. Later the groups were combined to form a third organization — the Mixed Chorus.
The Glee Club is last mentioned in the 1942 El Rodeo yearbook.
Here is an image of the combined Glee Clubs and Orchestra in 1934 from the University Archives Photographs.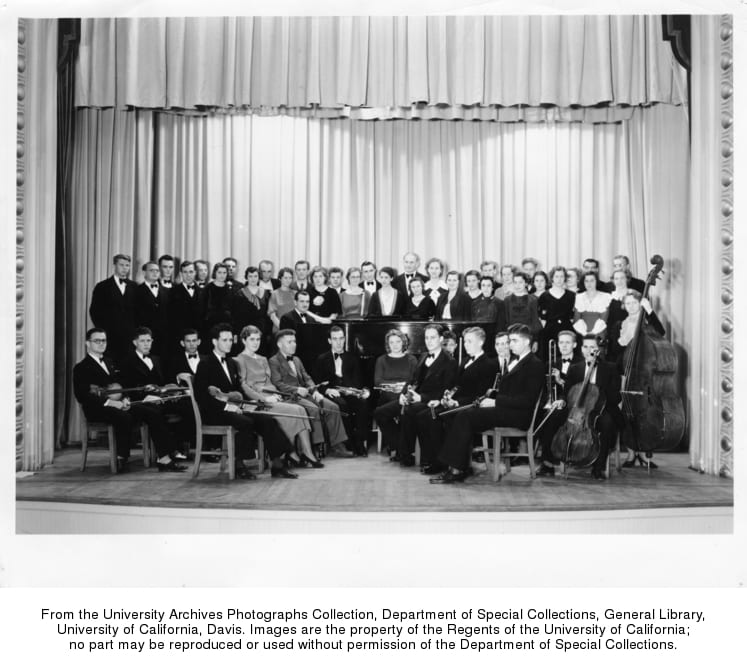 Combined Glee Clubs and Orchestra, 1934
Category
Archives and Special Collections
Tags
Campus history
Glee Club
musical activities
University Archives Photographs