Gift of Gold
Gift of Gold
UC Davis alumnus commits his golden years to preserving late wife's family's golden history
In every reference to his gifts to or awards to UC Davis, Richard "Dick" McCapes '56, D.V.M. '58 always insists his late wife, Marilyn, be named first.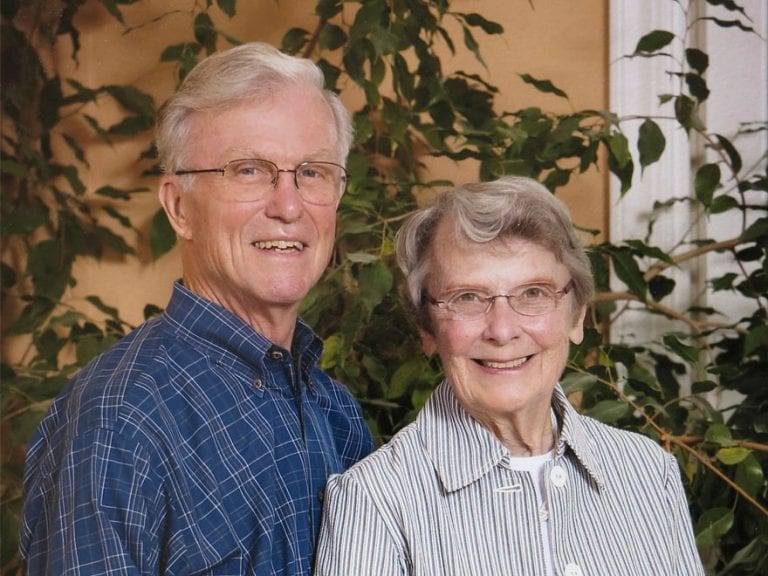 He does this despite the fact that his college sweetheart passed away in 2012 and the fact that he had an admirable career of his own at the UC Davis School of Veterinary Medicine, serving as the school's first associate dean for public programs and first director of the Veterinary Medicine Teaching and Research Center.
"Marilyn was a determined person with broad interests, devoted to her family and, as a second generation Aggie '55, held deep affection for this university," said McCapes, who, along with Marilyn, won the 2017 Cal Aggie Alumni Association's Aggie Service Award.
In that same vein, through his time and treasures, McCapes has committed his golden years to continue his and his family's efforts to help celebrate, honor and preserve the legacy of Marilyn's father, UC Davis' first Olympic champion, the late Colby E. "Babe" Slater '17. Before she passed away, Marilyn and Dick donated Slater's Olympic memorabilia to the library's Special Collections, along with a gift to support digitization of the entire collection. With their support, the library has created a permanent online exhibit that tells Slater's story.
First UC Davis Olympian
Slater, a tall California Aggie, came to the University Farm in Davis (now the University of California, Davis) in 1914 to attend a three-year course in agriculture. While at the University Farm, Slater starred in football, basketball and baseball. He also served as basketball team captain, junior class president, house manager for the Calpha Fraternity, Picnic Day Parade chairman and Picnic Day general chairman.
Just a month after graduating from the University Farm in May of 1917, Slater registered for the draft. Soon after, he enlisted in the army, serving in World War I with the medical corps in France until the war ended in 1919.
Then, just a few months after returning home from the war, Slater was asked to head to Europe again; but this time, it was to play rugby — the game he adored from his youth. Slater helped the U.S. clinch gold in 1920 and then, as team captain, led the 1924 team to win gold.
"You stand on the shoulders of those that came before," said Bob Watkins, past president of USA Rugby. "Babe and his team set the standards of the game."
After earning his second gold medal, Slater retired from athletics and moved to Clarksburg to become a farmer. He married and had a daughter, Marilyn. Slater died in 1965 and was enshrined into the U.S. Rugby Hall of Fame in 2012.
Olympic collection at UC Davis
In 2003, Marilyn (Slater) McCapes '55 and Dick McCapes '56 decided that Slater's entire collection of medals and memorabilia should be given to UC Davis — the school he adored and the one that he, Marilyn and Dick had all attended.
"From our family's standpoint, this is a priceless collection and knowing that it will be preserved in perpetuity was important to Marilyn," Dick McCapes said. "We are grateful to the UC Davis Library, Intercollegiate Athletics, and others on campus who worked with us to make this a reality."
The Colby E. "Babe" Slater Collection includes historical manuscripts, newspaper clippings, photographs and memorabilia, which are available for research in the library's Special Collections, and his two gold medals, which are on display at the Colby E. "Babe" Slater Athletic Hall of Fame on the UC Davis campus.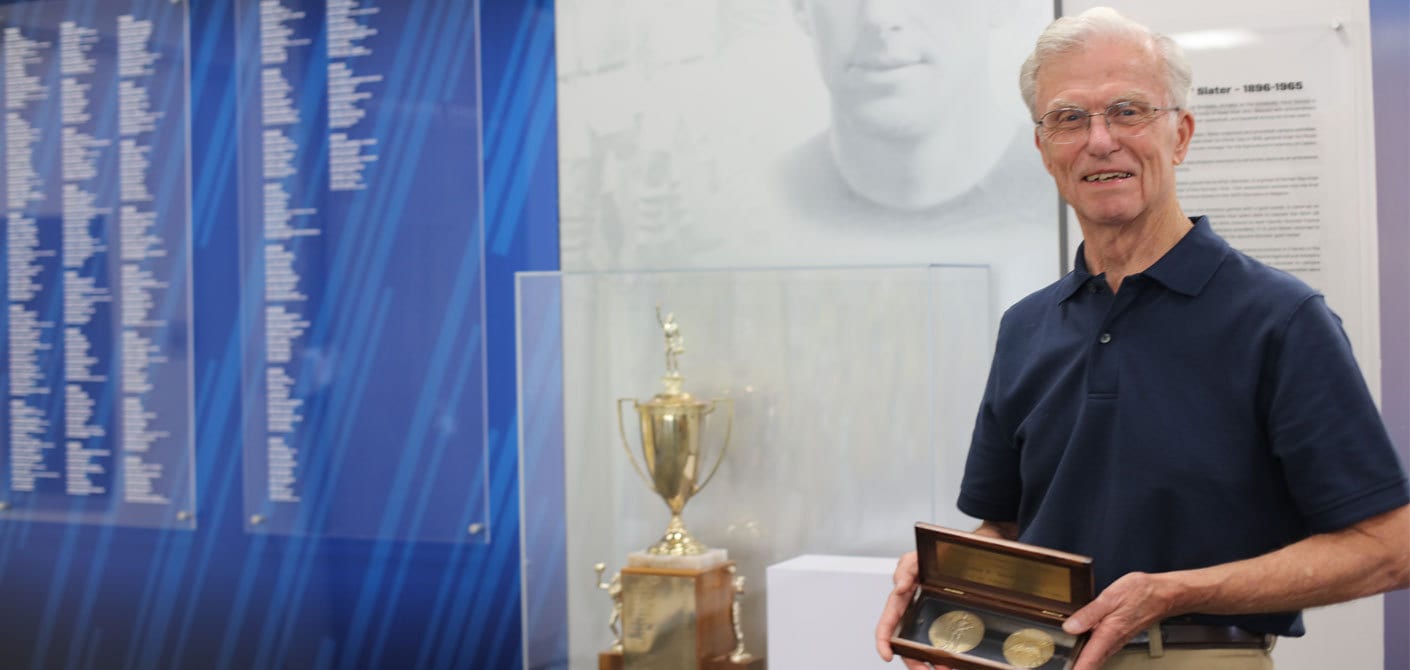 Historic collection goes digital
With the support of the McCapes family, the library has digitized the Slater Collection and created an online exhibit. In 2017 the site will be expanded to include the entire Slater Collection, in line with the library's vision of using digital technology to provide public access to its collections.
UC Davis Library's role in 2016 Olympics
The collection, which was a centerpiece for a USA Rugby organization's and the International Rugby Board's marketing campaign in 2005, played a role in the International Olympic Committee's decision to bring rugby back to the 2016 Summer Olympic Games after a 92-year hiatus. The collection also gained national media attention during the 2016 Summer Olympic Games with such media outlets as ESPN.
"We are pleased that this collection enables the UC Davis Library to be a resource in both preserving a proud past and also helping forge a new future for the game of rugby and the Olympic games," said Jean Flournoy Korinke, the library's director of development. "It's just one of many ways in which the UC Davis Library, in partnership with our donors, is doing work that has both a local and global impact."
Related:
Learn more about private support of the UC Davis Library.
Category
Announcements
Archives and Special Collections
Campus and Local History
Tags
Alumni
Donor Spotlights