Finding Aid Friday: Blue and Gold Dairy Club Records
Finding Aid Friday: Blue and Gold Dairy Club Records
Sara Gunasekara
October 18, 2013
Today we're launching a new series, Finding Aid Friday, on our blog. This series was inspired by our archivist colleagues on Twitter who created the #FindingAidFriday. On Fridays, we'll post a finding aid for one of our recently processed collections.
This week's feature is the finding aid for the Blue and Gold Dairy Club Records. The Blue and Gold Dairy Club, organized in 1920 at the Davis campus, brought together students who were interested in the dairy industry. This small collection contains the club's correspondence, meeting minutes, and several photographs including the one below.
The photograph has identifications of the women pictured but it does not indicate their affiliation with the club. The Blue and Gold Dairy Club ran the Homecoming Queen contest. We have assumed that the women in this photograph had something to do with the Homecoming Queen contest and the Royal Court.
Can any of our alumni let us know if our assumptions are correct?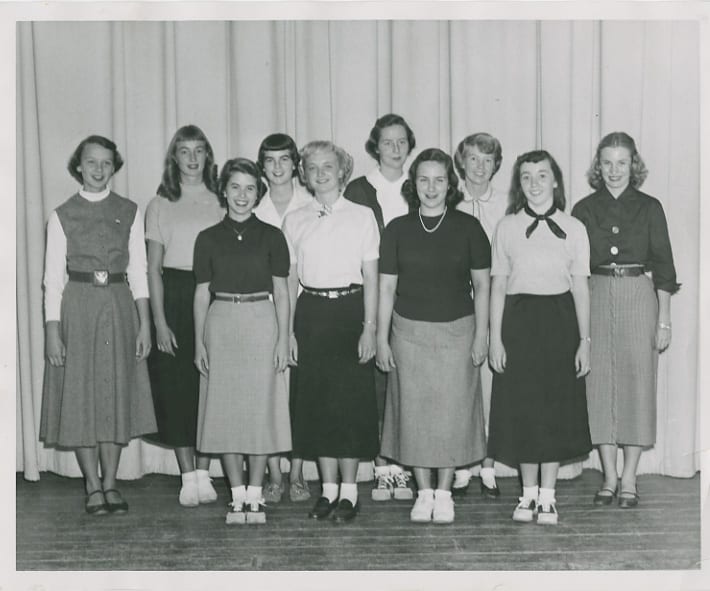 Front row (left to right) Casey Elliott, Criss Cass, Marie Saso, Bonnie Davis. Back row (left to right) Marilyn Slater, Liz Dahlstrom, Bobbie Herman, Diane Bringolf, Kay Estes, Verna Cagle, circa 1951-1955
Category
Archives and Special Collections
Campus and Local History
Tags
Archival processing
Blue and Gold Dairy Club
Finding Aid Friday
Homecoming Queen contest