Featured Maps! Winter Olympics of the Past
Featured Maps! Winter Olympics of the Past
Dawn Collings
February 8, 2018
Theme for the week: Winter Olympics of the Past

February 8-23, 2018

Disappointed that you are not representing the United States in the Winter Olympics in South Korea? Show your passion for the Olympic Games instead by testing your knowledge of the past 34 years of Winter Olympics. Do you know which host city declared its independence from Yugoslavia 8 years after it hosted the Olympics? How about what country has hosted the Winter Olympics twice in the past 34 years? If you were able to answer both of those questions, you get a gold medal in Olympic knowledge, if you weren't able to answer those questions, come into the Shields Library Map Collection room and train your brain with beautiful maps of Winter Olympics past.
Enjoy the Games!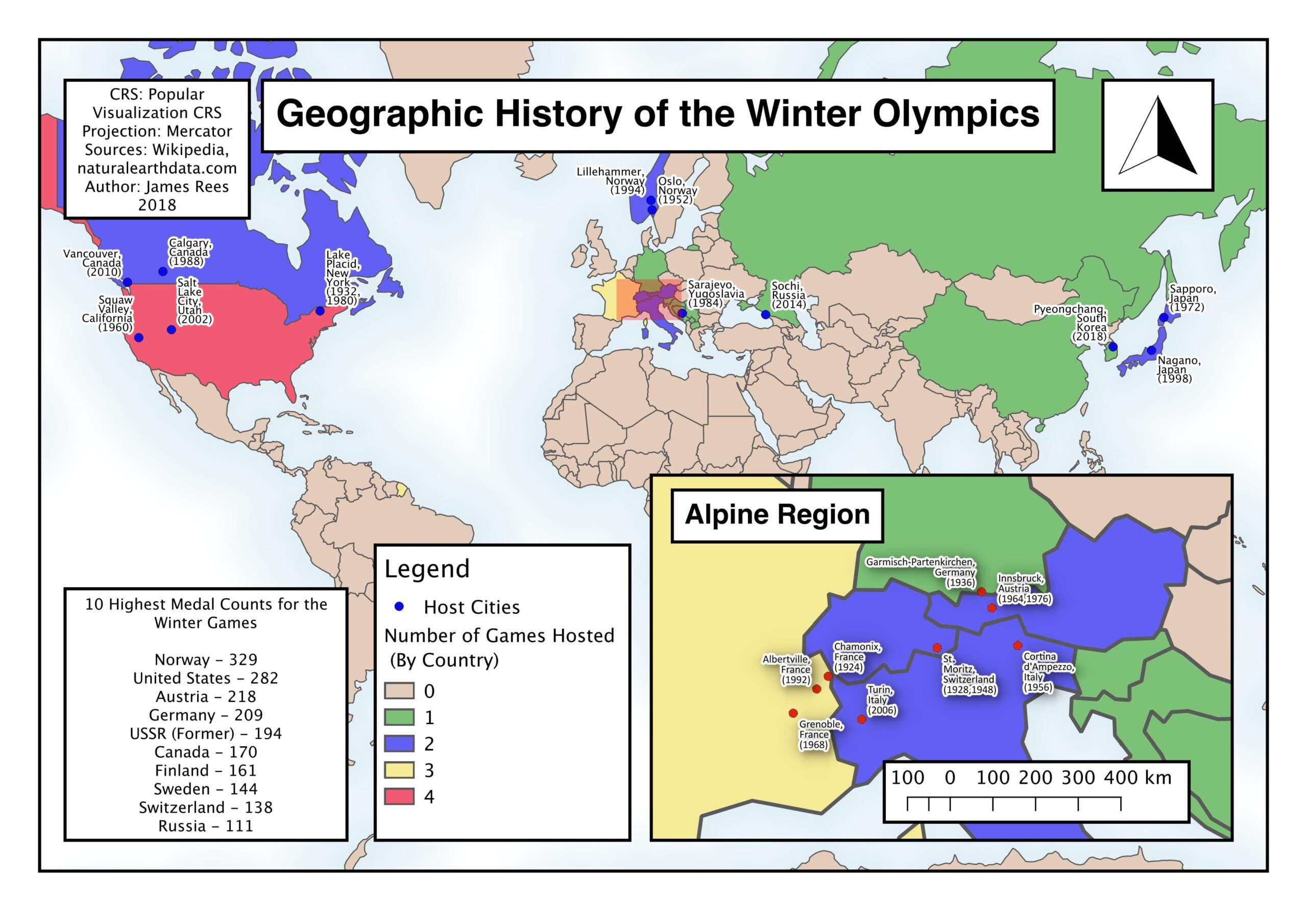 Come to the Map Collection and look for this sign:

Maps
2018 – Pyeongchang County, South Korea
Title: Map of Korea
by Korea National Tourism Corporation (1982)
Call Number: MAP G7901.E635 1982 .K6
Title: Republic of Korea
by Chungang Chido Munhwasa (1988)
Call Number: MAP G7901.E635 1988 .C4
2014 – Sochi, Russia
Title: Chernomorskoe poberezhʹe Kavkaza
by Achkasov, Gennadi Alekseevich & KOT "Orient" (Club) (1992)
Call Number: G7012.C6E63 s150 A2 Sheet 5 & Sheet 6
2010 – Vancouver, Canada
Title: Vancouver, spectacular by nature
by Vancouver, B.C. : Tourism Vancouver (1990)
Call Number: G3514.V3E635 1990 .V2
2006 – Turin, Italy
Title: Torino, pianta della città
(1991)
Call Number: G6714.T9 1991 .T6
Title: Torino, pianta della città
by Studio F.M.B. (1984)
Call Number: G6714.T9 1971 .S8
2002 – Salt Lake City, USA
Title: Western ski map and winter vacation guide, 1971
by National Survey (1970)
Call Number: MAP G4211.E63 1970 .N37
1998 – Nagano, Japan
Title: Japan

by Geographical Survey Institute (1969)
Call Number: MAP G7960 1969 .J3
1994 – Lillehammer, Norway
Title: Tourist map of Norway = Turistkart over Norge
by Landslaget for reiselivet i Norge (1978)
Call Number: MAP G6941.E635 1978 .L2
1992 – Albertville, France
Title: Road map, France, Belgium & Luxembourg
by MapArt (1991)
Call Number: G5831.P2 1991 .M2
1988 – Calgary, Canada
Title: Map of Calgary
by Clear-View Maps Ltd (1991)
Call Number: G3504.C3E635 1991 .C5
Title: International travel maps, Whistler & Vancouver, scale 1:50,000/1:20,000
by Joyce, Lan; Chu, Kim Thanh; Duggan, Andrew; Herz, Oliver; International Travel Maps (2007)
Call Number: G3514.W48E635 2007 .I8
1984 – Sarajevo, Bosnia and Herzegovina
Title: Sarajevo 1992-1993-1994-1995
by Kapić, Suada (1996)
Call Number: MAP G6864.S2S73 1996 .K2
Map Collection: Location and Hours
The Map Collection room is normally open to the public in the basement (Lower Level) of Shields Library, Monday-Friday, 1:00-5:00 pm. However, our hours change around the academic calendar and the holidays. To see the most accurate schedule, please visit this link: click here.
Contact the Special Collections Department for map related questions by email at speccoll@ucdavis.edu or by phone at 530-752-1621.
Post created by Dawn Collings, Patricia Wyley, and Louis Cashatt.
Category
Archives and Special Collections
Tags
Featured Maps
Map Collection
Maps and GIS
Special Collections