Featured Maps! Spring Break Destinations
Featured Maps! Spring Break Destinations
Dawn Collings
March 16, 2018
Theme for the week: Spring Break Destinations

March 19-30, 2018

Last week, we posted a poll asking about your favorite Spring Break locations in the past, this year, and destinations you want to visit in the future. We received over forty-five responses to that poll, and the results of the poll influenced which maps will be on display for the next two weeks.
Popular Answer: HOME
"A man travels the world over in search of what he needs and returns home to find it."
— George Moore, Irish writer 1852-1933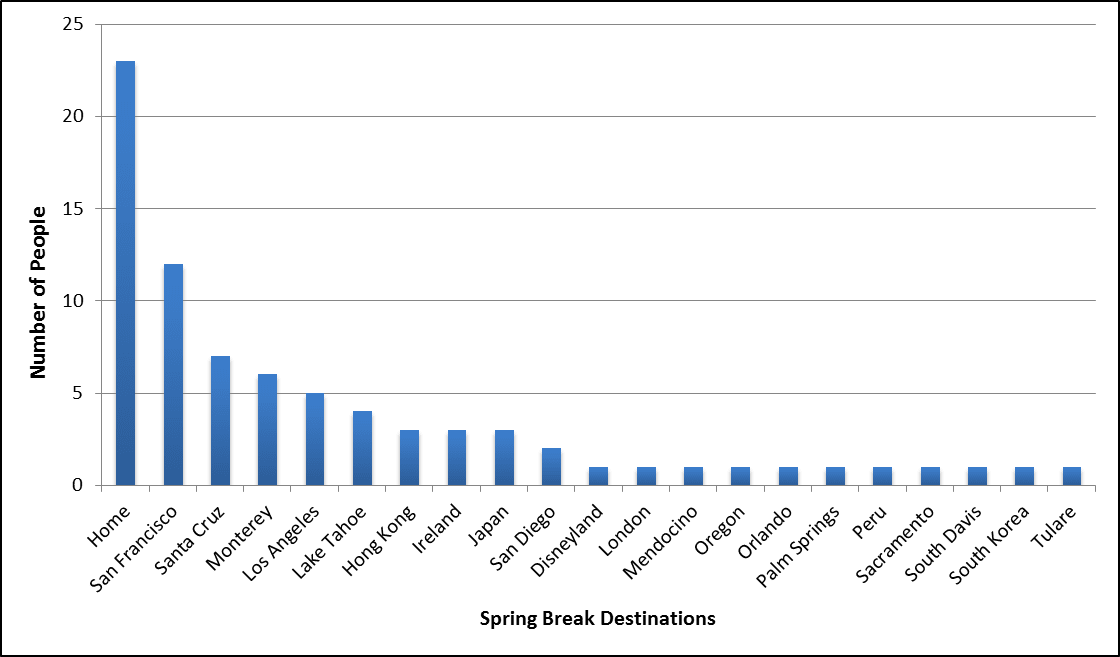 When this blog was first considered, I started with a student employee and asked where she would be going for Spring Break. She said, "I have to stay here and work." So I asked where she had been previously, but this was her first college Spring Break. So I expanded the question, where would she like to go? "Japan, to see the cherry blossoms."
That was not an answer that I expected. I imagined any of the beach cities in Florida, Ensenada or Acapulco in Mexico, or any of the cliché answers from a movie script. Movies do not show California students celebrating Spring Break–especially UC Davis students. Here in the Central Valley, we are perpetually stuck in a Mediterranean climate with moderate weather most of the year and hot summers. [Come see our climate maps!] We do not need to travel to temperate weather to get away from snow drifts and blizzards. As a matter of fact, some students are planning to travel to the snow at Tahoe after finals.
If you need inspiration for your Spring Break, come to the Map Collection and see a selection of maps showing actual or fantasy Spring Break destinations for fellow students and library staff! Whether you are traveling overseas (Hong Kong, Ireland, or Japan) or if you are staying in California (San Francisco, Los Angeles, or Santa Cruz), we hope you have a great Spring Break!
Come to the Map Collection and look for this sign:

Maps

Title: Lake Tahoe, California-Nevada

by Tahoe City, Calif., Lake Tahoe Sierra Association (1950)
Call Number: MAP G4362.T15A3 1950 .E3
Title: Monterey-San Benito Counties
by San Francisco, CA : The Association (1991)
Call Number: MAP G4363.M8P2 s450 .C2 1991
Title: San Francisco and the Bay Area
by Don Mills, Ontario : Unique Media Inc. ; Redondo Beach, CA : Action Marketing (1987)
Call Number: MAP G4364.S5A3 1987 .U6
Title: Greater Los Angeles, California
by Don Mills, Ont. : Unique Media (1997)
Call Number: MAP G4364.L8A3 1998 .U6
Title: Fuji, Fuiji goko.
by Tōkyō-to : Shōbunsha (1995)
Call Number: MAP G7962.F84 1995 .S4
Title: World 1:1,000,000 : Dublin
by London : War Office (1956)
Call Number: MAP G5780 1956 .G7
Title: Santa Cruz and vicinity
by San Francisco : CSAA (1991)
Call Number: MAP G4364.S6 s25 .C2 1991
Title: China : South : city maps, Shanghai, Hong Kong
by München : Nelles Verlag (2014)
Call Number: MAP G7820 2014 .N4
Title: Metropolitan San Diego

by München : Advertising Unlimited (1983)
Call Number: MAP G4364.S41 1983 .A3
Title: Central westside Portland, Oregon : an isometric bird's-eye view
by Portland, Or. : Oregon Historical Society (1972)
Call Number: MAP G4294.P6A3 1972 .T6
Map Collection: Location and Hours
The Map Collection room is normally open to the public in the basement (Lower Level) of Shields Library, Monday-Friday, 1:00-5:00 pm. However, our hours change around the academic calendar and the holiday season. To see the most accurate schedule, please visit this link: click here.
Contact the Special Collections Department for map related questions by email at speccoll@ucdavis.edu or by phone at 530-752-1621.
Post created by Dawn Collings and Louis Cashatt.
Category
Archives and Special Collections
Tags
Featured Maps
Map Collection
Maps and GIS
Special Collections