Aggies are Resilient, Always Have Been.
Aggies are Resilient, Always Have Been.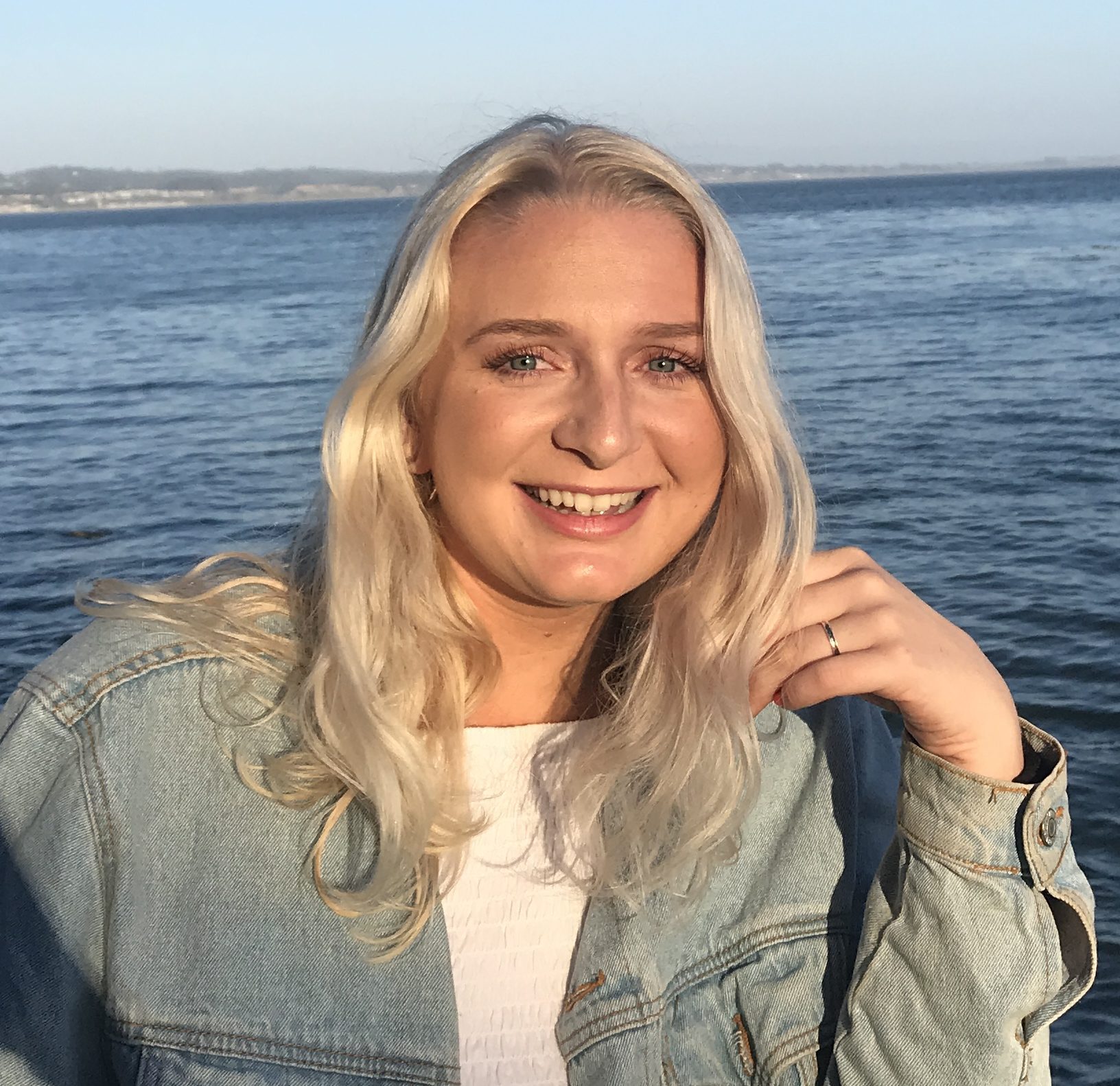 As I sit in my apartment, poring over photos and newspaper clippings of past Picnic Days in the library's new online archive of The Aggie (more on that to come next week), I can't help but reflect on last spring. As a transfer student, I experienced my first Picnic Day. I remember the excitement, the warm weather, and the sense of community and fun. This year I am a graduating senior, and like many, I was looking forward to a term full of celebration. 
The cancellation of in-person classes and continuation of education online feels like unprecedented territory — and in many ways it is. Professors, students, and administrators have had to adapt to a new way of education with little notice. As a campus, we have also had to deal with the devastation and disappointment of the cancellation of our most anticipated events and ceremonies.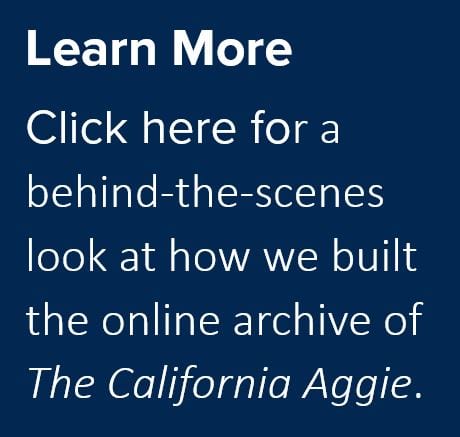 But after digging through the recently digitized archives of The California Aggie, I've discovered that UC Davis is no stranger to adapting to new circumstances.
Did you know Picnic Day has been canceled once before because of an epidemic? But it wasn't people getting sick that time: it was livestock that the University Farm was concerned about in 1924.
In 1942 a student writing in The Aggie reflects: "This past week has been one of the most eventful that we as Aggies have ever seen." A sentence that could have easily been written last month, as school closures swept the country due to COVID-19.
UC Davis was closed from 1943-1945 due to World War II. During this time, campus was known as Camp Kohler and the Arboretum was used to simulate combat and explosives. Many students were forced to transfer schools to continue their education, while others enlisted in the military themselves.
The Aggie archive, which dates back to the very first issue of The Weekly Agricola (as the paper was first known) in 1915, has shed light on the historic events Aggies have been a part of. As a community, we collectively share the disappointment of a virtual Spring quarter, but we can come together knowing that, now, as always, Aggies are resilient.
Fiona Micoleau is a senior at UC Davis majoring in communications and professional writing, and a student employee of the UC Davis Library. She transferred from the University of Oregon as a junior in 2018.
From the Archive:
Click any of the clips below to read the full story in The Aggie Archive.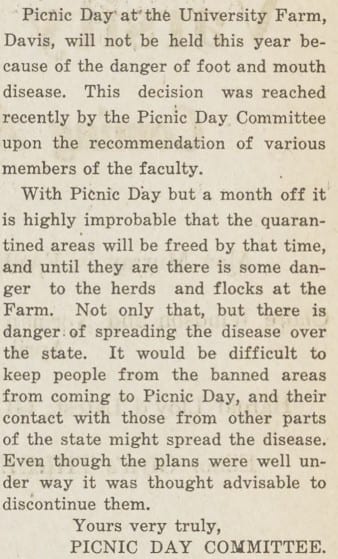 The California Aggie, March 26, 1924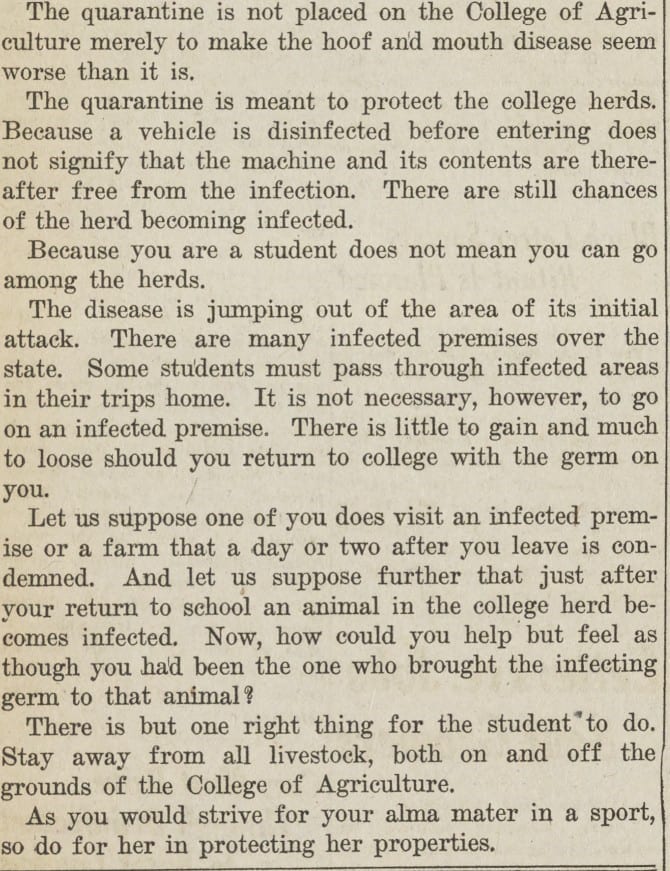 The California Aggie, April 2, 1924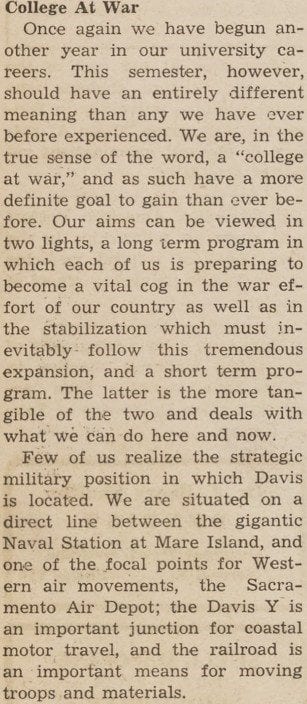 The California Aggie, Page 1, January 22, 1942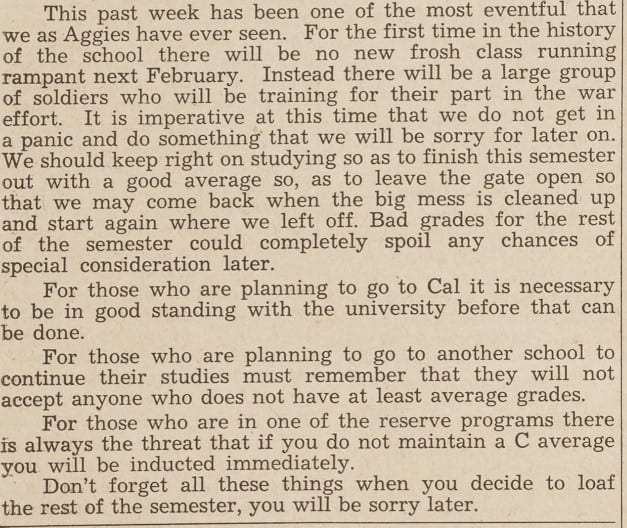 The California Aggie, December 3, 1942
Category
Announcements
Archives and Special Collections
Tags
COVID19