Advancing interdisciplinary learning through data science
Advancing interdisciplinary learning through data science
Alumni couple values broadening participation in data science for all majors
Sarah Colwell
November 21, 2022
Tim Jurka '10, and Ely Estoesta '10, M.S. '14 recently made a commitment to create two funds to support experiential learning and interdisciplinary research at the UC Davis DataLab: Data Science and Informatics.
The alumni couple created the Estoesta-Jurka Family Research Endowment and made a current-use gift to support the DataLab Experiential Learning and Research Fund. The gift was made in honor of UC Davis professors who taught Jurka and Estoesta the value of interdisciplinary research and learning during their time as Aggies. Additionally, a portion of the gift was matched by Microsoft, which owns LinkedIn where Jurka works as a Senior Director of Engineering.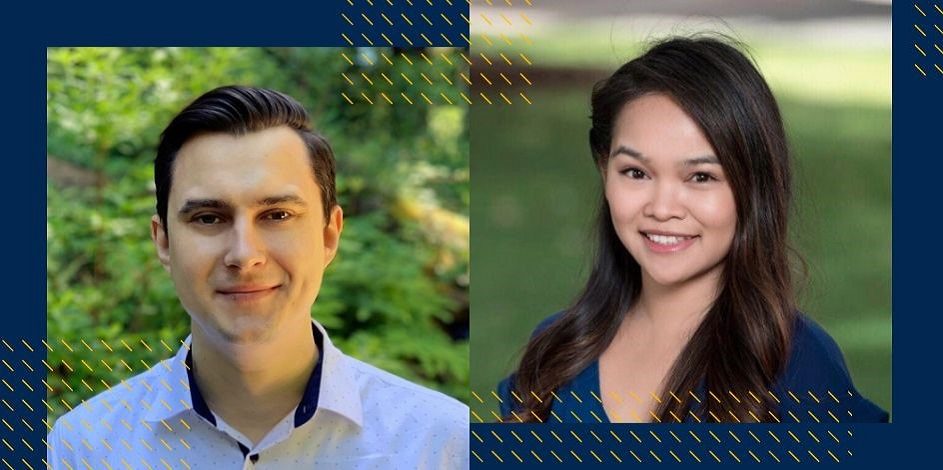 Jurka said they were inspired to make the gifts because they wanted to support a centralized campus unit that fosters collaborative learning and helps UC Davis students from all disciplines integrate data science into their education and career preparation—including students studying both science, technology, engineering and math (STEM) and non-STEM subjects.
"We felt so fortunate to have mentors and advisors who encouraged interdisciplinary learning. We wanted to pay it forward so students can be funded to pursue interdisciplinary projects," Jurka said. "When you have unique perspectives from non-STEM fields and integrate it with STEM fields and data science, that's where the magic happens."
The Estoesta-Jurka Family Research Endowment will enable the DataLab to grow curriculum and programs engaging non-STEM majors in experiential data science education, supporting their participation in faculty-led research to establish connections across the university, gain perspectives from industry partners, and build the data literacy and technical skills they need to succeed in college and beyond. The fund also supports undergraduate research internships, graduate student stipends, and data challenges and hackathon competitions that bring teams of students together to tackle real-world problems using data science methods and technologies.
The couple said after learning more about the DataLab they knew it would be the best way to fulfill their desire to support interdisciplinary, data-enabled learning at UC Davis. The DataLab, which is part of the UC Davis Library, provides data science expertise and training to accelerate discovery. DataLab partners with researchers across UC Davis to push the envelope both within and across disciplines to enable qualitatively novel, interdisciplinary research.
"A primary goal of the DataLab is to show students across all disciplines how they can apply data science to their learning and help meet the growing industry and academic need for graduates with data science skills," said DataLab Executive Director Carl Stahmer. "Tim and Ely's generous gift creates an endowment so we can ensure this important element of our work will continue for generations to come. Plus, their current-use gift means today's students can continue to benefit from hands-on learning at the DataLab."
The funds will continue to support an "incredible breadth of interdisciplinary data projects" at the DataLab, ranging from forestry and agriculture to music, according to Jurka. He believes the integration of data science with non-traditional subjects not only expands the possibilities of research in non-STEM fields, but also enriches data science by bringing diverse perspectives to that domain.
"If you only have STEM purists, I think that does a big disservice to the intellectual diversity of the fields people enter," Jurka said. "I think you are diluting the richness when you can have a political scientist learn some data science and bring it into government, or wherever their career takes them. We will all be the better for it."
From his time working at LinkedIn, Jurka sees how valuable this type of learning is for the next generation. Jurka believes so deeply in the value of integrating non-STEM professionals into the field of data science that he became the executive sponsor of a program at LinkedIn called REACH, a technical apprenticeship focused on bringing people from non-traditional backgrounds into the tech industry. While it has been successful, Jurka says the transition can be challenging when people are making this change later in their careers.
"If you can facilitate this integration at the university and undergraduate level, while people are in the early stages of exploration, then the outcomes flow more naturally later on," he said. "That's why it's critical to make this integrated learning available to students."
Learn how you can help students develop data science skills by making a gift to the UC Davis Library's DataLab Student Experiential Learning and Research Fund or the Estoesta-Jurka Family Research Endowment.
Category
Data Science
Tags
data science
DataLab
Donor Spotlights
student learning