A Center of Learning
A Center of Learning
When international business strategist Mike Gilson '73 first set foot on UC Davis' campus in 1971, he wasn't sure he "had what it took to be successful in academia." He came to UC Davis on the G.I. Bill after serving four years in the Air Force and was not focused on a major. Instead, he says, "I just wanted to see if I could learn."
Fortunately, the Peter J. Shields Library provided Gilson with a place where he could concentrate on his studies. From there he earned success in the classroom, grew in confidence and went on to enjoy a thriving global career in the aerospace and defense industries. Through his work, Gilson has lived or worked in more than 40 countries to date, from Pakistan to France to China. But Shields Library, according to Gilson, is where it all started.
"Shields was my place to go," said Gilson, a business development manager and strategist for EicOsis, LLC, an emerging biotechnology company founded in Davis that is developing a pain medication for humans and animals. "I would seal myself off from the other things I was involved with on campus to devote time and focus to course work. I could literally go hide in Shields for hours. Every paper I had to write and test I had to study for, I did it in Shields."
Transforming Shields Library into a learning center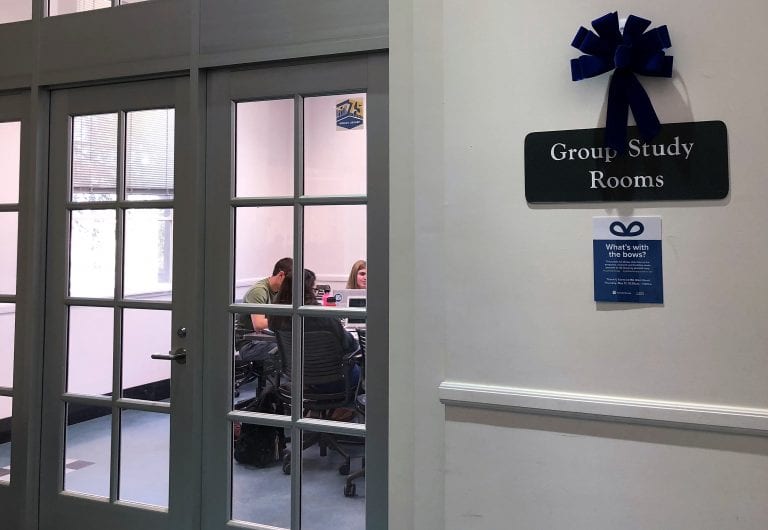 Shields Library played such an important role in the foundation of Gilson's success that he and his wife decided to make major gifts to support the transformation of several of its study areas. Their hope is that their philanthropic support will foster greater opportunities for students to study and collaborate on projects. Two of the group study rooms, which once contained large tables with hard chairs, are now dynamic workspaces filled with comfortable seating and state-of-the-art monitors to facilitate group work on presentations and projects.
"The world we live in now requires collaboration and the library can be a place where that can happen for our undergraduate and grad students," Gilson said. "At a university, and particularly at UC Davis, the library is the center of the wheel with the spokes going out to the rest of campus. The library is the center of learning where a lot of good things can happen."
In addition to his and his wife's financial support, Gilson volunteers his time serving as the founding chair of the UC Davis Library's Leadership Board. He says he's been inspired to be part of driving the library's vision forward under the leadership of MacKenzie Smith, university librarian and vice provost of digital scholarship.
This vision includes rethinking the space in the library's physical facilities to better accommodate a modern learning environment, expanding online and digital services to position UC Davis as a global leader in digital scholarship and archiving, and enhancing library services for the library's 1.6 million annual visitors.
This vision is "transformative in terms of how we think about and use a library," Gilson says. "Modern technology can really make the library a learning center."
Library leader in Lafayette
Gilson is no stranger to the metamorphosis of libraries. He led an effort to transform the library in his current hometown of Lafayette, California into the Lafayette Library and Learning Center. As the chair of the volunteer board, Gilson successfully led the project from the idea phase, through the approval process and major fundraising phase, to construction and eventually to the building's opening. Thanks in part to his efforts, the town's 5,000-square-foot public library was converted into a 32,000-square-foot learning center that abounds with community enrichment and learning programs for people of all ages and is the crown jewel of his community.
"We had no idea how successful of a project it was going to be until we opened it. We soon saw how the community was finding all kinds of new ways to use the space, beyond what we had envisioned," Gilson said.
An expansive mission
Gilson says he's excited to be supporting the library as a collaborative learning environment that goes beyond books. Because of his own student experience, Gilson appreciates the library's important role in student success as a space to study, work on group projects and learn how to conduct academic research.
Now, as an alumnus and donor, Gilson also acknowledges the importance of the library's partnership with colleges and schools at UC Davis, as well as with the academic community around the U.S. and world. It is that expansive mission that, in Gilson's view, demonstrates the UC Davis Library "has what it takes" to be a leader for the academic community at UC Davis and beyond, and it is something he and his wife are happy to support.
Being involved gives me a chance to repay some of the great things UC Davis and the library gave me. I think when there is the opportunity to pay back to something that's been so good to you, you have an obligation to give back."

— Mike Gilson '73
Learn more about private support of the UC Davis Library.
Category
Announcements
Tags
Donor Spotlights
student learning