50 Features of Special Collections: Sanfield Papers and Hunold Collection
50 Features of Special Collections: Sanfield Papers and Hunold Collection
Sara Gunasekara
July 22, 2016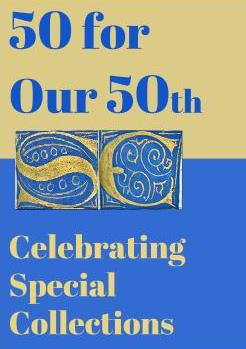 3/50
As the 31st Sierra Storytelling Festival takes place in Nevada City, California this weekend, we decided to feature two of our collections that are related to the annual event.
An author and phenomenal storyteller, Steve Sanfield founded the Sierra Storytelling Festival in 1985 and served as its director until his retirement in 2002. He was also the author of more than thirty books, including The Adventures of High John the Conqueror, Bit by Bit, The Great Turtle Drive, and A Natural Man: The True Story of John Henry, among others.
The Steve Sanfield Papers contains files related to the Sierra Storytelling Festival, as well as personal journals, manuscripts, correspondence, publications, audio tapes, and ephemera relating to his life and career.
In 1988, photographer Ray Hunold accompanied his wife, Bernice, to the Sierra Storytelling Festival where they met Sanfield. When a hired photographer did not show up, Ray Hunold was asked to step in and shoot photographs for the Festival's files. He then became the official photographer for the Sierra Storytelling Festival from 1988 through 2002. He also served as the photographer for the National Festival of Storytelling in Jonesboro, Tennessee.
The Raymond Hunold Photograph Collection contains over 70,000 images documenting the resurgence of storytelling in the United States as an art form. Another aspect of the collection is his work as a nature and travel photographer which includes subjects such as San Francisco city scenes, western flora and fauna, Native American sites, and national parks and monuments.
You can find out more about the Hunold Collection via the web exhibit here.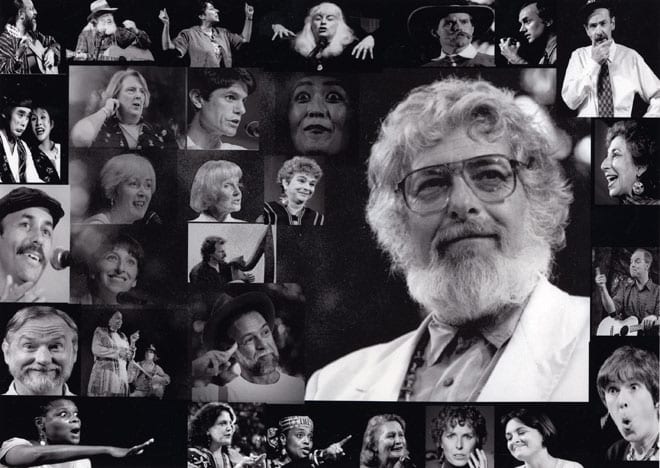 Steve Sanfield, director, surrounded by his storytellers, by Ray Hunold.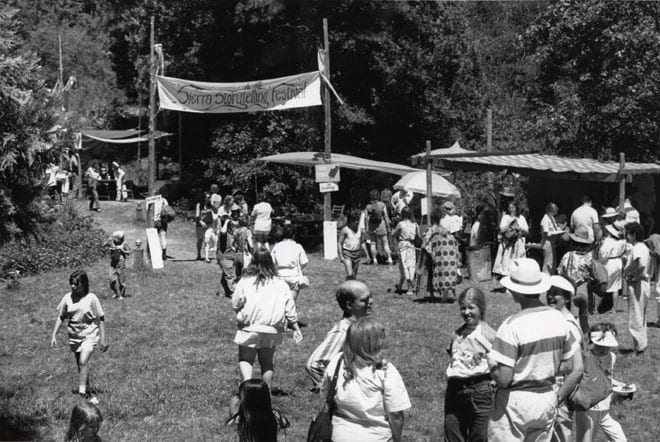 Entrance to the outdoor stage, Sierra Storytelling Festival, 1989. Photograph by Ray Hunold.
Category
Archives and Special Collections
Tags
50 for our 50th
Features
Manuscript collections
Photography
Raymond Hunold Photograph Collection
Sierra Storytelling Festival
Steve Sanfield Papers