50 Features of Special Collections: Ruth Finney Papers
50 Features of Special Collections: Ruth Finney Papers
Sara Gunasekara
October 21, 2016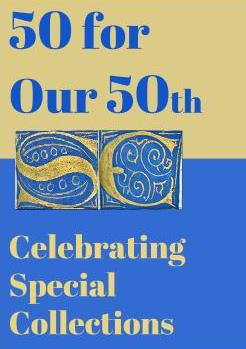 16/50
This week we are highlighting the Ruth Finney Papers as part of our 50 Features of Special Collections series.
Ruth Finney (1898-1979) grew up in Downieville and Sacramento, California and attended San Jose Normal School where she received a teaching certificate in 1918. After substitute teaching in Sacramento for three months, she resigned to join the staff of the Sacramento Star as a reporter.
In 1922, Finney received statewide recognition for her reporting of the Argonaut Mine disaster in Jackson, California. She was transferred to the San Francisco Daily News and there received national attention for her coverage of President Warren G. Harding's death at the Palace Hotel in San Francisco. As a result, she became the Washington, D.C. correspondent for the four California Scripps-Howard newspapers. During her first years in Washington, Ruth Finney covered the Teapot Dome Oil scandal, monitored the passage of the Boulder Canyon Project Act (which authorized the construction of Hoover Dam and the allocation of its resources), and investigated the corruption in the electric and gas utilities industry, for which she received a nomination for the Pulitzer Prize in 1931.
She began writing a weekly column, "Washington Calling," in 1941, which contained news, political and economic analyses, and forecasts and was distributed to all Scripps-Howard newspapers. She wrote numerous magazine articles and was a member of the Washington Press Club. Though she partially retired in 1965, Finney continued writing her column through 1974.
The Ruth Finney Papers consist of materials related to her career as a newspaper reporter. This includes her correspondence, scrapbooks, diaries, manuscripts, clippings, photographs, research materials, legal documents, and personal mementos.
The diaries, spanning from 1916 to 1952, recount her experiences from age 18 as a student at San Jose Normal School, through her years as a Western correspondent at the Scripps-Howard Washington Alliance. She describes current events as well as reporting assignments, personal relationships, particularly with her mother and Robert S. Allen, and colleagues and acquaintances, most notably California Senator Hiram Johnson, Supreme Court Justice Louis Brandeis and Franklin D. Roosevelt.
Included in the manuscripts is a copy of Finney's unpublished autobiography, Journey from the Star; her unpublished history of Downieville, Rogues and Riches; several unpublished plays; a musical, Now Is the Time; and many short stories. The feature articles appear in both draft and final form, and include her articles about Justice Department espionage agents written in 1927 at the encouragement of Supreme Court Justice Louis Brandeis, and her articles about the women's labor force in weapons factories during World War II.
All of the correspondence is incoming and has been divided into three groupings. The first contains letters from Hiram Johnson dating from August 1926 to September 1928, written during the height of the Boulder Dam filibuster. The second contains letters written between September 1944 and July 1945, pertaining to her husband's (Robert S. Allen) war experiences and subsequent discharge after being wounded. The third group contains letters from editors, readers and politicians spanning the period from July 1917 to April 1978.
More information about Finney and the collection can be found in the finding aid here.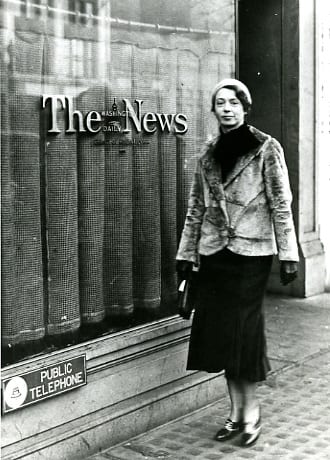 Ruth Finney in front of the Washington Daily News office, 1933.
Category
Archives and Special Collections
Tags
50 for our 50th
Features
Manuscript collections
Ruth Finney Papers