50 Features of Special Collections: Mark Twain Bronze Sculpture
50 Features of Special Collections: Mark Twain Bronze Sculpture
Jenny Hodge
November 29, 2016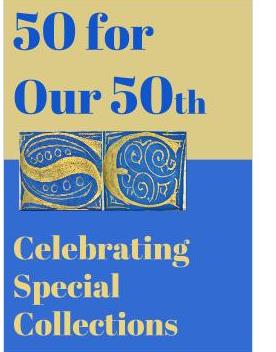 The famed author Samuel Clemens (1835-1910) better known by his nom de plume Mark Twain was born in Missouri on November 30th so it seems fitting to celebrate one of our "50 features of Special Collections" on the Mark Twain bust owned by the library.
The Mark Twain bust was created by artist Walter Bowman Russell (1871-1963) in 1935 and is located on the second floor of the library near the Main Reading Room.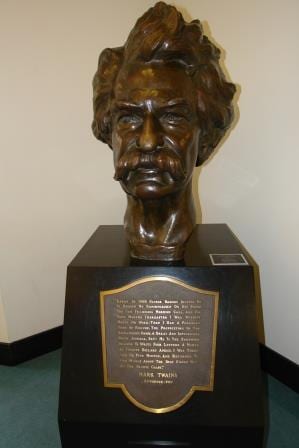 The bronze bust of Mark Twain was donated by the Danel and Reboin families, owners of the Herald Printing Co. The bust plaque notes that it is a gift to the library by "Ralph and Daisy Danel, Sr., Ralph and Judee Danel, Robert and Rosemary Reboin, Stephen and Janice Danel, and the Herald Printing Company." It was donated in 2000, along with the Sacramento Union Records held by Special Collections. The Sacramento Union was the oldest daily newspaper west of the Mississippi, until it closed its doors in 1994.
Twain is remembered for his wonderful novels but also for his contributions to the Sacramento Union. The point was made evident through the large bronze bust of Twain, which sat just west of the State Capitol in the lobby of the Sacramento Union's building at 301 Capitol Mall. Twain dispatched a series of articles on Hawaii for the Union in 1866. These were very popular, and many historians credit the series with turning Twain into a journalistic star.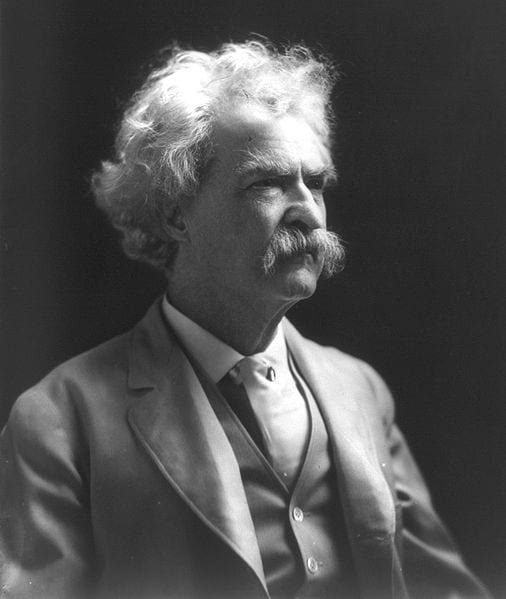 Mark Twain, 1907
Inscribed on the bust were Twain's words: "Early in 1866, George Barnes invited me to resign my reportership on his paper, the San Francisco Morning Call, and for some months thereafter, I was without money or work; then I had a pleasant turn of fortune. The proprietors of the Sacramento Union, a great and influential daily journal, sent me to the Sandwich Islands to write four letters a month at twenty dollars a piece. I was there for four or five months, and returned to find myself about the best known man on the Pacific Coast."
The sculptor, Walter Bowman Russell (May 19, 1871 – May 19, 1963) was an American painter (of the Boston School), sculptor, natural philosopher, musician, author and builder. His lectures and writing place him firmly in the New Thought Movement. The New York Herald Tribune, called him "the modern Leonardo, a Renaissance man for the twentieth century."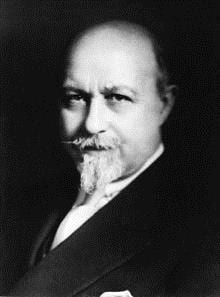 Walter Russell
At age 56 Walter Russell turned to sculpture and fashioned portrait busts of Thomas Edison, General MacArthur, John Philip Sousa, Ossip Gabrilowitsch, Charles Goodyear, and others. He rose to top rank as a sculptor. He won the commissions for the Mark Twain Memorial (1934) and for President Franklin D. Roosevelt's The Four Freedoms (1943).
Walter Russell successfully explored music, literature, architecture, painting, sculpture, natural sciences, new ways towards a healthy economy, philosophy and mysticism as well as figure skating, horse breeding and dressage. Together with his second wife Lao, he founded a private university for distance learning, the University of Science and Philosophy in Swannanoa, Virginia. You can find a summary of Walter Russell's life and work at https://www.walter-russell.de
Category
Archives and Special Collections
Tags
50 for our 50th
art
faculty news
Features
Manuscript collections
Sacramento Union Records
Sculptures