Art and Social Transformation
Art and Social Transformation
Betita loved art, and she understood how vital the artistic imagination was to social transformation. Soon after graduating from college she worked assisting the curator of photography at the New York Museum of Modern Art. Not long after, while working in the editorial office at Simon and Schuster in the early 1960's, Betita edited a pivotal book written by Lorraine Hansberry called The Movement: Documentary of a Struggle for Equality; it delivers a powerful visual testament documenting the Civil Rights Movement through photographs.
Decades later, Betita turned to artists to help produce her own photographic histories of resistance. And many of the artists she worked with honored her, in turn, with portraits celebrating her inspirational leadership.
---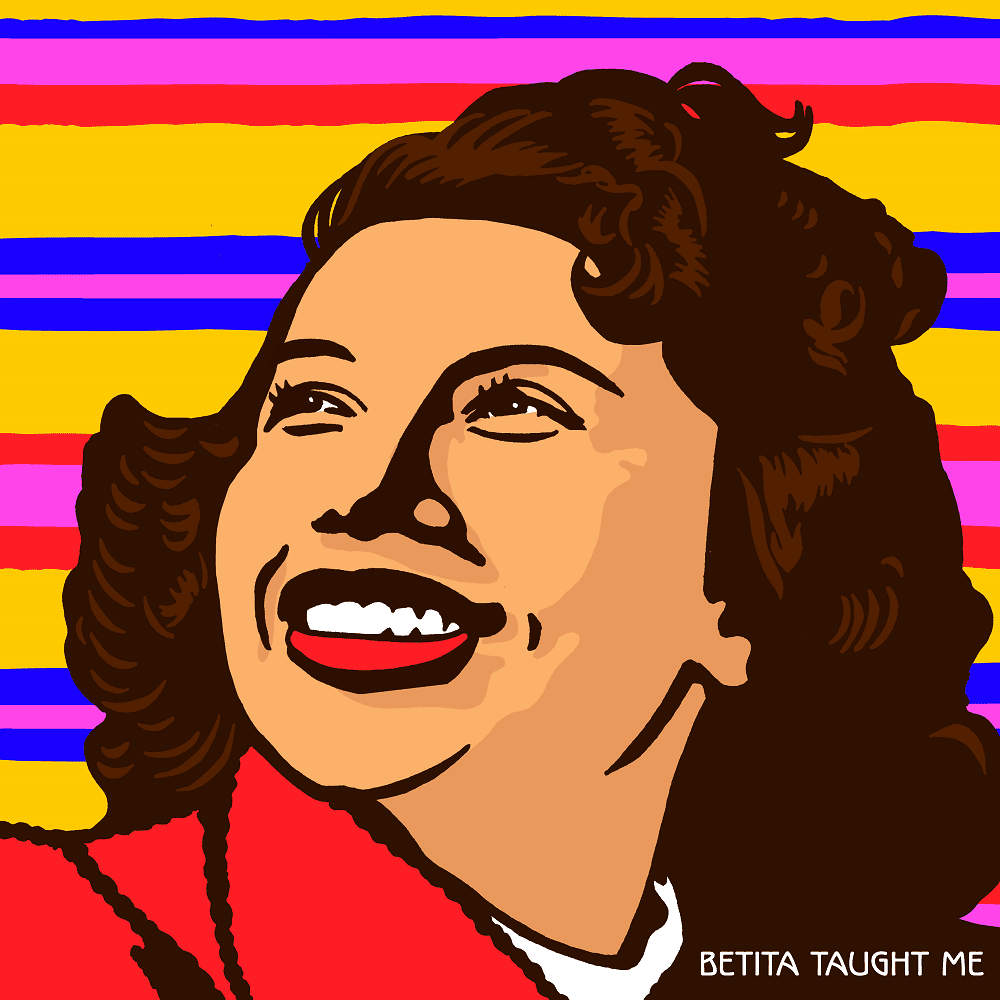 From the artist:
"This portrait celebrates a Chicana feminist whose work throughout the decades has been an inspiration to me and so many others in my community. Betita was the first Chicana in SNCC (the Student Non-Violent Coordinating Committee), a founder of El Grito del Norte newspaper and a prolific writer who shared prodigious ideas with the world. Betita provided a link between the Black Power and Chican@ movements in the 1960s. She was active as a participant and reporter on many Chican@ political events and issues throughout the rise of the Chicano civil rights movement. She was the editor and author of several books including 500 Years of Chicana Women's History.

Betita is a trailblazer and taught so many of us important lessons, through her example, about internationalism and solidarity." #BetitaTaughtMe
About the artist:
Melanie Cervantes creates visual art that is inspired by the people around her and her communities' desire for radical social transformation. Melanie's intention is to create a visual lexicon of resistance to multiple oppressions that inspire curiosity, raise consciousness and inspire solidarities among communities of struggle. Melanie has exhibited extensively nationally, including at the Yerba Buena Center for the Arts, San Francisco Museum of Modern Art (San Francisco), National Museum of Mexican Art (Chicago), and Museum of Modern Art (New York, NY), and internationally at the Musée d'Aquitaine (Bordeaux, France) and Museo Franz Mayer (Mexico City, Mexico). Her work is in the permanent collections of the Center for the Study of Political Graphics, the Latin American Collection of the Green Library at Stanford, the Rauner Special Collections Library, Dartmouth College, the Library of Congress, and many more.
---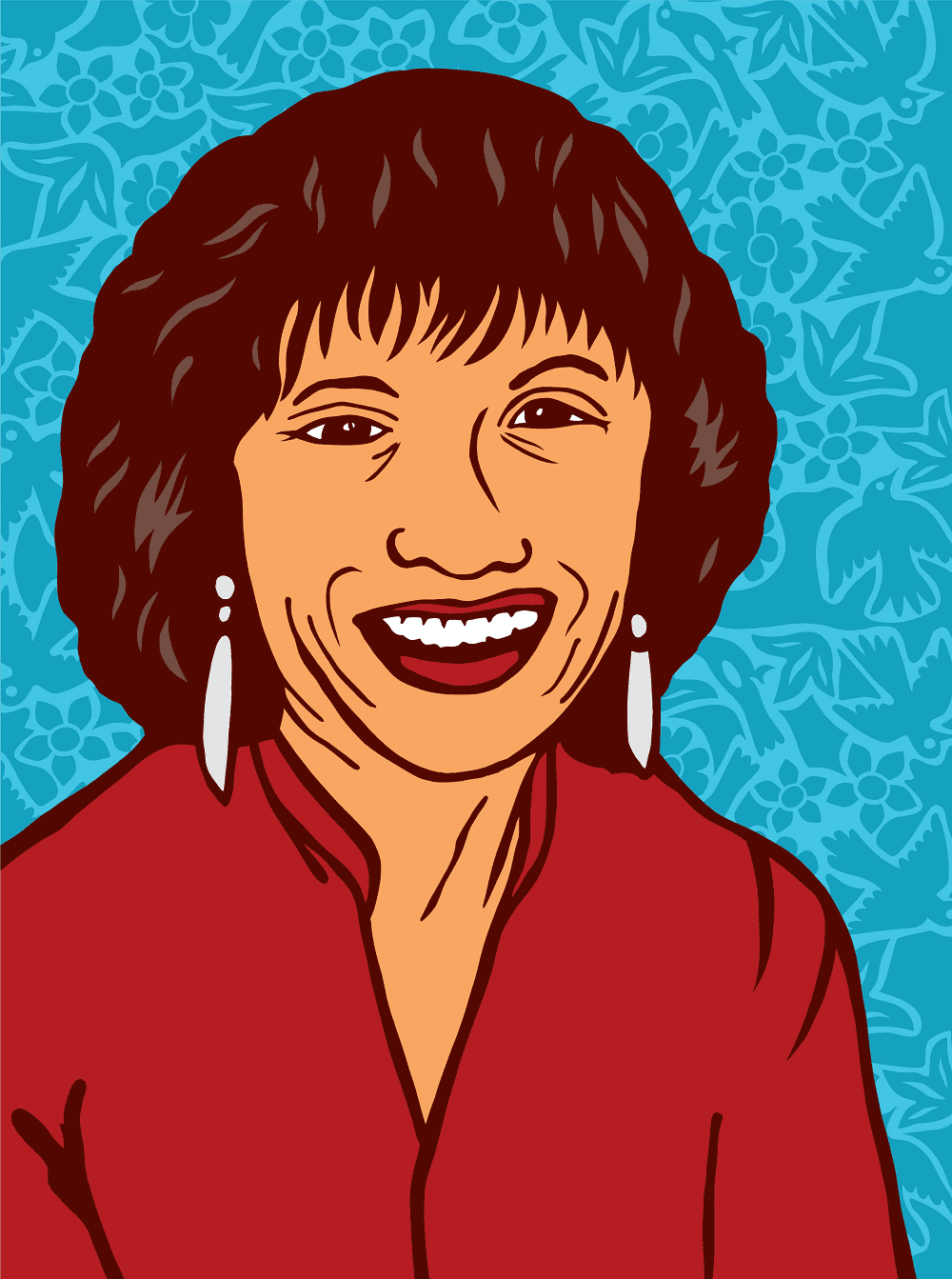 Leading Latinx movement artivists Jesus Barraza and Favianna Rodriguez credit Betita with launching their careers. According to Jesus who first began working with Betita on Shades of Power, the newsletter for the Institute for MultiRacial Justice: "it was my first big break and an honor to work with her. I learned so much working with her on that project, and it helped open so many doors, basically starting my career as a designer and artist."
This art portrait was collaboratively drawn and developed by Jesus Barraza and Melanie Cervantes of Dignidad Rebelde "with lots of love," according to the artists, who also said:
"Betita has been a bold leader for our community. We LOVE Betita."
About the artists:
Dignidad Rebelde was founded in 2007 as a graphic arts collaboration that produces screen prints, political posters and multimedia projects grounded in Third World and indigenous movements that build people's power to transform the conditions of colonialism, patriarchy, genocide, and exploitation. Dignidad Rebelde's purpose is to illustrate stories of struggle, resistance and triumph into artwork that can be put back into the hands of the communities who inspire it.
---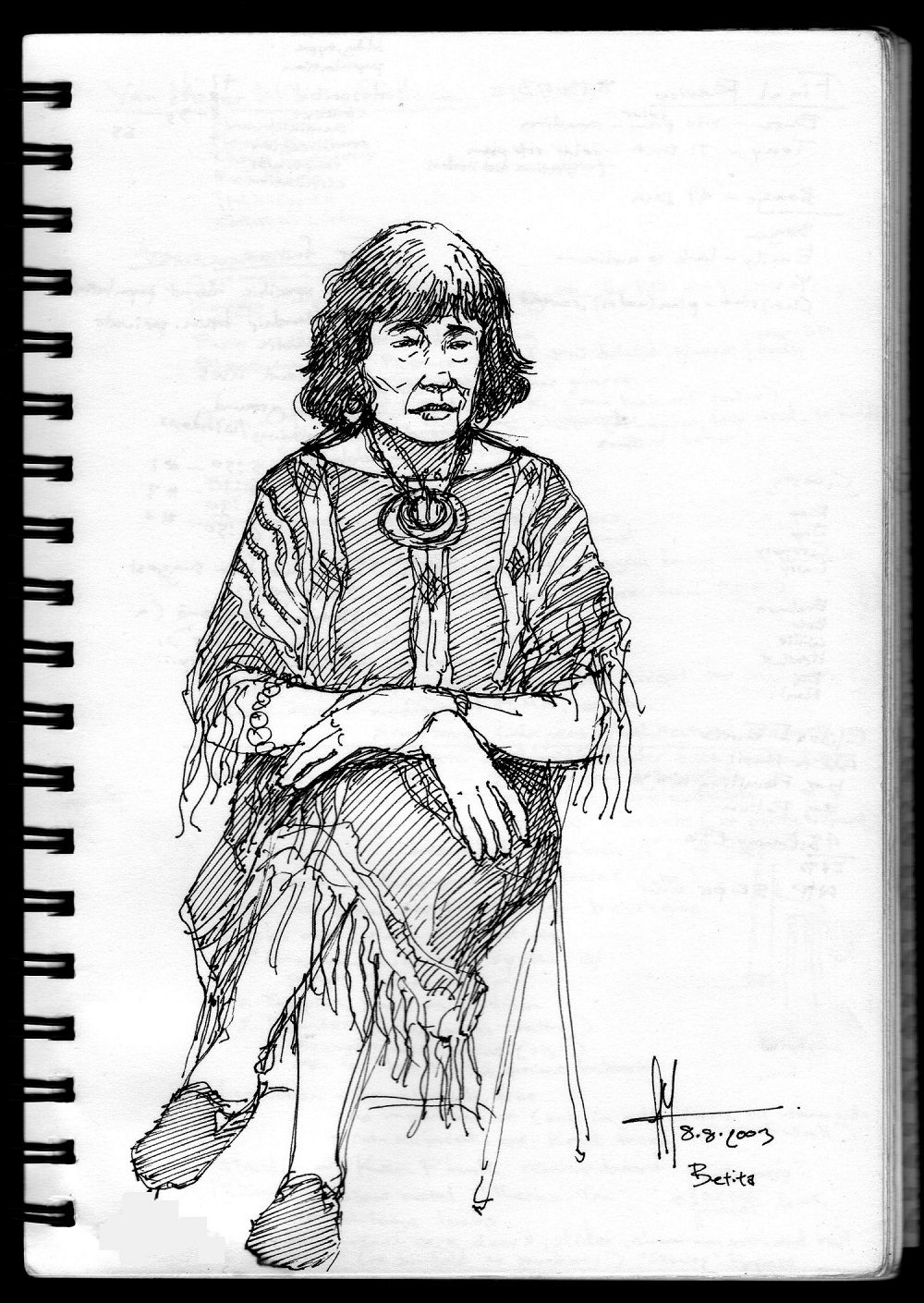 This is such a familiar and endearing vision of Betita. When I look at this image, it is as if I am sitting across the room from Betita at a meeting—which is likely where Fernando sketched it. Thank you, Fernando for this glimpse into Betita.
Likely meeting place is the Center for Political Education on 522 Valencia St in San Francisco in the early 2000s. This building was, and still is, an epicenter for political thought and activism in the Bay Area, and the site where Latinos Contra la Guerra and the Institute for MultiRacial Justice were housed, along with so many others.
About the artist:
Fernando Martí is a printmaker, community architect, writer and poet based in San Francisco. His etchings, linocuts, screen prints, and constructions explore the clash of the Third World within the heart of Empire and highlight the tension between inhabiting place/reclaiming culture and building something transformative. He brings his formal training in architecture and urbanism to his public projects, including his altar ofrendas. Fernando studied architecture and urbanism at UC Berkeley and has taught design studios at Berkeley and the University of San Francisco. Originally from Ecuador, he has been deeply involved in San Francisco's community struggles since the mid-90s, creating art for and with many local organizations, including the SF Print Collective, the Center for Political Education, PODER, and the SF Community Land Trust.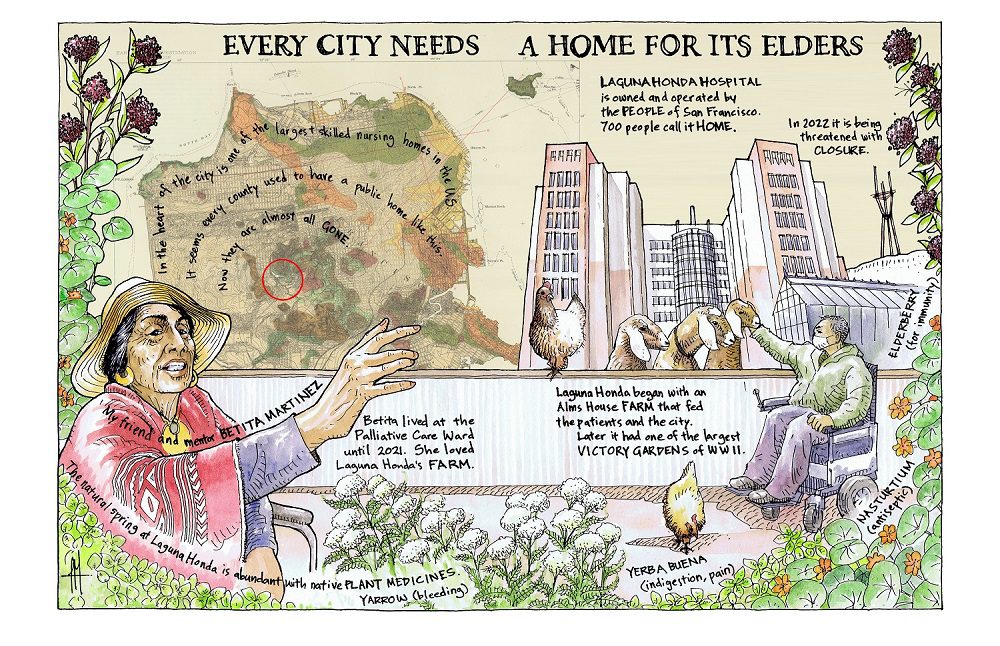 In 2022, artist Fernando Martí drew inspiration from his friend and mentor Betita Martinez in his efforts to generate elder health justice in the growing "Save Laguna Honda movement." Betita lived the last years of her life at the Palliative Care Ward in Laguna Honda, one of the largest skilled nursing homes in the U.S. which serves more than 700 San Francisco residents with a continuum of care services from rehabilitation to end-of-life care. As the image reads, "It seems every county used to have a public home like this. Now they are almost gone." The federal Centers for Medicare and Medicaid Services withdrew the majority of its budget by stopping Medicare and Medicaid payments which would result in a public health crisis for the city. The image was created for Procedure Press, a publication effort "exploring the role of artists to develop a more radical creative imagination about our healthcare future."
---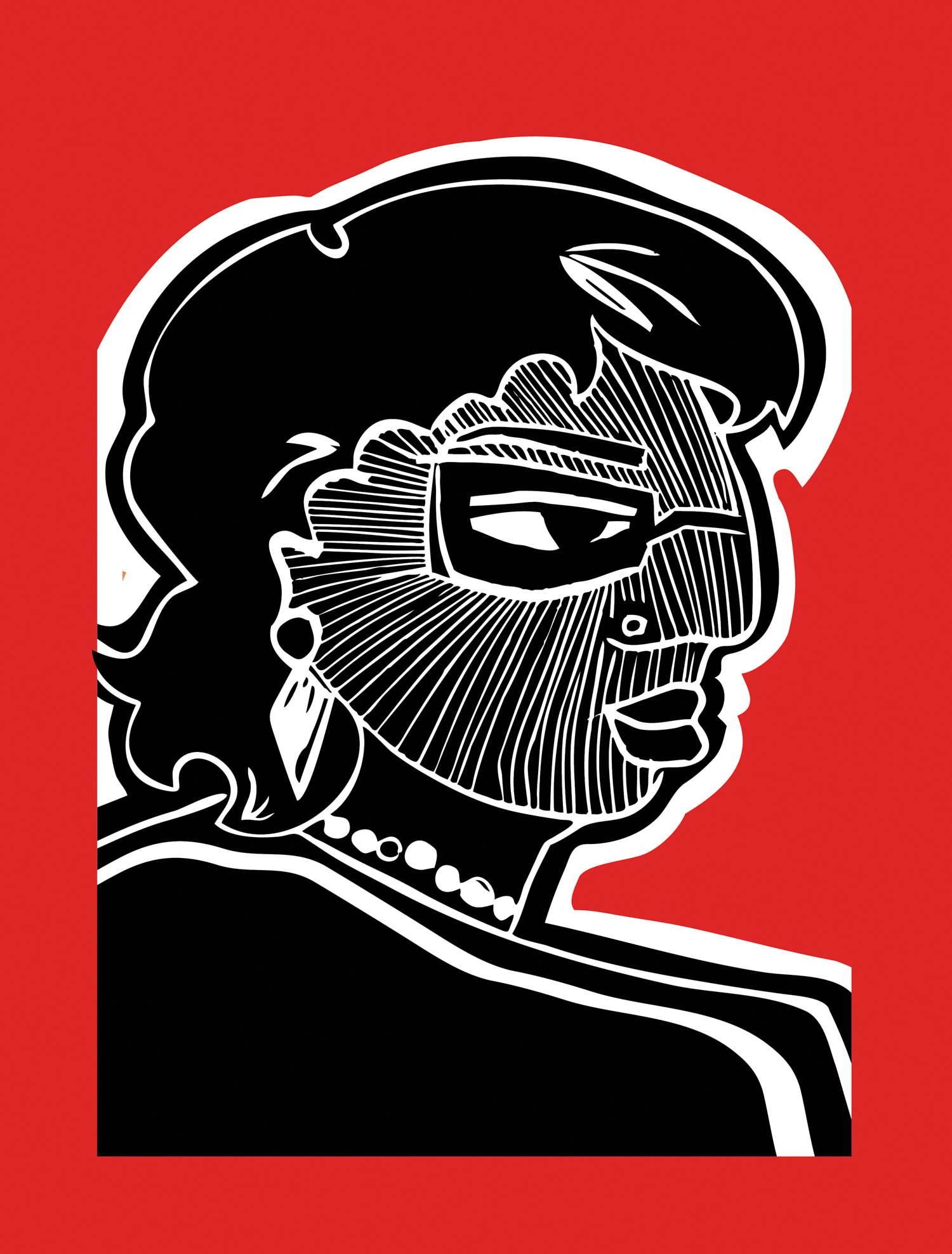 From the artist:
"This piece is dedicated to Elizabeth "Betita" Martinez, a mentor, a revolutionary, and a woman who gave me an opportunity early in my career to work as a designer. Elizabeth "Betita" Martínez was a Chicana feminist and a long-time community organizer, activist, author, and educator. I began working with Betita to design her newsletter, 'Shades of Power' in 1999, and I was co-designer for her groundbreaking book, 500 Years of Chicana Women's History. The image is based on a small linoleum block I made of Betita for the illustrated book of social movement heroes, Firebrands, by the art cooperative, JustSeeds. It was printed on red French Paper at the Taller Tupac Amaru in Oakland, California."
About the artist:
Favianna Rodriguez is an interdisciplinary artist, cultural strategist, and social justice activist based in Oakland, California. Her art and praxis address migration, gender justice, climate change, racial equity, and sexual freedom. Her creative practice boldly challenges entrenched myths and cultural practices, while embodying the YES of a pluralistic future. In addition to her expansive studio practice, she is the co-founder and president of The Center for Cultural Power, a national organization that empowers artists to disrupt the status quo and ignite change at the intersection of culture and social justice. She co-founded EastSide Arts Alliance, a cultural center and affordable housing complex in Oakland, CA, and Presente.org, the largest Latino online organizing community in the US.
---