Request Duplication
How to Request Photocopies or Scans of Collection Items
Use your Aeon account to request photocopies or scanned images of collection materials, as well as request permission to use images or text. Requests can be placed remotely or from within the Reading Room.
Step 1: Submit a "Photoduplication Request" via Aeon
There are many different ways to initiate a photoduplication request. All requests are processed through the Aeon Request System.
Step 2: Wait for your request to process
We will contact you if more information is needed and send an invoice to your Aeon account. You will receive an email with instructions on how to approve and pay for your order.
Step 3: Approve and pay your order invoice
You will need to approve the invoice we send you and pay any fees associated with your order. You may pay by check (made out to the "Regents of the University of California") or cash (onsite only). We also accept wire transfers and UC Davis departmental recharges. At this time, we do not accept credit card payments.
Step 4: Duplication work begins
Once payment is received we can begin work on your order. Turnaround time varies based on the requested service(s). While we are unable to guarantee a delivery date, staff make every effort to complete all requests as quickly as possible in the order requests are received. All digital files will be sent to you by email. Photocopies can be mailed or picked up in person (depending on the option you selected on the order form).
Request Permission to Use Materials Owned by Special Collections
Please complete the form below if you intend to use materials owned by Special Collections. This form can also be found within the Aeon, the Special Collections Request System.
How to submit your completed form
You cannot submit this form through the Aeon request system. You may either:
Mail it to:
Special Collections
UC Davis – Shields Library
100 NW Quad
Davis, CA 95616-5292
Or email it to:
Once received the request will be reviewed, signed (if applicable) and returned to the requester.
Personal Camera Use in Special Collections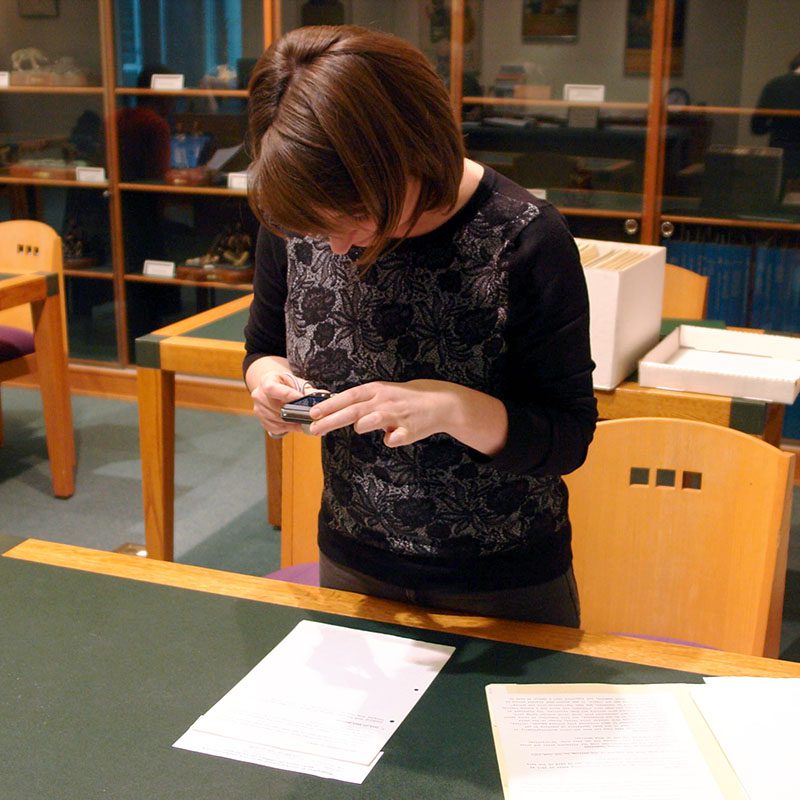 Special Collections allows the use of digital cameras in the Reading Room. Camera use reduces the need to handle materials when making photocopies and allows a more cost effective and accessible approach for our faculty, students, and traveling researchers.
Images for publication still need to be processed by staff in order to ensure high quality works. Patrons are required to sign off on handling rules and copyright regulations and to capture the information with each photograph taken that provides the UC Davis ownership and the item location for follow-up reference and retrieval, this is a continuation of current practice.
Download Camera Use Policy Form (PDF)
The department still maintains its regular photocopying and digital scanning services.
Duplication FAQ
If I requested duplication of materials does that mean I can publish it?
Duplicated materials are supplied for personal research purposes only. Special Collections is not responsible for obtaining permission to copy or publish copyrighted materials. It is your responsibility to obtain permission from the copyright owner.
If copies requested are intended for publication, exhibition, or other public use now or in the future, it is your responsibility, in addition to obtaining copyright clearance from the copyright owner, to receive permission from Special Collections using the Request Form linked above.
What constitutes "personal research use" versus "publication"?
Posting duplicated materials on blogs, websites, or social media constitutes publication. Use of duplicated materials for general class presentations is considered Personal Research Use.
How much does duplication cost?
Please see our fee information pages for:
How long will it take to get my order?
The turnaround time varies based on the requested service(s). Once payment has been received, staff will begin the work necessary to complete your request. This may mean sending the physical item to our Digital Imaging Lab for new photography, having the physical item photocopied in-house, creating permissions paperwork, or some combination of those workflows. If staff require any additional information prior to completing your order they will be in touch via email; otherwise, you will be contacted once your order is complete.
How will I receive my photocopies or scans?
Reproductions can be mailed or picked up in person during Special Collections open hours. Digital scans and pdfs can be delivered electronically, and will be available for you to download at a link which will be sent after your order is complete. Please note files are available for download for 30 days before they are removed.