Understanding Call Numbers
Understanding Call Numbers
What are Call Numbers?
A call number is a unique identifier that helps you locate an item's physical location in the library. Think of it as the item's address.
Use UC Library Search to locate the item you want to find. The item's call number will be listed alongside its library location. Check a library floor map for the location of the call number within the building.

How to Read a Call Number
At the UC Davis Library, books, journals and other items are arranged by call number using the Library of Congress Classification System. The call number is typically displayed on a white sticker located on the lower spine of the book.
A call number is read line by line. The third line is read as a decimal.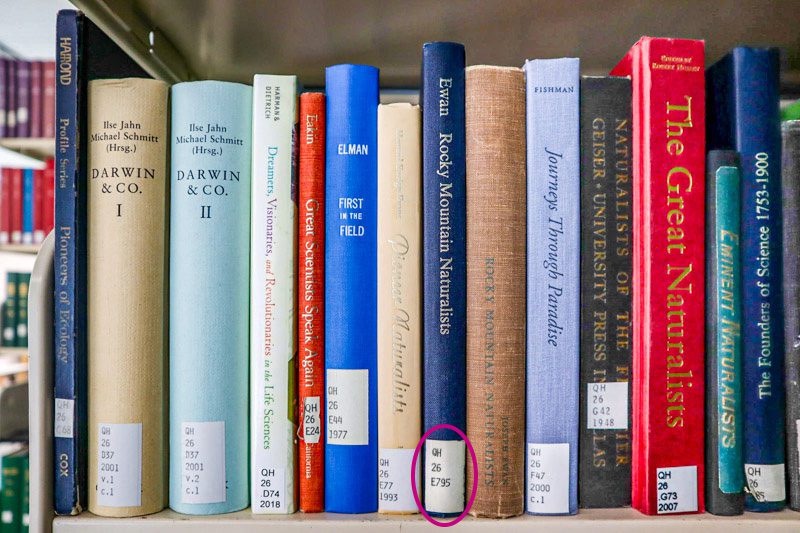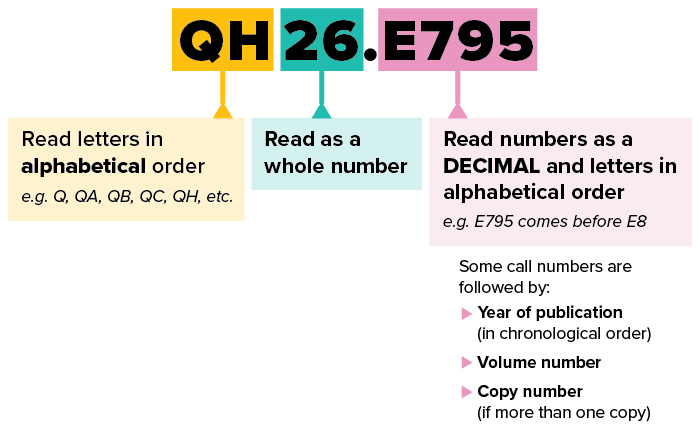 For the call number in the example above:
Q identifies the category for Science and QH identifies the subclass of Biology.
26 is a classification number that defines a narrower subtopic within the specified class.
The letter in the last portion of the call number .E795, identifies the author, Ewan, followed by a decimal.

For journals or edited works the letter identifies the title rather that the author. There may be two series of these numbers, followed by publication year, volume, copy.
Library of Congress Classification System: A-Z
In addition to these primary classes, the Library of Congress Classification System uses subclasses to further break down subject areas.
A: General Works
B: Philosophy. Psychology. Religion
C: Auxiliary Sciences of History
D: History (General) & History of Europe
E: History: America
F: History: America
G: Geography. Anthropology. Recreation.
H: Social Sciences
J: Political Science
K: Law
L: Education
M: Music & Books on Music
N: Fine Arts
P: Language & Literature
Q: Science
R: Medicine
S: Agriculture
T: Technology
U: Military Science
V: Naval Science
Z: Bibliography. Library Science. Information Resources (General)