Unitrans at 40: Moving Students Through the Decades
Unitrans at 40: Moving Students Through the Decades
In the late 1960s, the Associated Students of UC Davis explored possibilities for providing bus transportation to students traveling between the City of Davis and the campus. The University Transport System, or Unitrans, was founded by ASUCD and service officially began on February 28, 1968 with two London double decker buses operating on two routes. Today, Unitrans provides transportation with 40 buses on 15 routes, carrying over 3 million passengers a year. The exhibit chronicles the history of Unitrans, which is celebrating its 40th year of operation.
Special Collections is charged with collecting, preserving, administering, and providing access to the University Archives. This exhibit draws materials from several University Archives Collections including: the Unitrans Archives, Chancellor's Archives, University Communications Archives, and the University Archives Serials Collection.
Events leading up to the official founding
Spring 1966 ASUCD Election
Robert Black, candidate for ASUCD president, makes campaign promises to bring bus service to campus.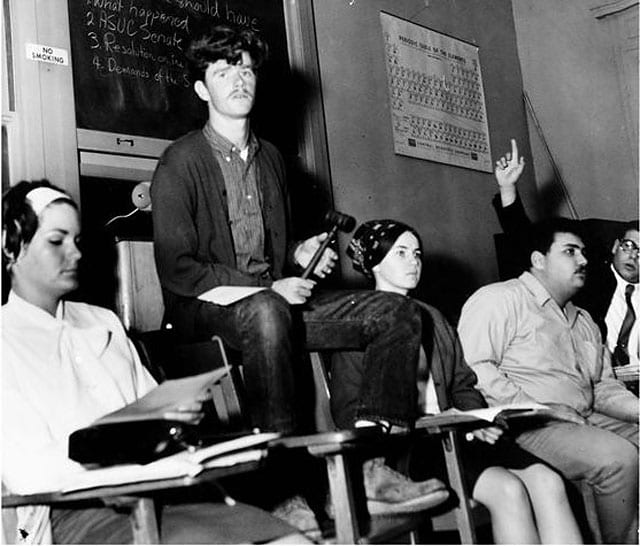 October 1966
Two week trial bus line provides service on a twice hourly basis to students in East Davis.
December 1966
ASUCD contracts with Patchett Bus Lines for bus service to the University.
April 1967
ASUCD off-campus rep Richard Kleker sponsors proposal to buy two double decker buses from the London Transport System.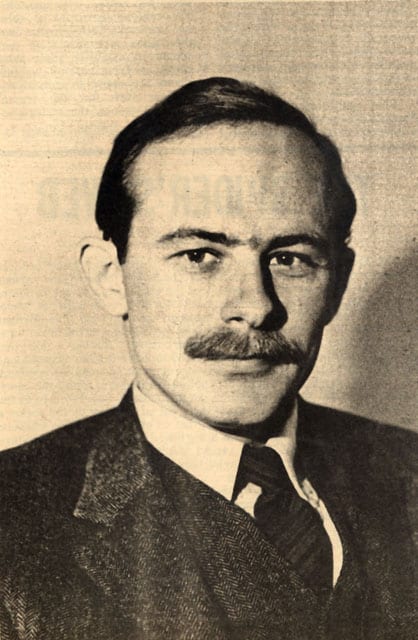 Fall 1967
Buses arrive on campus and are christened in a ceremony on November 10.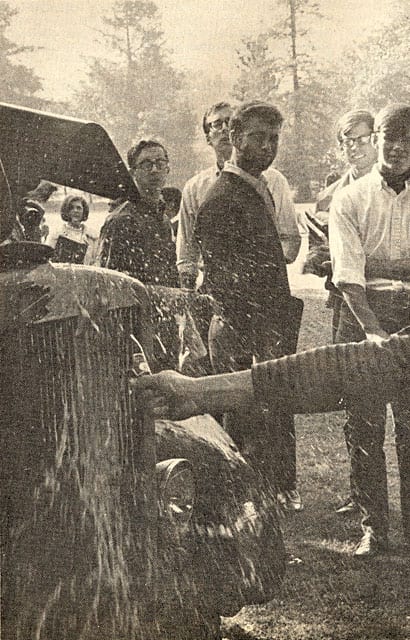 February 2, 1968
Bus service is delayed due to a regulation requiring safety glass windows.
Bus service officially begins!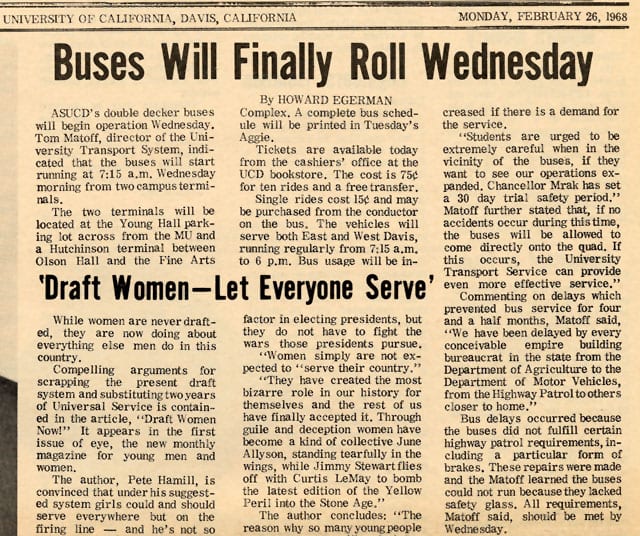 1960s
ASUCD press release announcing the start of Unitrans service, 1968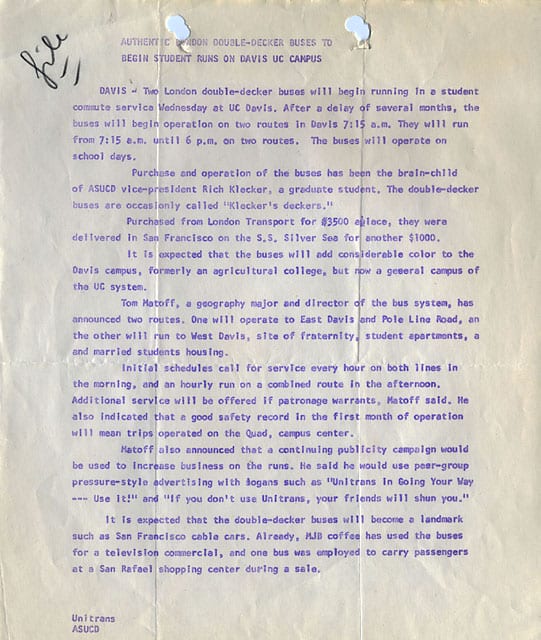 Last run of the 1967-1968 school year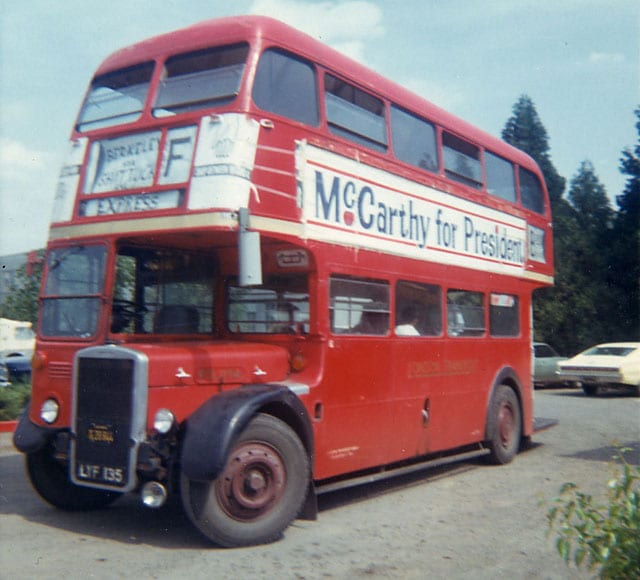 System Route Map of the Big Red Bus, Effective September 30, 1968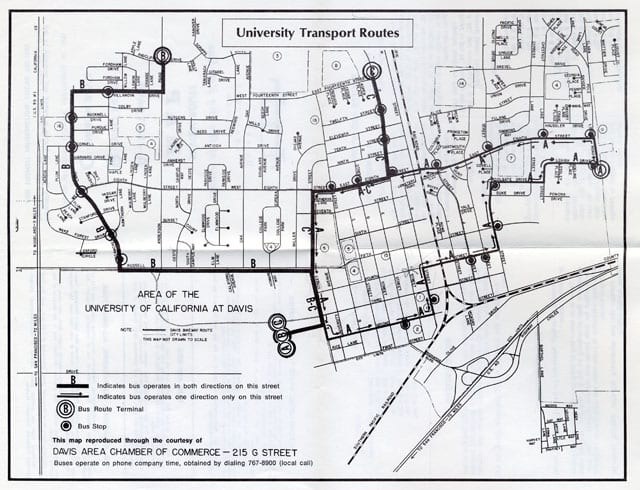 Article from the Daily Democrat, October 21, 1969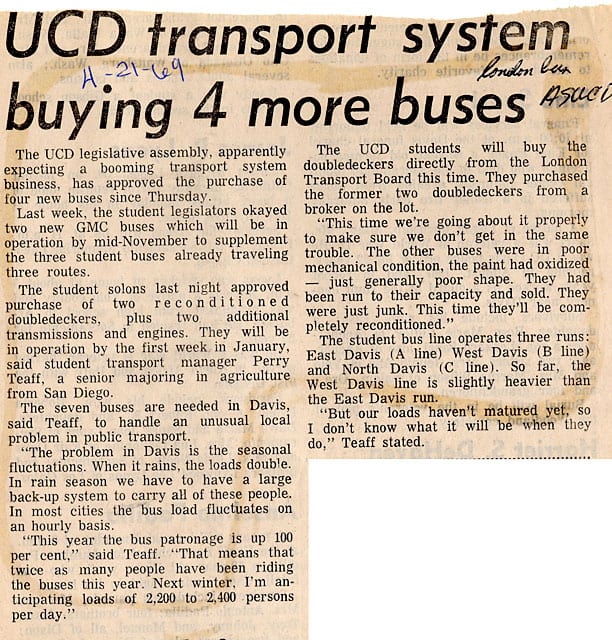 Bus schedules from 1969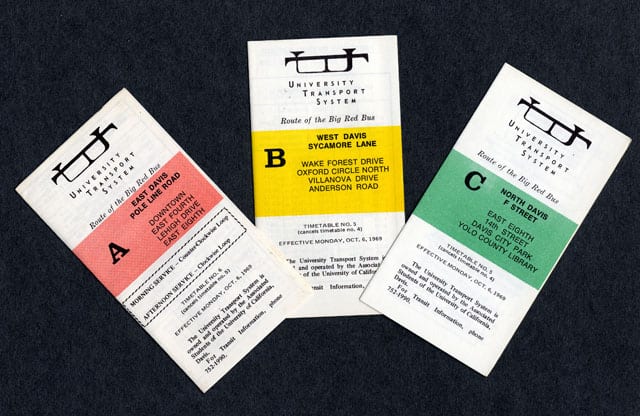 1970s
Advertisement in the California Aggie, January 6, 1971

Invoice from London Transport System for two double decker buses, April 7, 1970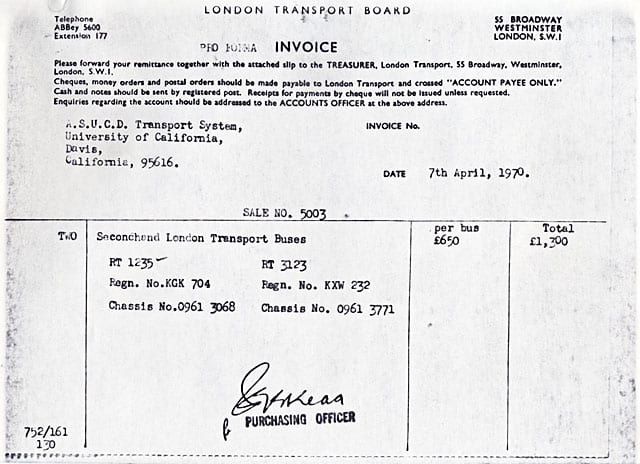 Bus RT742 before being repainted red, circa Fall 1971
It was dubbed "Moby Bus" due to the white color scheme from the previous owner.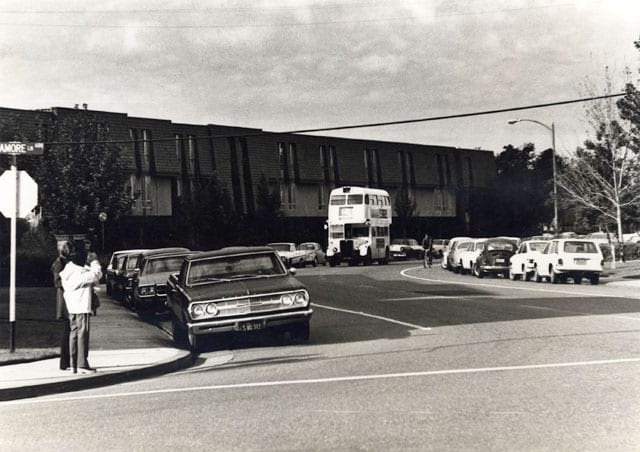 Article in the Davis Enterprise announcing new bus signs, September 25, 1975.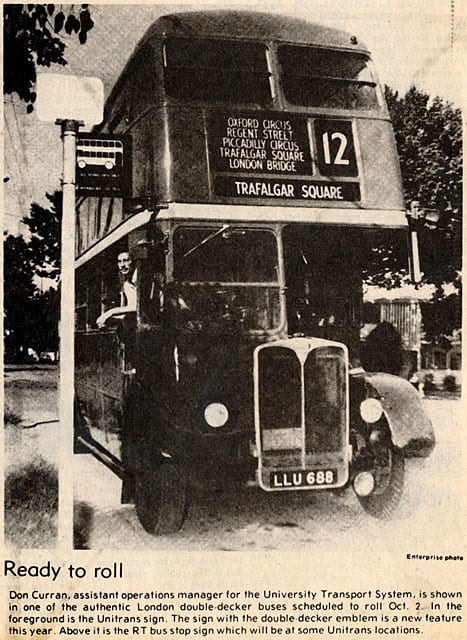 Bus sign, circa 1975.
Article from Davis Enterprise announcing the expansion of service to the general public, August 9, 1972.
Bus fleet, circa 1972.
Bus passes from the 1970s.
1980s
Ribbon cutting ceremony for new transit coaches, February 1982.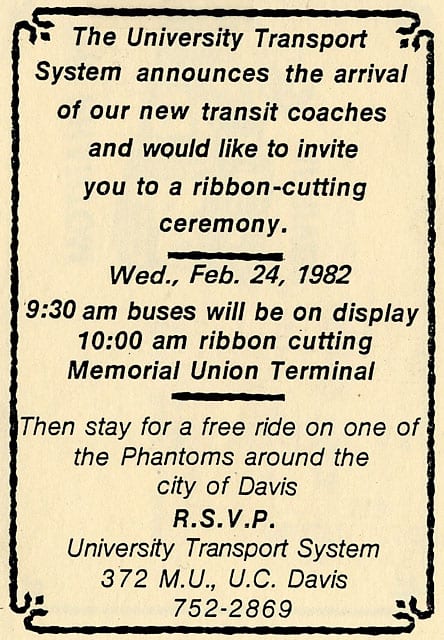 Bus schedules from the 1980s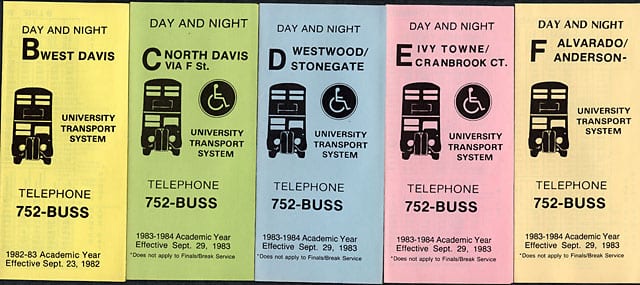 Construction of the Unitrans Garage, 1986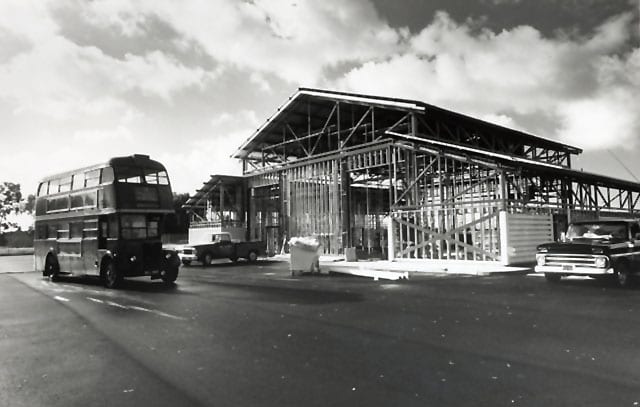 Article from the Davis Enterprise, February 1986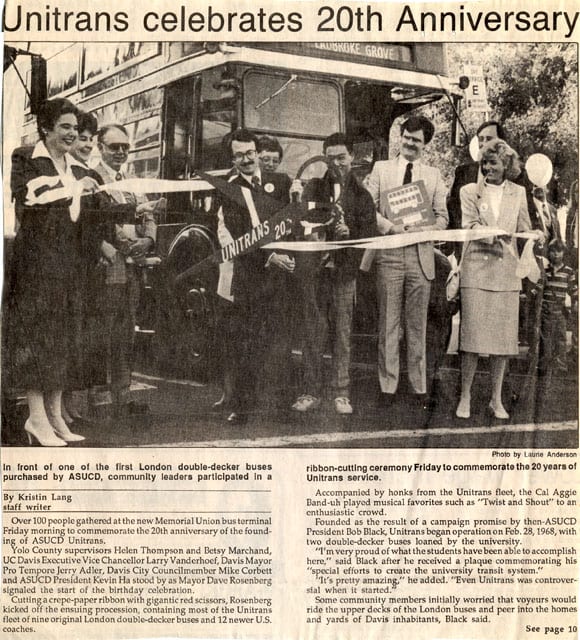 Route Map for 1986-1987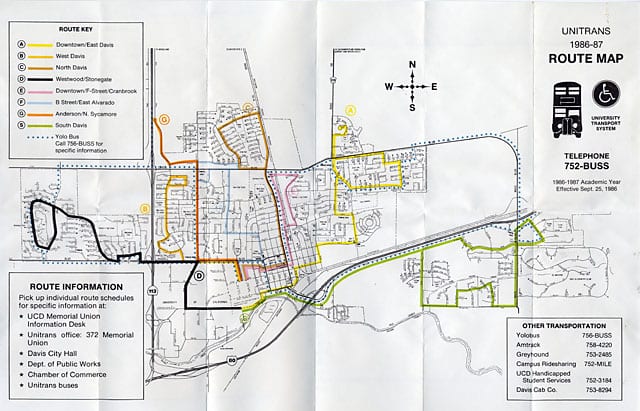 1990s
Article from Bus Ride, February 1992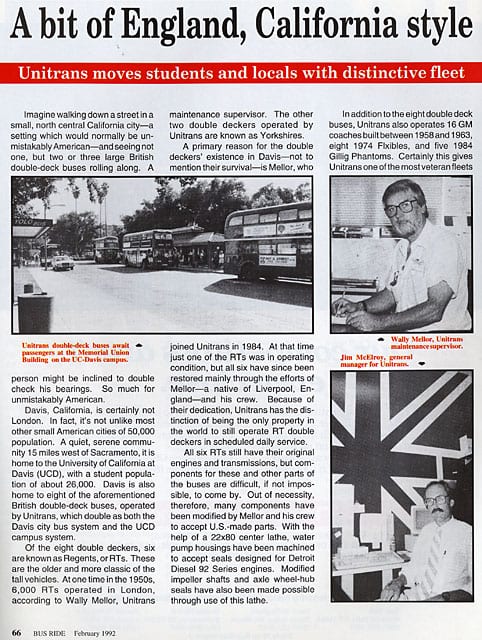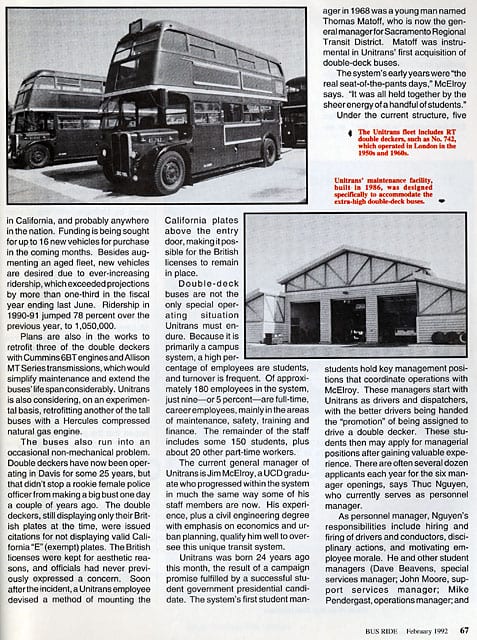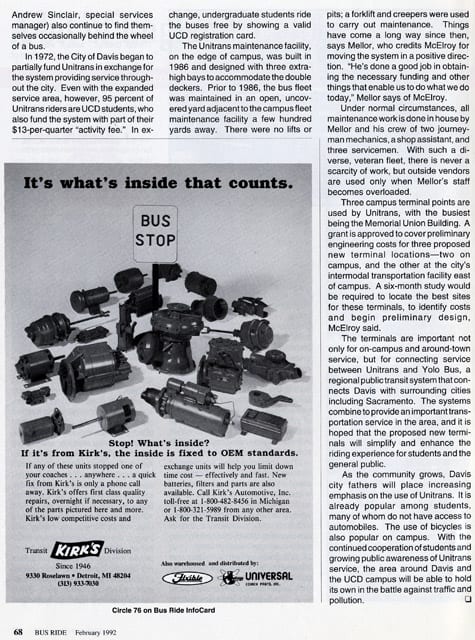 Members of the Unitrans staff who competed against other Northern California bus drivers in the North Bay Regional Transit Association Rodeo, October 1994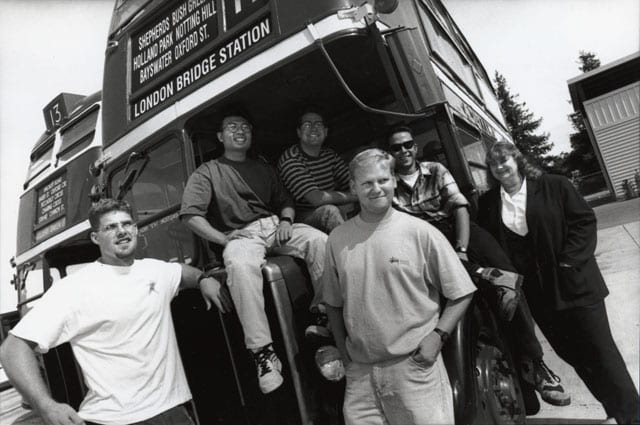 Compressed Natural Gas buses introduced, April 1996.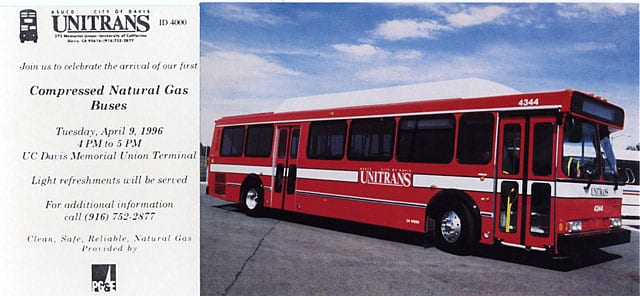 2000s
Unitrans schedules from the 2000s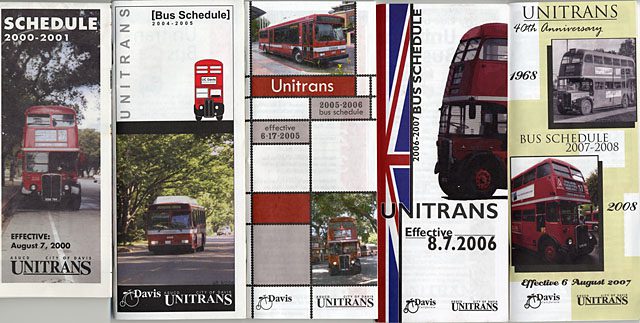 Graphic from General Manager's Report, Fiscal Year 2006-2007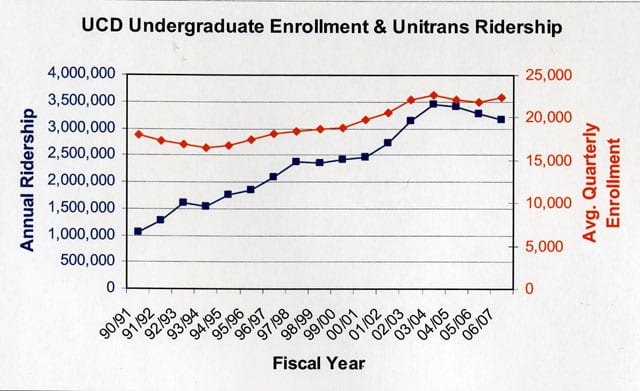 This Unitrans t-shirt commemorates the milestone of reaching 3 million riders in one year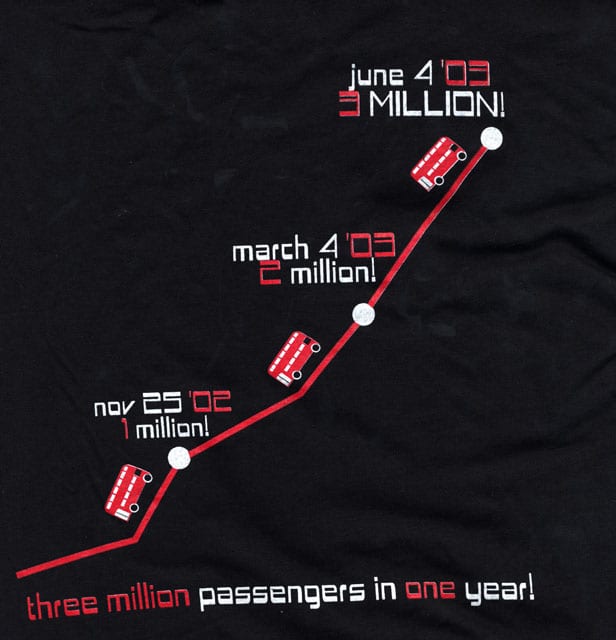 Article from Davis Enterprise, December 13, 2007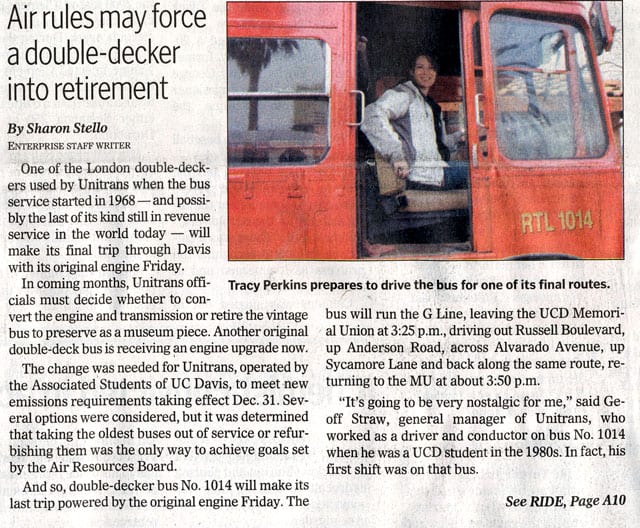 Route Map for 2007-2008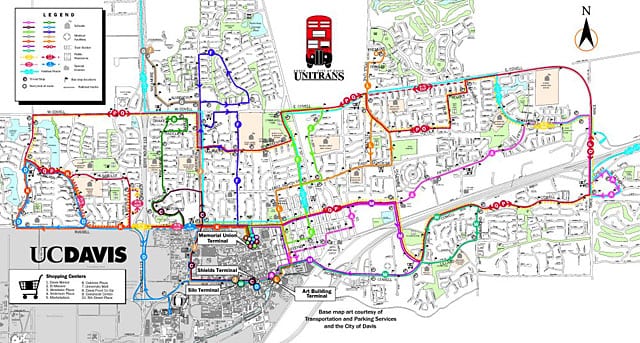 New Terminal
A new Unitrans bus terminal is scheduled to be built on Hutchison Drive in front of Haring Hall.