Dealing with the (D)Evil Enemy: A Historical Perspective
Dealing with the (D)Evil Enemy: A Historical Perspective
Shields Library (Lobby - Entrance)
November 28, 2016 - February 28, 2017
The historical track record of demonizing one's adversary goes far back. Demonization uses metaphor or figures of speech to create an image of the enemy as evil or in league with the Devil.
In politics today, the cosmic battle between God and the Devil disguises itself in the rhetoric of good and evil. Thus, while the origins of demonization are religious, its role today is fundamentally political.
This exhibit highlights the intimate historical relationship between religion and politics: how the Devil – an ancient religious character – is used in historic and modern discourse in international conflict situations.
Specifically, the selected English-Language print and electronic studies in this exhibit highlight:
The origins of demonization (historical/religious roots);
Representations of evil in war in general (historical/contemporary manifestations);
The political utility of demonization when "waging war" with its attendant focus on fear, unity, mobilization and moral legitimacy; and
The challenges of "demonization deadlock" when "waging peace" (i.e., of "shaking hands with the devil").
These titles are available at the UC Davis Library, as well as other academic and public libraries. This exhibit also features an introductory essay by Dr. Linn Normand, University of California, Davis.
---
Colloquium
Watch a video of the colloquium, "Dealing With the (D)Evil Enemy: Interdisciplinary Perspectives", held on December 7, 2016, which features two keynotes and a UC Davis panel.
Opening remarks:
Milton Lang, associate vice chancellor for student life, campus community and retention services
Keynote speakers:
Daniel Shapiro, Harvard University — Addressing five fundamental emotional forces that are fracturing politics, community relations and international cooperation. He presents a new method for counteracting these dynamics and promoting reconciliation in these turbulent times.\
Philip Zimbardo, Stanford University — Talking about his long-standing research on how situational influences and power given from authority can make good people do evil deeds. He will also address his most recent research on heroism.
UC Davis panelists:
Flagg Miller, associate professor, Department of Religious Studies — "The Devil in Islamic Discourse: Al-Qaeda and Its Nearer Enemy"
Linn Normand, writing specialist, Student Academic Success Center — "The Politics of Demonization: A Historical Perspective on Waging War and Waging Peace"
Ofelia O Cuevas, assistant professor, Department of Chicana and Chicano Studies — "Policing LA: The Criminal Nonhuman and Point Zero"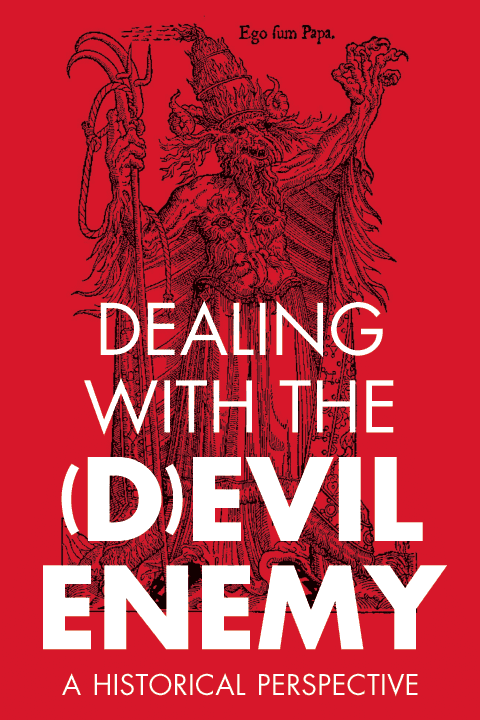 ---
The exhibit and online bibliography were prepared by Dr. Linn Normand and Roberto C. Delgadillo, Research Support Services Librarian, UC Davis Library.