Campus Maps Over Time
Shields Library (Lobby - Entrance)
January 5, 2016 - August 16, 2016
Featured in two cases in the library lobby are aerial photographs and maps from the Map Collection showing the chronological growth from 1937 to 2002 of the UC Davis campus. At a quick glance, some changes are very dramatic. Generally, the development moved from the eastern edge of campus to the western portion. Former agriculture land was transformed to buildings for classrooms, laboratories, and research facilities. The campus expanded west of State Highway 113 adding more agricultural land and room for additional development. Aerial photographs and maps in the exhibit focus on the main portion of campus, with Russell Boulevard to the north, Highway 113 to the west, Putah Creek to the south, and the boundary of Davis (A Street) to the east.
The Map Collection contains over 400,000 maps concentrating on California's Central Valley and topics related to the University's curriculum. It also includes the 3rd largest collection of aerial photographs within the UC system, and some photosets date back to 1937.
The Map Collection is located on the Lower Level of Shields Library and is open weekdays, 1:00-5:00 p.m.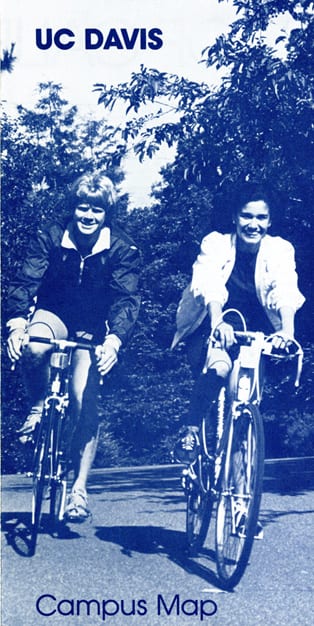 Map research questions can be addressed to the Archives and Special Collections department.